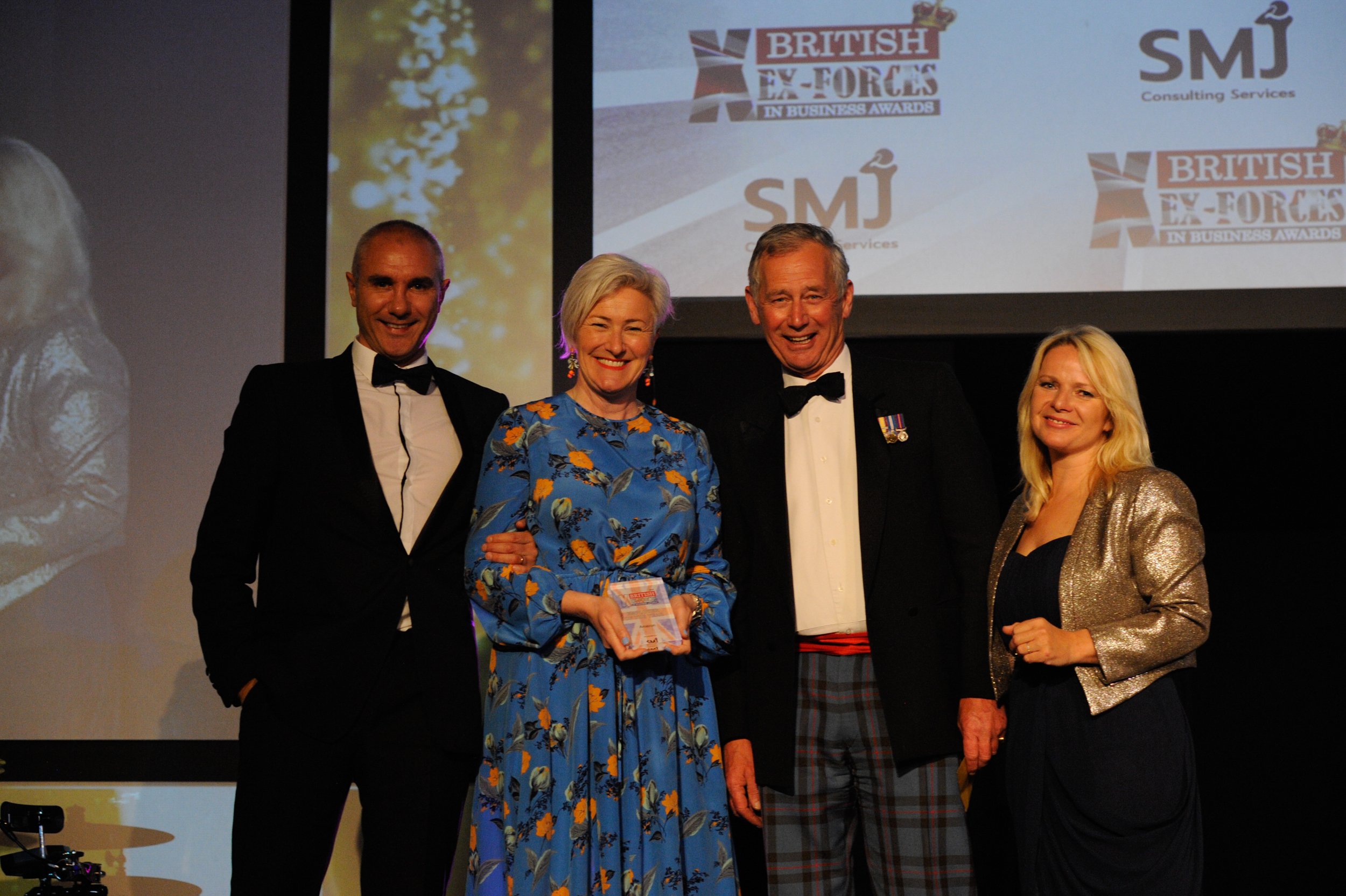 The 2020 British Ex-Forces in Business Awards
is back on track following Government guidelines that live events can resume from October. The event announced its finalists from over 500 nominations across multiple impact-led categories, including Champion of Women and Employer of the Year.
The British Ex-Forces in Business Awards is a flagship programme that celebrates military veterans' achievements in second careers. The finalists for the awards have been released today, and the winners will be revealed at an awards ceremony at the Grosvenor House Hotel, Park Lane on 20 October 2020.
The Awards ceremony gathers business leaders, veterans, top employers, current serving officers, politicians, journalists and other stakeholders to highlight the significant value that ex-military add to the UK economy.
The event was initially meant to take place in May, but because of the coronavirus outbreak, organiser Disrupt Media Group found a way to keep the momentum going until
the Government's announcement on 17 July that business events can resume from October. 
Disrupt Media Group is now working with the venue, Grosvenor House Hotel, to implement measures that will enable the event to take place safely on 20 October.
The
awards programme, 
of which 
Real Business
 is a media partner
, 
recognises
 the achievements of ex-forces personnel who are 
now 
excelling in 
their second careers
.
By showcasing the military-gained attributes that have enabl

ed their 

post-service

success, the a

wards aim to demonstrate to employers the business value of 

hiring 

veterans

.

 
The thousands of servicemen and women who leave the 
Armed Forces
 each year create a 
rich
 pool of talent for employers, 
underpinned by
 skills and values that 
easily 
transfer into a wide spectrum of roles. Yet transitioning back to civilian life and establishing a meaningful second career can be challenging. Visibility of role models across different sectors is often lacking, and depictions of veterans in the media can fuel damaging misconceptions.
In a study by SSAFA
, the Armed Forces charity, 
t
hree in ten UK hirers
 said 
they'd 
feel reluctant to hire someone who served in the 
military
.
SSAFA is the official charity partner of the awards, and one of its key initiatives is a mentoring scheme for service leavers.
Every year, SSAFA helps more than 73,000 people from the forces family "get on their feet", including those currently serving, reserves, veterans and their families.
Lt. Gen. Sir Andrew Gregory was a former Chief of Defence People and now heads up SSAFA as CEO. "SSAFA, the Armed Forces charity, is very proud to be associated with this important event which celebrates veteran employment," he said.
"I am very aware of the challenges that can be faced by service leavers during their transition, with employment a major challenge for many. It is very heartening to see so many employers acknowledging the skills and experiences of those who have served their country."
The 2020 finalists were whittled down from a record-breaking 500 nominations, with the winners decided by a judging panel of military veterans headed up by Admiral Sir George Zambellas, former First Sea Lord and now chairman of several companies including Galaxkey. Other judges facing the difficult task of selecting just 20 winners from a huge breadth of talent include business leaders from Jaguar Land Rover, Morgan Stanley, Dell, Lloyds Banking Group, Serco, Stagecoach, Thales and Knight Frank. "In operational planning, UK military people are comfortable asking 'what's changed?', and then reacting accordingly," Admiral Sir George Zambellas said. "Those same honest qualities of analysis and agility are needed now, as we face changed business environments in the COVID-19 era. So, I'm delighted that so many ex-forces men and women, who have chosen a life in business, have the cunning and resilience to succeed. I'm very proud to support them."
Since launching in 2018, the Ex-Forces in Business Awards has become a crucial initiative for promoting a positive narrative nationally of veterans as great assets to employers across all sectors, and has led the way in increasing visibility of business role models for service leavers.
Last year, the awards showcased the second-career achievements of nearly 300 veterans and reservists at ceremonies in London and Glasgow attended by more than 1,400 business leaders and over 450 employers.
T
he awards are sponsored by
A&P Group, Barratt
Developments
, FDM Group, 
Galliford
 Try, Marsh, Morrison Utility Services, Sa
ntander and 
Sopra
Steria
.
Other supporters include the Officers' Association, RFEA – The Forces Employment Charity, 
SaluteMyJob
, the White Ensign Association and media partners 
Real Business, BFBS
 and 
Quest Magazine
. Last year's events raised 
over £60,000 for military charities.
The 2020 finalists
ADVOCATE OF THE YEAR
Christopher Fairless
, 
The Unique Group International 
Darren Lloyd, 
Kuehne
 + Nagel 
Dean Beaumont, 
Experian 
Ellen Harrison, 
Boeing 
Defence
 UK 
Gemma Jones, 
Amazon 
Philip Jackson, 
Siemens 
Pippa 
Hannaby
, 
Barclays 
Richard Nelson, 
Morrison Utility Services 
Ross 
MacKenzie
, 
Kier 
Sarah 
Pylyp
, 
Jaguar Land Rover
BUSINESS LEADER OF THE YEAR (
Large Company
)
David McGinley
, 
A&P Group 
Gerraint
 Oakley, 
Platform Housing Group 
James 
Pittick
, 
Canon 
Kerryanne
 Wilde, 
CERT (UK) 
Len 
Pannett
, 
Visagio
Matthew 
Eyton
-Jones, 
CERN Pension Fund 
Mike 
Wragg
, 
Nielsen 
Richard Jones, 
Sodexo 
Rob Lord, 
BT Global 
Stuart Morgan, 
Amazon
BUSINESS LEADER OF THE YEAR (
SME
)
Alex Sharpe, 
China Fleet Trust 
James Hilton, 
PVI 
J
ohn Wiley, 
Herrco
 Cosmetics 
Louise Chaplin, 
Eton Bridge Partners 
Matt King, 
SAFI Valves 
Michael Vincent
, 
ClearView
 Communications 
Peter Moody, 
Gap North East 
Rob 
Dartnall
, 
Security Alliance 
Steve Thornton, 
Forces Cars Direct
CHAMPION OF WOMEN AWARD
Caroline Paige, 
CazTac
Emma Morgan, Amazon
Jules Parke-Robinson, 
Ricoh 
Karen Daly-
Gherabi
, 
The Springboard Consultancy 
Katie Lavin, 
UBS 
Marion 
Perston
, 
Morrison Utility Services 
Michelle 
Partington
, 
Mentis Training and Consultancy 
Nicki Bass
,
Resilience at Work 
Rachel 
Scandling
, 
Barclays
EMPLOYER OF THE YEAR
2Excel Aviation 
Amazon 
Atkins 
Company X Consulting 
Eton Bridge Partners 
Inzpire
Marsh
Morrison Utility Services 
Openreach
Serco 
Travis Perkins
ENGINEERING EXCELLENCE AWARD
And
y Baines, 
Lynx 
Chris 
Havenhand
, 
Hyperoptic
Darren Minty, 
RINA 
Gary Woods, 
JLL Integral 
Graeme Cringle, 
Adler and Allan
Jim Heaney, 
Optilan
Jonathan Li, 
SP Energy Networks 
Mark Jason Ellis
, 
Bombardier Transportation 
Michael Williams, 
MIDAK Engineering 
Peter Carlin, 
FDM Group
ENTREPRENEUR OF THE YEAR
Alan Dempsey, 
GF 
Genovate
Andrew Powell, 
route2work 
Christopher 
Pallett
, 
Axel Group International 
Ikenna
Akukalia
, 
Adada
 Care Services 
John Harvey, 
The Protector Group 
Lee Horton, 
Athena Security Solutions 
Mark Long, 
Ignite Consulting 
Michael 
Seggie
, 
Lakeland Fleet 
Managment
Robert Hughes, 
Robert Mann 
Sc
ott Cowan, 
Africa Legal 
EX-FORCES INITIATIVE OF THE YEAR
Barclays 
Barratt Developments 
Forces CV Services 
Forces Equine 
Frontier Risks Group 
LifeWorks
, 
Royal British Legion Industries
RV1 Group 
Salesforce 
Services 
To
 Film 
UBS 
INNOVATOR OF THE YEAR
Adam Hill, 
Oncimmune
Chris Jones, 
Homelync
Gary Woodhead, 
CurveBlock
Jaymin
 Mistry, 
PA Consulting 
Julian Barker, 
British Land 
Marc May, 
SYKE 
Matthew McNeill Love, 
Honeypot Dating 
Michael McCabe, I
ntelligence Fusion 
Paul 
Nuth
, 
Driving Miss Daisy 
Richard Walker-
Morecroft
, 
JGOO
INSPIRATION OF THE YEAR
Aima
 Owen, 
Openreach
Danny Shanahan, Seven Technologies Group 
David 
Bence
, 
SubSea
 Craft 
Dougie
L
eacy
, 
Bell Integration 
Jonas Fieldhouse, 
GE Healthcare Partners 
Kevin 
Bazeley
, 
GE Aviation Systems 
Lisa Marr, 
Barclays 
Peter Docker, 
Why Not Un 
Sam Worthington-
Leese
, 
Hawker Typhoon Preservation Group / TUI 
Samuel T. Reddy, 
TriExForces
 Group
LIFETIME ACHIEVEMENT
AWARD
Anthony Knights, 
Knights Group Worldwide 
Christopher Norton, 
2Excel Aviation 
Gary Headland, 
Lincoln College Group 
Gerard O'Donovan, 
Noble Manhattan Group
Ian Phoenix, 
NHS Digital 
Justin 
Packshaw
 MBE
, 
Joro
 Experiences / Bruhn 
NewTech
Lynn Roddy, 
Home Instead Senior Care 
Tavistock
&
 Tamar Valley 
Mark 
Burby
, 
Aviation Partners 
Rear Admiral Roy Clare CBE, 
Chelmsford Cultural Development Trust / Good Things Foundation
Stephen Heard, 
Hertfordshire Community NHS Trust 
MILITARY 
VALUES
 IN BUSINESS
 AWARD
Andrew Bass, 
Deloitte 
Brian 
Bamb
rick-Sattar
, 
Syneos
 Health 
Jonathan Rees, 
Home Office 
Karl Simons, 
Thames Water 
Mark Duggan, 
The Pallet Network 
Mike 
Wigg
, 
Rosslyn Data Technologies 
Phil Wright, 
Brinks Global Services 
Roger Morton, 
Bovis
 Homes 
Sam 
Instone
, 
AES 
Stuart Dolan, 
BAE Systems
 Marine
NEW SERVICE LEAVER OF THE YEAR
Cheryl Burgess, 
Openreach
David Orr, NCC Group
Edward Coward, 
Kuehne
 + Nagel 
Lorna Collins, 
RINA 
Nathan Davis, 
Utley 
Nick Garland, 
CDW / 
Sunnies
Richard Wilkins
, Atkins
Sean 
Wingrove
, 
Core Technology Systems 
Steve Kelly, 
FDM Group 
Stuart 
Keighley
, 
Morrison Utility Services
OUTSTANDING ACHIEVER OF THE YEAR
Alan Gilfillan, 
Bovis
 Homes 
Andrew Neil, 
RPS Partnership 
Chris Wardle, Expense Reduction Analysts 
James Harrison, 
Virtual Clarity
Josie Preston, 
The Ritz Club 
Lee Shepherd, 
Amazon 
Mickey Rooney, 
JLL 
Richard Hay, 
Kuehne
 + Nagel 
Stephen 
Maclennan
, 
North of England Protection and Indemnity Association 
Tracie Sharp, 
Co-op Funeral Care
RESERVIST OF THE YEAR
Andrew Bailey, 
Co-Op Pharmacy 
Cristan
 Massey, 
IT Lab 
Gareth 
Hether
idge
, 
Rolls-Royce 
James Cox, Atkins 
James Heaton-Smith, 
Defence
 Infrastructure 
Organisation
James Turner, 
Compass Group UK&I 
Lt 
Cdr
 Jon 
Wheale
, 
Barclays 
Philip Day, 
Laing O'Rourke 
Robert 
Skeggs
, 
Eton Bridge Partners 
Steve Cottrell, 
Morrison Utility Services
RISING STAR OF THE YEAR
Ben Potts, 
UBS 
Holly 
Ferneyhough
, 
Atalian
 Servest 
James Moore, 
Morgan Philips Group 
Karl Crosbie, 
Morrison Utility Services 
Laurie Reynolds, 
Aviva 
Luke 
Bonnett
, 
Frazer-Nash Consultancy 
Neil Usborne, 
FDM Group 
Nick Gal
le, 
Wilson James 
Paul Owen, 
Wesleyan 
Rob Tarn
, 
Bovis
 Homes 
ROLE MODEL OF THE YEAR
John Cockburn, 
Eton Bridge Partners 
Andy 
Titerickx
, 
Jacobs 
Steve Lane, 
Capita 
Kevin Miller, 
FES FM 
Eddie Simpson, 
Abertay
 University 
Sharon McCann, 
Solent
 NHS Trust 
George 
Vlachonikolis
, 
Headington
 School, Oxford 
Adrian Tilley,
Ocean Software
Martin Fielding, 
Raytheon UK 
Helen Buffett, 
Technogym 
SERVICE LEAVER OF THE YEAR
Alex Yates, 
Leidos
Andrew Lowe, 
Sodexo 
Daniel Moran, 
ManpowerGroup
 Solutions 
Dominic Collins, 
CBRE 
Duane 
Hasnip
, 
GAM London 
Edward Hill, 
Booking.com 
Glenn 
Sutherland, 
Babcock International 
Michael Areola, 
Airbus 
Paul Gardener, 
Atkins 
Stephen Gailey, 
Exabeam
TEAM LEADER OF THE YEAR
Adam Casey, 
i3Works 
Alan McPherson, 
Cromwell Tools 
Daniel Saxton, 
TUV 
Rehinland
 UK 
George 
Gelston
, 
Tithegrove
Jonathan 
Beever
, 
Barclays 
Mark Hardman, 
Sodexo 
Peter Hopes, 
RBS 
Phillip Oulton, 
BT 
Rich Jones, 
Atkins 
Will Pearson, 
First Bus
YOUNG LEADER OF THE YEAR
Ben 
Bardsley
, 
Bardsley
 England 
Callum
Coombes
, 
Safepoint
Dean Fennell-Connell, 
Conduent
James 
Wagstaff
, 
MTC Training 
Jonathan Cheeseman, 
Bishop 
Grosseteste
 University 
Oliver 
Leeming
, 
CBRE 
Ralph Cooke, 
Nusteel
 Structures 
Richard 
Coulthard
, 
Auden Financial Services 
Steven Bicker, 
Amazon 
William Pickering, 
JLL
Share this story