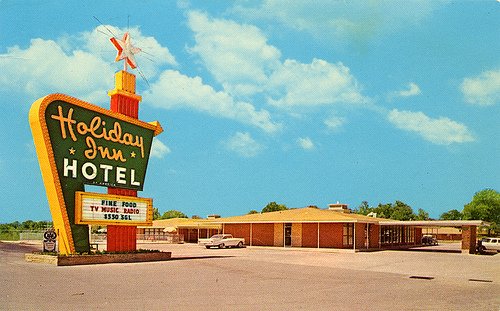 1. Vaseline

In 1859, a Brooklyn chemist by the name of Robert Chesebrough discovered petroleum jelly. He found out that rod wax, a petroleum by-product from oil rig pumps, healed cuts and burns. Chesebrough founded the Chesebrough Manufacturing Company the same year and in 1870 the jelly was patented as Vaseline..  In 1955, Chesebrough and Pond's Creams merged to become Chesebrough-Pond, who were responsible for brands such as Vaseline Intensive Care, Pond's Cold Cream, and Ragú spaghetti sauce. Executing its biggest acquisition of the time, Unilever acquired Vaseline in 1987 in a white knight offer. Indeed, Chesebrough-Pond was in danger from hostile takeover attempts by American brands and agreed to sell their company to Unilever for $3.1bn.
2. Holiday Inn 
On a family road trip to DC, entrepreneur and builder Kemmons Wilson was appalled by the local motels and vowed to start his own chain. Named after a Bing Cosby show, the first Holiday Inn was founded in 1952. Although the Holiday Inn started off as a raging success, interest in the hotel lowered substantially – to the point where the corporation fell into debt. With a possible takeover from Donald Trump looming, Holiday Inn decided to break off the Holiday Inn unit, and borrow heavily against the assets of the remaining operations.
In the end, Wilson relinquished the company to Bass PLC, a British brewer. Bass paid Holiday's shareholders $125m in Bass stock and assumed about $2.1bn of debt.
3. Ben & Jerry's
Ben & Jerry's began in 1978 when Ben Cohen and Jerry Greenfield first started a scoop shop in a renovated Vermont gas station. The company was an instant success due to its unusual flavours and added chunks and swirls, quickly becoming a social enterprise icon. By 1988 there were 80 stores in 18 states and in 1994 Ben & Jerry's began to distribute in the UK. But Ben & Jerry's was yet another American brand snapped up by Unilever in 2000. As part of the deal, the company became a wholly owned subsidiary of Unilever, with a separate board that included the company's founders. On a 2010 NPR radio segment, Cohen suggested that "the laws required the board of directors to take an offer, to sell the company despite the fact that they did not want to sell the company."
Image source
By Shané Schutte
Share this story