Earlier this month, Barclays bank opened the doors of its leafy Notting Hill Eagle Lab. Part of a family of labs spanning 18 locations across the UK, it provides up to 1,309 innovative technocratic co-workers?with a lively eco-system in which they can create their entrepreneurial magic.
But the day was less about what an acceleration lab could do for businesses, and more about what the companies it works with can do to bring law and tech together to make business transactions?more effective for everyone.
From the worlds of law to property and data regulation, exciting startups showcased how they are carving out new, and more productive lanes in their respective industries.
It's all about the 'eco-system'
The Notting Hill branch was opened with the support of the Law Society, PwC, startup community, Legal Geek, as well as the University of Liverpool and University College London, giving no doubt about what topics would be on the agenda.
Providing some 100 techlawcrats?with low-level flexible rents, and an array of brain-boosting facilities, the Lawtech Eagle Lab looks a place where startups with promise can hope to soar. Let's meet some of them.
Founders (from right) Jack Bidgood and Olly Thornton-Berry were inspired to start Thirdfort after a close friend was defrauded whilst trying to buy a property, and never saw the money again. consulting other buyers and property lawyers, they discovered that far too many people were experiencing fraudulent?property transactions in the UK.
"People forget how paper-based the property purchase process is in the UK. This leaves room for errors and opportunities for people to forge documentation."?" Olly Thornton Berry
Coming from backgrounds in software, banking, and property, this entrepreneurial trio felt they could put their heads together and come up with a solution. This became a digital system that protected both buyers and lawyers from fraud,?whilst cutting down on the dull administrative aspects of traditional property transactions that lawyers have to deal with.
By offering a more secure 'third party' management service that holds the buyer's funds whilst the transaction process is underway, lawyers pay a lower indemnity insurance as a result.
"By digitisingthe purchasing experience, property lawyers can deal with the extra 'know-your-client' regulations more effectively, whilst making the transaction process clearer for everyone".
ThirdfortAlso offers a clear digital pathway for all three parties, including lawyers, buyers, and the vendor, enabling all can to see the payment process more clearly. This means greater clarity about where the money is going, and who it's going to, which also cuts down on administration and pencil pushing from lawyers.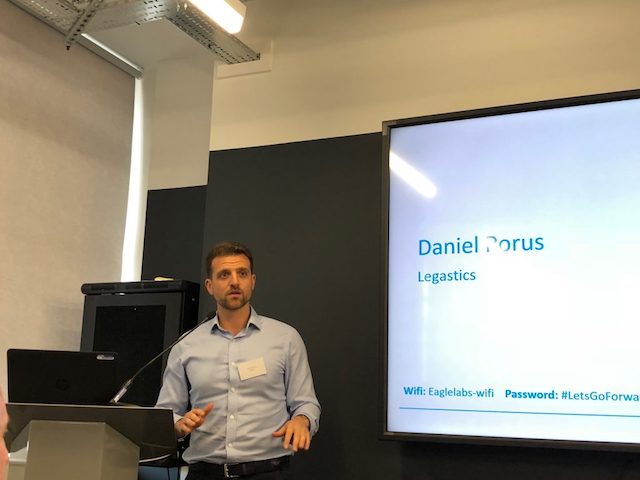 Head of business development at Legatics, Daniel Porus (pictured) took to the technological stage to tell the audience that his company is so disruptive in the law sector, it could, some argue, make the jobs of junior?lawyers redundant.
He said:?"I left a job as a junior lawyer because the role was so wrapped up in dull and time costing administration tasks.
"I believe time-efficient software, such as Legatics,?will allow them to focus on the more interesting aspects of legal work."
Speaking on the topic of moving his entire operation to Eaglelabs in the near future, Porus commented on the inspiration and support the team gains from meeting startups going through similar struggles: "It's a lot more useful sitting next to someone else who's going through similar challenges to you."
So we know the Legatics team love the Eaglelabs eco-system so much that they are looking to move there on-the-reg. But what makes the business so disruptive
They are revolutionising the process of dealing with administrative based tasks in the law industry. Replacing dusty mechanical processes with smart automation software designed by lawyers, Legatics promises to conceptualise legal tasks, and track deals in real-time for both lawyers, and their clients, to see.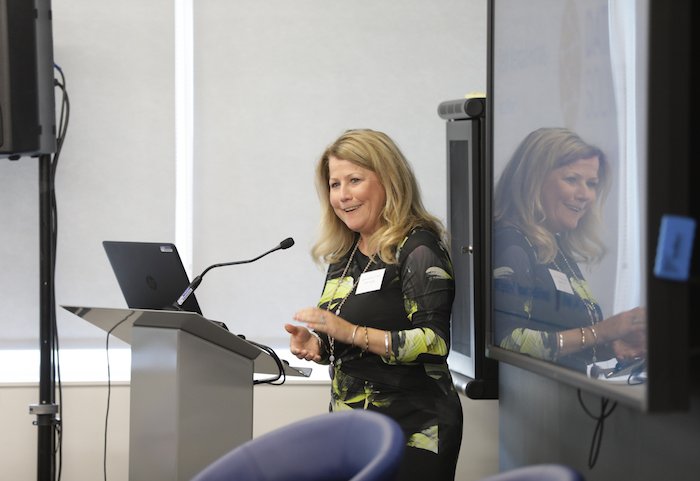 Director of sales and marketing Beth Kendall-Hirons (pictured) brought the tech-law conversation back to the GDPR issue.
Her company, Data Solver, is doing its bit to simplify GDPR compliance for all businesses, whether they are tech-savvy or not.
Whilst most GDPR regulation software focuses on re-active style risk and fine management, Data Solver promises a pro-active approach, giving insights into a business's state of compliance to encourage best practices when it comes to data regulation.
"For example, if HR professionals need to analyse data information, they can do that easily and see how their specific department needs to comply with regulation laws." Beth Kendall-Hirons, Data Solver
Breaking down the complex language of GDPR compliance through software based on legal expertise, easy access technology, and non-technical language, Data Solver is helping companies reach their compliance objectives more easily, and effectively.
Barclays Eagelabs: Soaring up to the future
Law-tech is no longer a fantasy fusion concept. The easy fit between these two industries, and their potential to work together to make businesses more effective and legally compliant is evident in the startup leaders that spoke at the Eagle Lab event.
Technology that allows employees to make the most of their skills by cutting down time on administrative tasks, whilst making their companies legally compliant, can only increase working productivity, brand reputation, corporate transparency, and stakeholder confidence in businesses across the industries.
Because, who doesn't want time-saving and morally upright tech?