Closing the year on a high, Beauty Boulevard came out on top at the Amazon Growing Business Awards 2017, finding itself named Micro Business of the Year.
Launched in 2013, Beauty Boulevard is a cosmetics company filling a niche. Speaking with co-founder Rachel de Caux, she explained: ?We like to create innovative products that are dual use. We are aiming the products at real women who want our products to do exactly what they say on the tin, we want them to deliver!?
When de Caux and her co-founder Paula Short came together with their flagship Glitter Lip concept, they thought their audience would be late teens to early twenties. It turns out they were wrong and became pleasantly surprised to see customers in their mid forties also found themselves compelled to get their hands (and lips) on the products.
As we have introduced more and different products, the demographic is more diverse, due to the introduction of our Divine HydraGel Mask range," said de Caux of the continued customer growth.
Sharing her thoughts on the award win, she opined: ?We still can't quite believe it, we had to fight off some stiff competition to bag the award, but in the end, we feel our tenacity, drive and love of what we do shone through! We really do eat, sleep and breathe Beauty Boulevard, it is our passion and what drives us every day.
"It is very hard to put in to words how winning such a prestigious award has made us feel. It was very emotional to feel that such a massive company as Amazon had recognised us and our team for all our hard work and determination. We are still on a high and that feeling is going to be hard to beat!?
With five team members in the business now, the company claims that the staff are Beauty Boulevard. What that means, is the team has been there from the beginning and shared the journey to success.
?We are a very organic company, we came from very humble beginnings and our team and support network is made up of a lot of people who have helped and supported us along the way," said de Caux.
?Our team have either known or worked with us from the very beginning. They?ve shared our highs and our lows and know how hard we have worked to get to where we are today and they will do anything to help us achieve our goal.
?Our team mean everything to us, they often say that they feel like Beauty Boulevard is their company. They?ve been part of it for so long, it isn't just a job, they have been on the journey with us and want the company to succeed as much as we do.
Detailing some of the lows and challenges, she noted that the main challenges have been standing against big beauty giants.
"They have the resources and the money to shout the loudest about their brands. We do not have that luxury, so we are very selective and careful about our marketing techniques and resort to some unusual campaigns to get our voices heard.
Also, being a small team, we have to be very organised with our time, other wise we can find that days run away with us. We are being asked to attend a lot more public speaking and corporate events and we sometimes struggle to squeeze everything in to our diaries.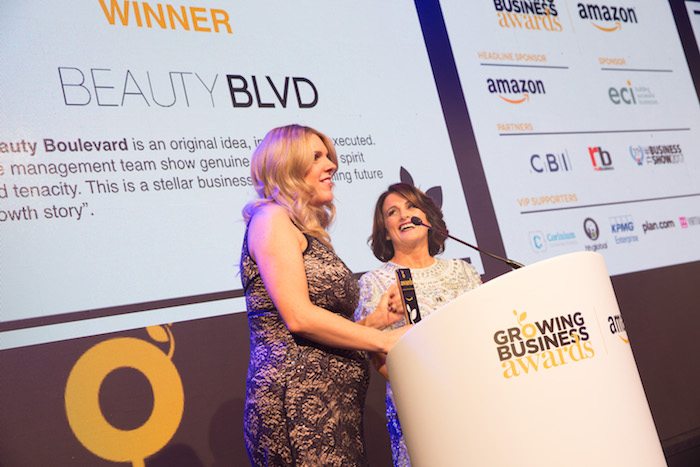 The key thing that's helped the business compete is that de Caux and Short are more than happy to do things differently, and de Caux believes the story helps tham stand apart from the rest.
?People love hearing about our journey and how we came up with the idea of Glitter Lips. We have got to where we are today, not by following the rules, but by being cheeky and taking full advantage of any opportunities that come our way," she said.
As a small company, we have the ability to adapt very quickly to market trends and get ideas pushed through quickly.
Looking at the year ahead, Beauty Boulevard will grow with an ambition to add three more employees to the fold, which will help drive UK sales and international expansion alongside more pop-up events to spread the brand name.
?We are working on some very exciting products for 2018! They?re top sectret I?m afraid, but keep your eyes peeled in the summer for some fabulous additions to the Beauty Boulevard range," teased de Caux.
"In 2018, we are also concentrating our efforts to expand our export side of the business. We have stockists in 30 countries to date, and we really want to increase our foot hold in the overseas market.
?We have big plans for 2018 for expansion. By growing Beauty Boulevard's UK & export market, in turn will increase turnover and staff recruitment.
Adding further ambition where the Amazon Growing Business Awards 2018 are concerned, de Caux concluded: ?We would definitely be aiming for Market Export Champion Award and Growing Business of the Year (smaller company) so watch this space!?
---
Revolut, ClickMechanic and Pip & Nut led the way for British disruptor brands at the 19th outing of the Amazon Growing Business Awards, held in London.