As of June 2018, the UK's exported goods were valued at $244.6 billion, which was up 13.6% compared to the first six months of 2017. So are we looking at a golden age in Britain's exporting industry" And if so, surely this means that competition between our seven best export companies below is going to be stiff.
Here are the best industry disruptors below. Read their stories and come to your own decisions about who should bag the coveted top prize.
2018 Export Champion of the Year finalists
Showcasing the achievements of the top exporter companies in the country.
The Group Company provides global tailor-made touring itineraries and accommodation options.
The Group Company team.
Founder: Helen Bilton
Growth Story: Launched in 2006, the Group Company now has an international outlook. Clients include some of the world's most prestigious tour operators. In the last five years, it has increased the average profit per group from £400 to over ?800, with an average margin increase of 17% to over 21%.
"Using our creativity and industry knowledge to delight our clients underpins every business decision we make. As a result of this, we have grown rapidly since our founding in 2006, and we have become one of the UK's leading tour operators."?" The Group Company
CPR is the World's Largest Landline call blocker manufacturer.
The CPR Global Tech team.
Founder: Andrew Sandbrook
Growth story: Launched in 2010, in the last year alone overseas sales have accounted for 80% of CPR's total revenue, and are up 10% from 2017.
"CPR's impact in overseas markets have been awarded withA Queens Award for Enterprise in International Trade, inspiring other UK SME's to expand abroad. Increased international revenue has allowed the company to grow in staff numbers and develop new product lines." " CPR Global
Net World Sports provides a range of predominantly own-brand, sports equipment.
The Net World Sports team.
Founder: Alex Loven
Growth story: Launched in 2009, Net World Sports offers over 5,000 different products to customers in more than 100 countries. 2017 was phenomenally successful for international sales with 61.5% of its annual revenue coming from overseas growing from £2.7 million in 2014.
"With overseas sales accounting for 61.5% of our annual revenue, Net World Sports place a huge emphasis on exporting products to all corners of the globe." " Net World Sports
Ramsden International is a British food and groceries exporter.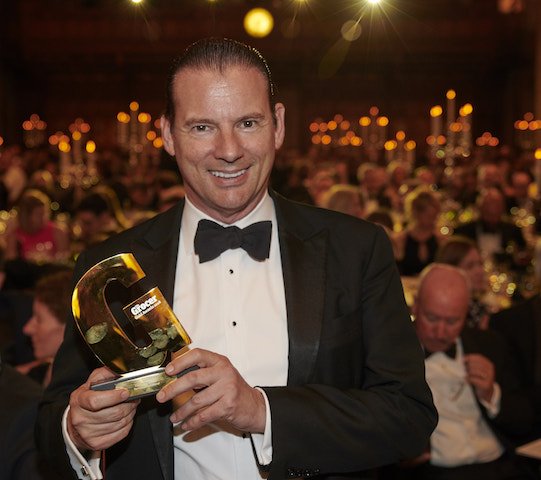 Founder Sean Ramsden (pictured.)
Founder: Sean Ramsden
Growth story: Launched in 1989," Ramsden International has grown from a one-man-band to a business with six global offices. It has averaged 27% year-on-year growth over a 15-year period. Annual turnover since the 2008 global economic crisis has been up by 96%.
"I've proved that a business made in Grimsby, an often-overlooked town in one of the poorest parts of England, can be world class." " Sean Ramsden,
Mo Bro's are the UK's leading beard-focused grooming retailer.
The Mo's Bro's founders (from left) Keval Dattani, Kunal Dattani and Savan Dattani
Founders: Brothers?Keval, Kunal and Savan Dattani
Growth story: Launched in 2014, Mo's Bro's are already exporting to over 78 countries worldwide. They now boast 300,000 regular customers globally. After a turnover of £1,332,922 during the years 2016-2017, forecasted turnover is estimated at £1,648,391.
"Who has three brothers that used ?750 to create a 7 figure business?" MoBros
Be-Baby Ltd
Be-Baby Ltd is the company behind the multi-award winning weaning brand, Tidy Tot.
Tidy Tot founder Jennifer Unsworth with her children.
Founder: Jennifer Unsworth
Growth story: Launched in 2015, Tidy Tot is now part of Be-Baby Ltd. UK sales for Tidy Tot, grew by 70% during 2016-2017 but the biggest growth has been in the brands export business which grew by £130,000 (1181%) over the same period.
"The Tidy Tot Bib and Tray Kit remains the only weaning aid of its kind in a growing market and continues to innovate with a steady stream of NPD planned for 2018-2019. Turnover on like-for-like sales has more than doubled each year for the first 3 years of trading." " Be-Baby Ltd
Huel provides customers with nutritious meal plans.
The Huel team.
Founders: Julian Hearn and James Collier
Growth story: Launched in 2014," Huel has grown at over 200% per year and has sold over 20 million meals to over 80 countries. In 2017, Huel successfully launched in the US, which contributed to the first ever £1 million month in July 2017, ending the 2017 financial year with £14m worth of sales globally.
"Our vision is to become the world's number 1 brand for complete food and have an international growth strategy including an additional 20 markets in 2018." " Huel Ltd
[article id="122839″ title="Growing Business Awards"]
2017 Exporter Company of the Year finalists
As a world-leading innovator of road blockers, bollards and vehicle barrier systems, ATG Access is extremely dedicated to exporting its security products around the globe particularly given the increased threat of terrorism that is affecting each continent.
ATG Access' export managers are devoted to increasing export sales and breaking into new territories, and therefore regularly visit their customers and the areas where they are looking to build new relationships.
The company invests in its export strategy at all levels and now has a logistics manager, a technical author and dedicated project managers to oversee international projects.
We have taken a traditionally Asian ingredient and added value to it in the UK and exported it all over Europe and even Japan, Mumbai and Singapore.
Most of our products were formulated in our founders kitchen and recently a soya sauce replacement made by fermenting sustainable coconut vinegar is being prepared for export to Japan.
If we can export soya sauce to Japan this will be a first. Innovation is key and we want to inspire businesses in the UK to export. Our founder has a goal to convince 1,000 people to start small businesses.
CPR Global Tech has made successful and sustainable strides in entering new overseas markets over the last five years. The company's strategy for entering new territories has been:
(1) Always listen first;
(2) Act global, think local.
This leadership philosophy has stood CPR in good stead and overseas sales now account for 73.6?per cent of total revenue. The US has been the most successful overseas market for CPR. Building relationships with high profile retailers and distributors such as Amazon, HSN, QVC, Sears and Walmart has boosted sales and increased product awareness.
Pricecheck is an international distributor of branded consumer goods. It partners with leading brand owners and manufacturers across the world to discreetly place stock in secondary markets.
In 2016-17, Pricecheck recorded a record turnover of £55m. This was attributed to £22m in international sales, as well as moving to a larger, purpose-built office and warehouse in February 2016.
This move led to the business being able to take larger orders, with 11,000 pallet spaces available in the 115,000 square foot premises, as well as accommodating a growing team, with 120 members of staff now employed by the business.
Rarewaves' growth has been in the expansion of products and product groups and the expansion of global marketplaces.
The company began with one supply partner offering 15,000 product in one product group. We now have over 100 supply partners with over 500,000 different products available for sale to the consumer.
These numbers are rising by the day as new supply partners are bought on board.
We recognised early on that producing our own innovative signature designs were critical to survival and success. We have created an environment in which experimentation is encouraged and there is no fear of failure.
Uniquely the flair for buying combined with a second sense of the designs that will have universal appeal together with the experience to make an immediate judgement about the commercial viability of a product gives us the agility to succeed.
We have developed the templates to allow us to fast track our progress in to new territories and build effective third party relationships.
The Amazon Growing Business Awardsis headlined by Amazon and sponsored by Santander, Bridges Fund Management and ECI Partners. It is supported by CBI, the Department of International Trade and Real Business. This year, the awards partnered with Beanstalk, a charity that recruits, trains and supports volunteers to provide consistent, one-to-one literacy support to children aged 3 to 13.
Interested in attending the Amazon Growing Business Awards?
Get your ticket or book a table here.