Each year, Melinda and Bill Gates write an open letter covering off their philanthropic work and answering questions repeatedly asked of them. In 2018, the duo decided to follow this letter up with a conversation hosted by musician and playwright Lin-Manuel Miranda and held at Hunter University in New York.
The conversation involved taking questions from the audience, one of which was directed at Bill Gates asking about advice for future entrepreneurs.
"Clearly we need a hugely broad set of talent, but if your talents take you towards sciences or programming, advances in biology or energy breakthroughs, those kinds of deep areas are going to be the biggest source of change," he explained.
"Those deep areas will be the biggest sources of change. We need better tools to deal with disease, and governments are having problems meeting all the needs out there.
Unsurprisingly, given the Bill and Melinda Gates Foundations" leaning towards global health, the famous entrepreneur believes future innovation will help solve some of the biggest humanitarian crises the world if facing right now.
Bill Gates reflected on dropping out of Harvard to take advantage of what he and Microsoft co-founder Paul Allen saw as the next major technological revolution a realisation he came to after playing around with an early computer while still in high school.
Advising future generations of entrepreneurs, he said: "If you have an inkling that science grabs you and it is hard work that is where a lot of opportunity comes from.
---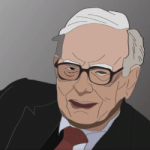 Interesting Warren Buffett investment advice featured in annual letter
Alongside a summary of his company's financial performance, Warren Buffett investment advice also always features in his yearly letter to shareholders and this time he had some particularly insightful comments.
---
Looking back, Gates believes he was lucky that software engineering grabbed his interest. He then hired people better suited to look after the required marketing, sales and human resources side of the business, but it was his interest that allowed him to see the opportunity in the first place.
"The more you can learn sciences the more opportunities there will be," Gates said.