Black Friday and it's brainchild Cyber Monday are strange imports. Like Halloween, they are concepts that originated in the US but have soon stealthily made their way to Britain.
Like it's spooky counterpart, Black Friday and Cyber Monday seem to have gathered wide-scale popularity in the UK overnight. A decade ago, they were barely referenced in British retail culture, but nowadays they're given a festive build-up treatment akin to Christmas.
But what is Black Friday and Cyber Monday" Why should retail SMEs care, and if they should, how can they take advantage of the sales storm to boost their businesses next year?
So sit back and immerse yourself in this, the Black Friday and Cyber Monday epic narrative, or if you'd rather, skip ahead and read some expert advice on how your business can take better advantage of this retail phenomenon?next time.
What is Black Friday and how has it changed consumer spending?
Black Friday was devised as a way to jump-start shopper interest for the Christmas season after the Thanksgiving spend in the United States.
Taking place this Friday, (November 23, 2018) in the UK, what's important to remember is that Black Friday is a sales based event. The idea is that retailers push out and promote great discount and deals based offers for customers to take advantage of, and savings will usually be placed on retail goods varying from clothing to electronics.
Retail consumers will no longer tolerate buying products at full price ahead of the Christmas season, they want more for their money and want to increase their buying power where they can.
Especially that the January sales follow immediately after Christmas, and with more media attention surrounding the dangers of our 'festive overspending' culture, people are simply more careful about what they spend at this time of year.
Impact on sales in November
The Black Friday craze has undoubtedly had a huge impact on sales spending in November in the UK. This is revealed by statistics gathered by the Office for National Statistics (ONS) that reported that retails sales in November?trumped December sales for the first time last year.

Source: Office for National Statistics?
All evidence points to the fact that this trend is only going to continue and gather pace this and next year. Retailers need to be ready for it if they don't want to lose out on sales opportunities and risk other retailers dominating the market.
Cyber Monday: Digital sales skyrocket
We're all aware that more and more shoppers are taking to the internet to buy their retail goods. According to statistics provided by the Financial Times in early 2018, online retail sales figures have grown by a staggering 12.5% since 2012.
According to a statement released by the BBC, consumers spent a whopping £1.6bn online every week of November last year.
Convenience, more choice, and greater and more frequent savings have meant that e-commerce platforms are an increasingly popular option for consumers wanting to buy retail goods.
simply put, consumers are no longer willing to wait for periodic high street sales to buy their goods, instead of waiting for their favourite sweater to come down in price, they can find numerous and cheaper options online and whenever they want.
This is where Cyber Monday comes in. This event takes place the Monday after Black Friday (26 November 2018) in the UK, and this is when retailers cut the price of goods they are selling online.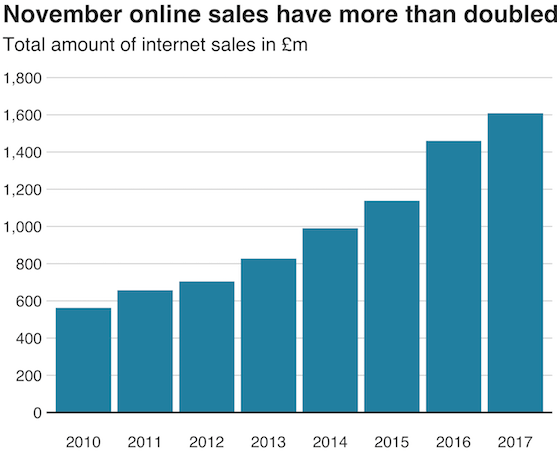 Source: Office for National Statistics?
So, if Cyber Monday is about online retailers or retailers that have an online presence, then Black Friday is more for the high-street, and for physical retailers to get stuck in, attract customers to their stores, and hopefully boost their sales in the process.
How are the big retailers preparing for Black Friday?
Well, for some of the UK's biggest physical retailers such as Currys and PC World, they have made Black Friday more of a 'Black Friday Week' and have extended their opening hours and offers.
However, there are a number of high-street giants who have said they will not be taking part in the event. According to the BBC, stores such as Primark, Asda, B&Q and Marks & Spencer said they will not be taking part.
Whilst this may initially seem like retail suicide (especially if so many other retailers are taking part) heavily discounting stock across the board can mean that profit margins can take a big hammering (as was the case with Debenhams and Mothercare last year.)
For companies not wanting to discount their stock and cut the top off their profit margins, they have instead opted for the 'discounts all year round' mentality to justify this action, but we'll have to wait until next years statistics to see if this method has worked for them.
There's something to be said about not getting caught up in the flash sales race too much, as it can be to the detriment of a company's profits.
But depending on what kinds of goods your company offers, some healthy discounting competition can be a good thing for retail health, says retail analyst Clare Bailey, who, speaking to the BBC on the subject said:
"Not participating makes sense for retailers like B&Q who don't sell products that lend themselves to Black Friday promotions. But for others, it just means that competitors will pick up the sales." Clare Bailey
Black Friday and Cyber Monday tutorial: How SMEs can prepare
Whether you're preparing for this Friday, and the following Monday, or looking at long-term planning strategies for next year, read some expert advice below about how your retail SME can take advantage of the boost in sales to be had over these two important days:
GDPR and e-privacy regulations: Will Robertson, Osborne Clarke
Will Robertson, partner at international law firm, Osborne Clarke, believes that there is still a grey area in terms of how retailers understand GDPR and e-privacy regulations. He believes retailers have to manage these risks even more seriously when it comes to Black Friday advertising.
"Consumers are more switched on to their rights as individuals and the legal responsibilities of retailers."
"Sales periods can push marketing teams to take more risks but do so with caution and awareness that unwanted emails can result in disengaged customers as well as the risk of legal fines and damage to reputation."
"Christmas is not the time for another spike in consumer annoyance."
Whilst the festive season is a hectic and competitive one for retailers, they can't lose their heads, make mistakes, and risk the legal ramifications, continues Robertson…
"There are also increasing challenges for retailers with online advertising, and in particular balancing the GDPR's requirements with the Privacy & Electronic Communications Regulations (at some point to be replaced with the ePrivacy Directive)."
"In particular, this requires careful attention to consent mechanisms and how cookies are placed and accepted by consumers."
This trading season marks a new kind of one, one where consumers are more enlightened about their privacy rights, and retailers must keep a cool head and plan their sales strategies, he adds…
"Competition for serving relevant and timely content online is fierce and there are sales to be made if done properly, but think carefully about the tracking and profiling parameters you are setting to avoid consumer backlash from data creeping."
Focus on digital content: Chris Haines, Amplience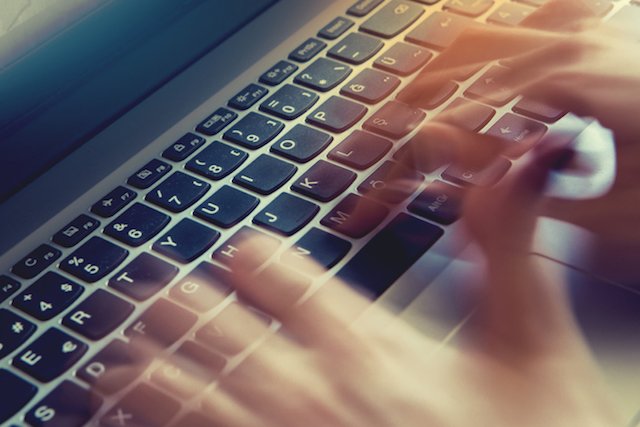 Chris Haines, from content management company Amplience, says structured and quality digital content is key for a winning Black Friday and Cyber Monday sales strategy…
?Retail is steadily marching towards the web, and Black Friday this year will be fought out online and on mobile."
"A consistent stream of excellent content – customisable product previews, 360″ views, and interactive AR and VR experiences – is crucial to grabbing and holding the customer's attention."
As digital sales grow year-upon-year, and especially in November, retailers shouldn't be surprised that they need to get their digital game strong, adds Haines…
A lean optimised content production process will help retailers stay agile and deliver the immense amount of content modern customers need."
"A powerful content management platform will also enable them to take advantage of micro trends, allowing them to quickly create content to promote similar products.
Prolong your sales and boost your 'in-store experience': Richard Willis, Aptos
Whilst it's important to engage in 'flash sales events' such as Black Friday and Cyber Monday, evidence shows that customers also like to prolong their festive shopping experience throughout November and December, says Richard Willis from retail e-commerce experts, Aptos.
?For consumers, the run-up to Christmas is an extended sales season rather than two big flash sales events, and retailers must act on this trend. Shoppers expect deals to be available throughout the festive season."
"It's vital that retailers stay focused on delivering an outstanding customer experience, both in-store and online."
" It's also important that they can deliver on what ultimately matters to shoppers, such as price, merchandise selection, delivery, convenience and support."
And for those businesses with physical stores…
"In-store experience is still key to retailers" success during the festive shopping season. 71% of people who do more shopping in-store do so because they enjoy the physical experience of buying gifts."
"Delivering a great in-store experience is highly important in the golden quarter for retail, on Black Friday and beyond.
Ensure you're social media savvy: Ajmal Mahmood, KCOM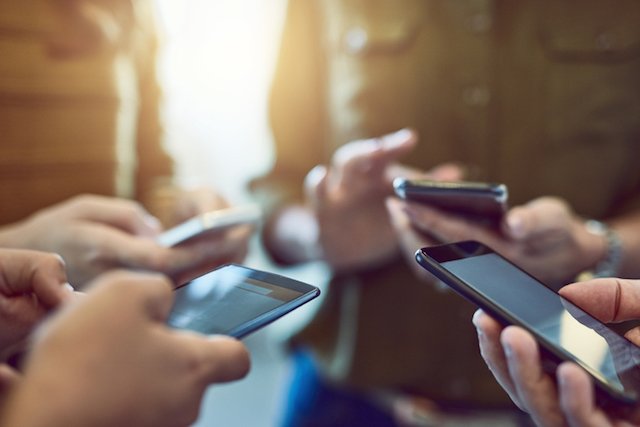 Make sure your retail business is responsive to critics online, says Ajmal Mahmood from tech solutions company, KCOM.
Armed with smartphones, consumers have a newfound ability to compare prices and deals online while in-store."
"This means that savvy shoppers are able to spot the difference between a good or bad offer immediately, which can cause problems when Black Friday bargains aren?t quite as sweet as they seem."
"This smartphone-holding customer base is also incredibly vocal, taking to social media to interact with brands, whether it's about store opening times, looking for gift inspiration or finding out why their order is late."
"The risk of negative comments on social media is more than enough for many retailers to reconsider their approach to Black Friday a poorly executed Black Friday can recoil on you very quickly."
In the data led the world, retailers must use this data to do their research about their customers spending habits, he adds…
Buying habits change during big sales events, with some consumers making more impulse purchases, some stocking up on discounted items and some simply shopping as usual."
"It's prudent for retailers to isolate the data collected during sales events, to ensure that they don't significantly affect their personalisation algorithms across the year."
"Retailers must be able to avoid making merchandising decisions on a Black Friday sales peak.
Always value your loyal customers: Ian Matthews, NGDATA
There is a risk that you could lose your cornerstone customer base should you get down and dirty competing with other retailers to slash your prices, says Ian Matthews from customer data platform, NGDATA.
"There are signs that some consumers are getting bored of the price wars. This is leading to a mounting number of returns which are hurting, rather than helping, retailers."
"Retailers are ignoring their most valuable assets: their loyal customers. By understanding what their customers want, it becomes easier to provide them with personalised offers before the sales even start."
"Nowadays, companies have more customer data than ever at their disposal but often they?re not leveraging this to its full potential."
"The key rests in creating a single view of each customer and treating them as individuals; that is the way to build growing relationships."
Whilst no-one is going to say 'no' to a good deal, it's about maintaining the trust, loyalty and engagement of your customer base, he adds…
"With increased brand loyalty comes decreased price sensitivity. There is no need to start sporadically discounting goods if your loyal customer base is content buying at full price."
"All they are likely to be craving is an optimised customer experience that surpasses their previous experiences and heightens their current expectations of the brand."
Black Friday is a great sales opportunity for retailers, but don't forget about the long-term sales strategy," says Matthews…
"To attract new customers and make them stay, they need to ensure that the customer experience isn't compromised by the rush and panic of the Black Friday sales."
"By engaging with potential customers before the sale, brands can turn the tables on the competition."
"Rather than a competition on price, Black Friday is now about providing the best customer experience. Companies that don't get it right might still have great sales, but it could be to the detriment of their long-term financial wellbeing.
Moving forward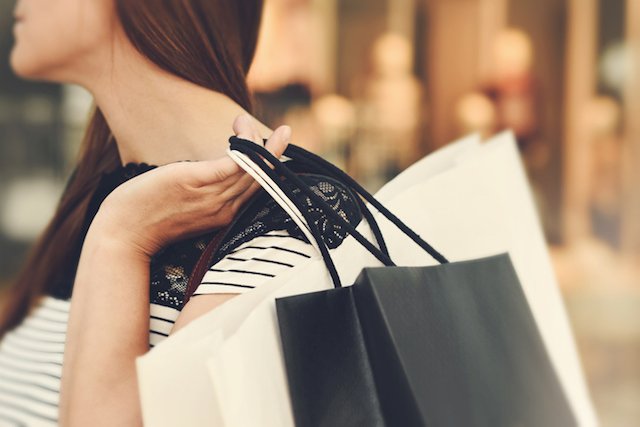 Doing your research on Black Friday and Cyber Monday is never a waste of time. Understanding the origins of these events, and how they've changed customer spending habits is crucial in order to plan your own business strategy to take advantage of these events and boost your sales.
However, you need to work out what KIND of retail business you are first. Are you looking to establish 'year round' sales, or push for flash spike sales a couple of times a year" Are you willing to get competitive and drive down prices to come out victorious on Black Friday and Cyber Monday" Or is targeting and retaining the loyalty of your cornerstone customer base more important to you as a business?
Hopefully, the information above has helped you decide all that.
" Well, one thing's for sure, SME retailers can sure do a lot of things, but they can't ignore Black Friday and Cyber Monday, no matter how hard they try…