With headlines dominated by rising death tolls, tougher lockdown measures and ever-increasing government debt it's easy to see why the widespread optimism evident at the start of the New Year may have unfortunately quickly abated. Normal" life feels more out of reach than ever, and 2021 looks set to be just as disruptive and unpredictable as 2020.
Harry Fenner, CEO of Navana Property Group, shares four ways he's helping his team to beat the January blues.
The third Monday of January, dubbed Blue Monday?, even in normal circumstances is claimed to be a notoriously tough time of year for many. Cold, dark, and dreary, most of the resolutions made on December 31 may have already been broken, and with an even longer stretch until January pay day, many are left dreading the arrival of the unpaid credit card bill as their Christmas spending catches up with them.
"Those that know me would probably say I?m a naturally positive person. However, facing into the reality of a continued global pandemic and an economic emergency, this year's Blue Monday is set to be one of the most challenging yet."
For many employees, back to work has historically meant returning to the buzz of the office, but this year most have returned to the same cramped home workstation they were situated at for most of 2020.
The consequences of such a set up are all too apparent and by now well reported; from isolation and loneliness, to burn out and a lack of motivation to exercise or eat healthily.
Under such adverse circumstances, businesses have an obligation to provide pastoral as well as professional support to their people. Wellbeing and mental health should be a priority for all businesses, however big or small.
There are several steps employers can take to support their employees from afar.
1. Cultivate a high trust working environment
To succeed in the increasingly digitized world of work, employers must commit to cultivating a high-trust working environment.
Are all employees treated like the professionals they are
Is there a sense of fairness where employees feel they are operating on a level playing field across all aspects of the business?
Are they receiving recognition, opportunities for advancement and equal pay?
Does the company foster teamworking and collaboration?
Research tells us employees are more motivated, engaged and have a greater job satisfaction in such environments, and this can result in higher employee retention, lower overheads and better customer and client service.
2. Consider your employee's mental wellbeing
The pandemic has eroded many of the aspects that may in some cases serve to provide us with a degree of assurance and comfort. Things like social connectedness and financial stability, to optimism for the future.
"In such a landscape, establishing clear communication pathways and reminding teams that confidential support is available can go a long way to preventing any unnecessary anxiety."
A recent study by OnePoll.com found 8 in 10 adults often had days where they didn't step outside at all during daylight hours last winter, so it's worth investing in a programme of health and wellness activities. This could include setting challenges and goals for employees to achieve outside of the normal working day.
At Navana we ve recently launched our "Time to Move initiative, where we are giving our team the opportunity to contribute to a cumulative organisation wide total of 500 hours of activity in a specific timeframe, which we are supporting with ideas, online classes and health hacks.
---
Read more:
Employee ?burnout spike warning for January: 24% rise for UK employees searching for symptoms?
Staff motivation: Techniques, examples and quotes from SMEs?
---
3. Offer working flexibility
Being flexible on working hours will help team members to juggle their personal and professional commitments in what is a challenging time for all employees. This is particularly important for staff with nursery or school-age children, who are currently balancing other responsibilities such as home schooling.
More broadly, flexible working has been proven to promote a healthy work-life balance and can reduce stress and prevent burnout during these dark January months.
4. Have a clear plan for the business
It is important for business leaders to be open and honest with employees about the future of the company, and how their role may develop alongside the ever-changing landscape. A clearly articulated and transparent strategy with allocated actions will foster collective purpose and provide clarity for the months to come.
This collective goal setting can also help to renew team bonds and bring new energy for the year ahead.
Final words
The concept of Blue Monday" itself may be well be based on pseudoscience, but it does shine an incredibly important spotlight on loneliness and wellbeing.
My personal view is that if a team is in good health, a business is in good health. Therefore I would encourage all business leaders to invest in and offer as much support as possible to their organisation's most important asset people.
As the famous adage goes, this too shall pass.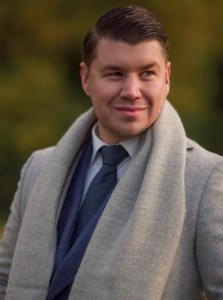 About Harry Fenner
CEO of Navana Property Group, Harry Fenner has long believed that the property industry is ripe for disruption by an independent, agile, people-focused property and place services business. One built with technology and innovation in its DNA, free from legacy systems and with the structure to react efficiently and effectively to change as it happens. This ultimately led him to found Navana Property Group.