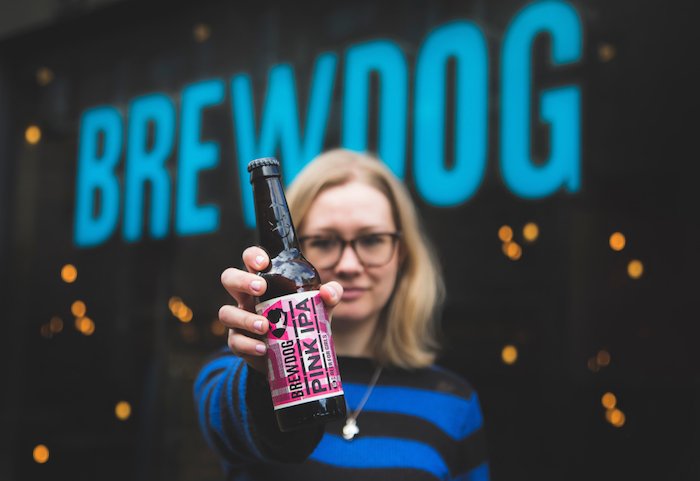 It claimed far too many tone-deaf campaigns had been created in order to attract women, and that Pink IPA was to be seen as a parody "because women only like pink and glitter, right?" the company's tweet read. The cause is a good one. Because women earn on average 20 per cent less money than men, 20 per cent of the proceeds it gets from sales are to be donated to charities championing equality. Those identifying as women will also pay 20 per cent less for the drink in any BrewDog bar. "This is a beer for everyone,"
the company made clear
. "Inside the bottle, it is the exact same beer as Punk IPA. But on the outside, it looks different. This is a reflection of the situation around the world relating to gender imbalance Pink IPA is our effort to raise awareness of the current, unwelcome, status quo. "Lazily targeting the female market with sub-par products designed by expensive research are inherently patronising. Depicting women in wholly unacceptable ways on labels is something we do not condone, and creating concepts that undermine women's ability to enjoy beer is both short sighted and restricts progression." But while BrewDog might be on the right track, a chunk of the Twittersphere believes the stunt was executed poorly. Some pointed to its use of the hashtag,?#sarcasm, with one particular tweet saying: "If you have to explain the joke maybe it's not a very good joke." And if it's a symbol for equality, then why label it a "beer for girls" not even women, girls! At the face of it, what has divided consumers is that in trying to be sarcastic, BrewDog has done the very thing it accuses other companies of.
All the good intentions behind Brewdog's Pink IPA mean very little once they actually put the product out there. Make the charitable donations, make drinks cheaper for women, do all that. But ironic sexist branding still looks like normal sexist branding.

" Robert Perry is often called Pez (@pez_sez) March 6, 2018
@BrewDog this has the right motivations but the wrong execution. You have lots of supportive shareholders who are female scientists & engineers. They could have been involved, collaborated and a simple engagement with those supporters could have given you a much stronger campaign

" Dr Heather Doran (@hapsci) March 6, 2018
Swing and miss, love you but the point of inequality being highlighted by making it pink & unequal?! Show me your hiring diversity stats, your % at level, the hiring of females in the plants. Then if you want a stunt 20% off for women on any beer not just pink ones! #pinkwash

" Em K (@elk3979) March 6, 2018
It's certainly packing a punch, no matter your view point. Inequality within marketing has been firmly placed in the lime light and many have lauded the company for making a stand.
So many people have failed to grasp the @BrewDog Pink IPA campaign. The fact it's pink & ?beer for girls" is part of the piss take.

They even state: ?Satirically dubbed Beer for Girls?. Being pink is what they?re trying to point out. Pink IPA is everywhere. It's worked. " Adam C. (@adamecurry) March 6, 2018
I don't understand why BrewDog's ironic "Pink IPA" launch is controversial. I think it's a good dig at sexist marketing. Even if it's not clever, the fact that it's donating 20% of Punk/Pink IPA proceeds to gender equality charities defeats the cynicism argument.

" Julien Poulain (@JulienPoulainLD) March 6, 2018
It's a reaction BrewDog seems to have expected.
Talking to the Huffington Post
, the company's global head of marketing, Sarah Warman, said: ?We always anticipated that some people might not immediately appreciate the irony of Pink IPA but that did not deter us in our mission to spark a much-needed conversation.
Share this story