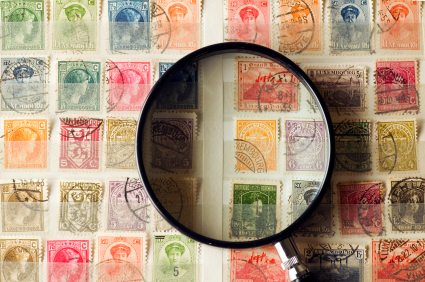 Sometime in the mid-1970s, my father tried to get us into his stamp collection. By and large, my brother and I were unimpressed by bits of dirty-looking paper with indistinct pictures.
For some reason, however ? a year or two later, when I was about ten ? we went back to the two albums our dad had put together for each of us. In hindsight, three things had pricked our interest. The first was the revelation that stamps were worth money (and could theoretically be sold in order to purchase more die-caste, tanks and guns in the miniature arms war that was unfolding in our street in Berkshire). Secondly, they came from different countries around the world, which made them inherently exotic. Finally, as the co-owner of two small boys, you can never underestimate the borderline autism they display when it comes to collecting stuff. We go on holiday and they come back with their pockets stuffed with worthless rocks. Small piles of bird feathers accumulate around the garden before eventually blowing away; interesting-shaped sticks, Pokemon Cards, Top Trumps. They will collect anything really, provided two basic criteria are met:
There must be a value, perceived or otherwise; and
A competitive element has to be there ? in its simplest form, to accumulate more than the other person.
In essence, this is exactly how the world of stamp collecting for adults works, too. I'm sitting in the offices of Stanley Gibbons in the heart of London?s Theatre Land, looking out on a street full of people wandering by. Most of them are unaware that they are walking past not only the biggest broker of stamps in the world, but also the owner of the largest collection of stamps after the Queen. All those years ago, our efforts to work out the value of our stamps was made possible by the Stanley Gibbons stamp guide that has compiled a listing of all stamps and at the end of each thumbnail sketch? a sort of Antiques Roadshow moment ? the value. Even then we knew it was only a guide, probably far more than what two small boys could actually sell it for in Reading, but it was pretty exciting nonetheless. Brett Pitcher is a former furniture designer who now sells stamps for a living. I decided to go and see him, because I had read that stamps had been going up recently. I had also found a pile of old Stanley Gibbons magazines dating from the 60s in one of our barns. A sign, if you will. On my way over, I did some research and read about one particular investor, the famed ?Bond King? Bill Gross of PIMCO. He purchased $2.5m of Great British stamps in 2000. In 2007, the stamps had a presale estimate of $7.5m. It actually realised $9.1 representing a return of over 260 per cent leading him to state: "Four times profit. It's better than the stock market." Brett elaborated: ?Collectors by their nature will have an 'end game'. The goal may change over time, but they will start with a clear intention of what they wish to ultimately own. Their task will be to compile a completed 'set' of any given theme. In the world of philately most collections are based on either a 'thematic' nature (i.e. a subject such as birds, flowers or transport) or chronologically (a specific monarch or period of time). There are also more sophisticated collections based on something more specific, such as a single stamp type, a printing technique or area (such as stamps with printing errors). For many the beauty of collecting is that it can be enjoyed on many levels; from the junior collector who just wants anything and has no real direction, through to those who will write an entire book on one stamp or coin. It can be as basic or as complex as the individual dictates. Inevitably, most collectors start with the 'free for all' approach, and over time as more knowledge is gained, start to specialise.? However, investing in stamps is not to be taken lightly. ?There is a widely regarded perception that many collectibles have value. This perception is often a result of the time, dedication and passion that collectors have. But sometimes this could not be further from the truth. The vast majority of stamps, for example, are not and will not be worth anything. Stanley Gibbons [the largest stamp dealer in the world] have around three million stamps in stock at any one time; only 200-300 of these are ever recommended as an investment.? An example of this misconception can be seen with commemorative stamps. After England won the 1966 World Cup, many went out and purchased sheets of the stamps issued to commemorate that one day they would have value ? but as with many things in life, if everyone believes something will one day be valuable, it almost invariable isn't. ?The sheer quantity of variables, such as relative quality and resulting complexity of these collectibles make them a much more difficult investment route than even some of the most complex financial instruments. As a result of the vast market and that very little knowledge can be gleamed from books, knowledge is gained through immersing oneself in the world of philately and learning through actions.? Just as I was finishing this article, I came across an ad in a financial magazine for Stanley Gibbons. It did not tell me much that I hadn?t already found out from Brett, but it did provide some interesting statistics: Rare stamps have returned investors over 11 per cent a year on average for the last 40 years. In fact, the totality of rare stamps has not gone down ? not even for a year ? since our records began in 1880. These statements were backed up by the GB30 Rarities Index as listed in Bloomberg Professional and a study by Dimson and Spaenjers in 2009. ?During previous periods of economic chaos,? it says, ?there have been obvious places of refuge. Gilts, Cash. Commodities like silver or gold. Today it is hard to see how any of these will even keep pace with inflation. We don?t suggest you shift your entire portfolio into rare stamps. But as a safe haven for part of your portfolio, doesn?t it make a lot of sense??
Robin Bennett has started eight separate companies since 1992, each for less than ?5000. He's the author of 'Start-up Smart – How to start and build a successful business on a budget'.
Share this story