Ensuring your business has a strong online presence is essential to see growth. Many businesses choose to set up a website as a way to advertise their products, gain revenue and expand their audience. If being a tech-wizard is not your forte, then maybe the notion of creating and coding your own digital space is probably a tad bit daunting. Thankfully you can draw on the help of professionals to aid you.
There are crucial factors you must consider whilst setting up a business website because many of your potential customers will instantly run a quick google search of your company. Mainly as a way to learn about what you offer and find out ways to reach out if they?re interested
But before we dive into how to create the best website for your business, here's a refresher on some basic web-building terminology?
Website building dictionary?
Conversion Rate Optimisation or CRO:

is a system for increasing the

percentage

of visitors to a website that

convert

into customers, or more generally, takes any desired action on a webpage.

Search Engine Optimisation or SEO:

means finding ways to increase your site's appearance in web visitors' search result.

E-Commerce:

E-commerce is the activity of electronically buying or selling products on online services or over the Internet

Content management system (CMS):

A content management system is a software application that can be used to manage the creation and modification of digital content
Things to consider before setting up your business website

"It doesn't have to be complicated and costly to set up a website," says Stacey MacNaught founder of MacNaught Digital a marketing agency. Below she outlines some key steps one should take into account when planning their first website launch.
What do you want the website to achieve ?
If you?ll be selling a product online you?ll need an eCommerce website. If you want to generate leads and enquiries this could be a simpler website with more focus on clear calls to complete enquiry forms etc.
Which content management system (CMS) will you use
A good content management system means you will be able to make tweaks and changes to the content on your website without the input of a web developer later on. Great and very cost-effective platforms include Shopblocks for cost-effective eCommerce websites and WordPress for lead generation or brochure sites (you can create eCommerce sites on WordPress too). Take demos with a couple of different systems so you can compare features and find the one right for you. You don't need to have web development skills to manage sites on platforms like these.
How will you drive traffic to it?

?
No point having a website if nobody is viewing it. Consider your wider marketing plan exploring channels like PPC (Pay Per Click) advertising, SEO, social media marketing and so on
Who will manage the content
Getting the website live is only possible once you have the images and copy you need. How often will it need to change And who will change it" Have that planned Websites quickly become dated if the content is allowed to get out of date.
Planning your website build?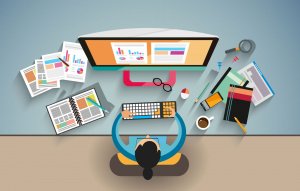 "There are plenty of individuals and companies who can build you a decent business website and plenty of others who?ll host it for you. But if you rush into things without some forethought then your new business website may fail to deliver and the whole enterprise could be a lot of wasted money, time, and effort" says Philip Bennison, Technical Director at Manchester-based digital agency Fablr.?
The most important thing to consider when creating your website is ?what do you want your website to achieve Everything else comes second to that.
Below he lists the important questions to ask yourself before the big build.
Is this an eCommerce site
If the whole point of it to sell products to customers then focusing on a flexible sale pipeline, integrating with your chosen ERP solution, and upselling are just some of the things you need to consider.
Do you want to show off your expertise in the industry??
Creating a content library could be the way to go. With our content partners at Fourth Day PR, we create whitepapers, articles, and editorials for clients.
?Do you have a product or service that needs presenting coherently to potential customers?
There are people out there who specialise in taking complex propositions and helping users explore and understand them.
?Do you just want to get the word out about how great you are ?
Create a great brand, a pristine user experience, and give people a reason to come to your site with special offers, promotions, and entertaining content. By listing the primary goals and secondary goals for your website you?ll create a roadmap for your website build and you?ll find that achieving these becomes a lot easier.
Choosing the design of your business website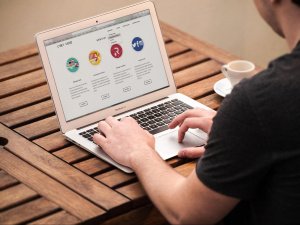 It may sound shallow but having a well-designed website is a vital element to the success of your business. A study by Google revealed that users will judge websites as beautiful or not within 1/50th to 1/20th of a second, what's more, is that visually complex websites are consistently rated as less beautiful than their simpler counterparts. In this day and age contemporary is king, and searchers are naturally drawn to sleek and easily accessible sites.
Andreas Pouros of Greenlight Digital shares his expertise…
"A well-designed website must focus, first and foremost, on the needs of the customer. Employing on-page surveys or exit-surveys is a great way to get first-hand information from customers about how a business's website performs and what is lacking. It's also a great way to find out what other content the website visitors would be interested in and what else the website should provide.
A further way to gain insight into how a website's user experience can be improved is to conduct user testing. By asking users to narrate their experience as they browse the site, developers can understand how the website is viewed by the average visitor, what their feelings towards it are and how to improve the areas that provide a less-than-ideal user experience.
Last but not least, Conversion Rate Optimisation (CRO) needs to be a key priority from the beginning. By integrating performance with user experience, CRO allows website designers to track the efficacy of certain features with different customers and provide a more personalised experience to visitors. Businesses with a diverse user base which have products that are relevant to some more than others need to focus on layering their site and providing tailored digital experiences. This allows businesses to maximise the Return On Investment and generate more sales and leads from the already-existing traffic to their website, rather than just investing in driving traffic to the website in general".
Make your website sale friendly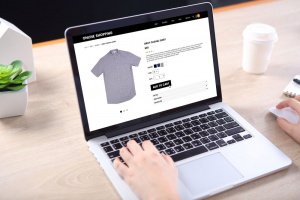 By 2021, roughly 93 per cent of UK internet users are expected to do online shopping, E-commerce is a thriving industry that is not set to cease anytime soon. Making your website 'sale friendly" is crucial. And even if your service is not something you can purchase in a physical sense having easy access to your contact details should remain a top priority.
Rachel Bedgood, MD of CBS reveals the best practice on making your webspace a sale success
"You should want as many enquiries or sales as possible from your website, and one of the best ways that you can get this is by making it really easy for your visitors to get in touch with you. There is a known rule when creating a business website called the "Three Click Rule , which suggests that a user should be able to find everything that they need to within just three clicks.
This is why, when setting up the CBS website nearly fifteen years ago, I wanted to have a really obvious contact page, and I think that is the best way to go about it. A surprising number of people don't like to speak and get in touch on the phone, so having both the email address and the number helps get the most enquiries through as people can opt for their preferred choice of contact.
As well as this, we have also made the telephone number and email address appear at the top of every page so that it is pretty much staring our user in the face. This makes the search for getting in touch even more effortless."
Prioritise SEO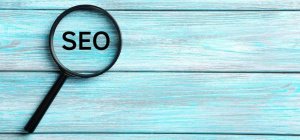 Search engine optimisation is the buzz word in the tech world as of late. And is an element that is arguably no longer an if but instead a must, when creating your business website.
Commercial Director Distinctly, Liz Walker has this to say about the benefits of the tool.
"When creating a business website, SEO is essential as being easily searchable by both new and existing customers is your ticket to connecting with your market.
The reason for this is that in order for Google to assess a site and give it a place on the search rankings, the site has to adhere to a specific set of technical quality guidelines. It should be noted that these guidelines – whilst based on a set of consistent principles – are ever-changing, so what was crucial at one point in time may now be less so.
The technical side of SEO covers a multitude of elements; which include crucial aspects which focus on user-friendliness such as ensuring a site is easily viewable on mobile, to make sure that the site is labelled as "https secure .
Agencies such as ours are often called upon to provide guidance in matters such as the above as if you fail to follow these non-negotiable rules, Google will take note of this and your site will be penalised.
In turn, this means that when your site attempts to rank for various key phrases, it will be displayed lower down the search rankings. This reduces the likelihood of a searcher finding your website as they are more likely to go with the first relevant alternative they see, resulting in less online traffic and fewer potential customers.
Keeping the cost of your business website down
If you are a very small business who perhaps is struggling with costs and can't afford to invest in a full-time web-designer. Using web development platforms such as WIX can help simplify and streamline the process.
As this is an easy way to access all aspects of website building in a straightforward way. And for many is a stepping stone to reaching their growing audience.