Whilst it is true that employment rates are down, the use of zero-hour contracts is on the rise and more people are working part-time hours. This has resulted in many people needing to close an earnings gap, but not the hours at work to make up the deficit.
If you are one of the many people looking to supplement their part-time income or are just someone who needs something more flexible than the usual 9-5, setting up a business from your home could help you to make some extra cash.
Benefits of Running a Business from your Home
Running a business from home not only has the potential to boost your income but also comes with many other added benefits.
Flexible Working Hours
Running your own business from home allows you to juggle children and any other obligations by choosing your own working hours. With just a mobile phone you can engage with suppliers and customers around the clock, whilst fitting your work around a busy family schedule.
Tax Deductions
There are some real tax benefits to be had from operating a business from home. If you meet qualifying criteria, you can deduct a portion of your home's expenses such as utilities, repairs and maintenance, mortgage interest, and property taxes, against your business income.
To qualify for tax deductions, your home must be your principle place of business. Plus, you can only deduct a proportionate amount of the total expense, which are related to your business.
Significant Reduction in Overhead Costs
Running a business from home keeps your overhead costs low as you aren?t paying to rent office or workspace or paying extra for utilities. Furthermore, as you won't have a commute, you save on fuel or public transport costs.
No Commute, Shorter Working Day
Since you don't have a commute, you can enjoy a shorter working day. You won't have to spend an hour or two spent in traffic or travelling to work each day, and will, therefore, have more time to spend with your family or to do a little extra work.
Ability to Test Out Business Ideas
A large proportion of new businesses fail. By setting up a business from home, it gives you the opportunity to determine if a business is viable and profitable without a large upfront cost. This can save you from investing a lot of money in a home business that won't work.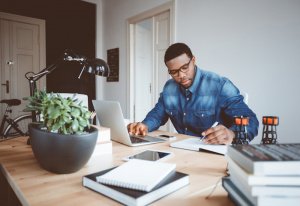 Small Business Ideas to Start from Home
When it comes to setting up your own home business it can be difficult to know where to start. A good place to start is to look at the skills you already have and how they could be used for a business opportunity. Or consider the things you are passionate about and if your genuine interests could earn you some extra money.
There are dozens of businesses and careers that can be done from home. This list is by no means a comprehensive list of the small businesses that can be set up from your home. However, it will give you an idea of the kinds of enterprises that can be started in your home with a low upfront cost.
Ecommerce Store Owner
Are you a talented crafter" Then why not turn that skill and passion into a home business" If you make beautiful homemade cards, jewellery, soaps, knitted goods, etc. set up an ecommerce store to sell your wares and make some extra cash. Set up a store on the likes of Etsy, and list your products for sale. See what items are best-sellers and strive to make more of them.
In the future, if your online store takes off, you can employ some help in crafting and expand your business. If you are an avid crafter, you don't need to limit your sales to your website. Take them to local craft markets or stores to boost your sales, along with business cards
Freelance Writer
If you have a gift for the written word there is money that can be made as a freelance writer. As long as your spelling and grammar are up to scratch there are always people willing to pay for blog posts, articles, website copy, and more.
Get started by creating a few sample posts in a few topics that interest you to send to potential clients. There are a number of sites out there – such as Upwork and Copify – where you can bid and accept projects to help build your reputation and a portfolio.
Seamstress/Clothing Alterations
With more and more people turning their backs on the fast-fashion movement, clothing alterations and repairs is a big growth area. If you know your way around a sewing machine, there is good money to be made. Once word spreads about your skilled alterations – which can be helped along with the likes of Facebook – the work should start flowing in.
Professional sewing machines can be picked up for a reasonable price second hand, and there are great savings to be made when buying thread and zips, etc. from wholesalers. Clothing alterations is a home business that can be set up for a small outlay and has a good profit margin.
Car Boot Sales
If you don't mind the odd early start and have plenty of clutter or specialist items that you are looking to sell, being a car boot sale or market regular can be very lucrative. Setting up a stall with specialist items, such as retro toys or kitsch jewellery (that can be bought cheaply in bulk from overseas), and there is a great chance of repeat business.
With many markets and car boot sales now running all year round, you can make extra money every week, if you are willing to give up a day on a weekend to sell your wares.
Antiques or Collectibles Dealing
Do you have a keen eye for antiques or know a lot about a certain type of collectible If so, this can be a great way to make some money from something you enjoy. There has never been a greater market for all things retro and vintage, especially amongst Millenials.
Pick up good pieces of vintage furniture and knick-knacks cheap from auctions or charity shops and have a go selling them at markets, antique fairs, and even online. Boost your potential profits by purchasing job lots of goods that can be sold separately – you never know when there may be a hidden gem lurking within a box full of goods.
When getting started, choose an amount of money to invest in antiques or collectibles and stick to it. Keep a detailed record of the profits of which item makes as this will help you to decide what to buy in the future.
Data Entry
It may not sound too exciting and in fairness, it probably isn't, but data entry is a great way to earn some extra money in your spare time. Usually, data entry jobs pay per entry, so you won't be tied to your computer all day. You can simply add a few entries in any spare minutes you have, going back and forth throughout the day.
Data entry may not be what you are passionate about, but by doing it for a while you can get together a plan for your home business, whilst also earning some seed money for your new venture.
Baking or Confectionary Making
Homemade cakes, biscuits, pies, and sweets are always good sellers, particularly as more businesses are looking to sell local products and produce. Make and package your homemade treats well and sell them to local cafes, gift shops, food markets, etc. Plus, friends and friends of friends may purchase them for parties and events.
Online Trading
With sites like eBay and Amazon, it has never been easier to dabble in online selling. Start with clearing out the garage and attic to make some cash that can be invested in products you plan to sell online. Focus on products that you can purchase easily and have a real passion for.
Furthermore, it can be really lucrative to focus on seasonal markets, buying Christmas, Easter, or Valentine's products a few months in advance.
Personal Tutor
If you're a part-time teacher, retired teacher, or even taking a career break from the classroom, becoming a personal tutor is a great way to earn some extra money. Not only will it keep your teaching skills fresh and syllabus knowledge up to date, but it can also be a good little earner with an average charge of at least £20 per hour per child.
Advertise your services locally, through Facebook and other social media, or register with a tutoring agency.
Gardening Services
You?d be surprised at how many people in your neighbourhood will be willing to pay for someone to tidy up their garden, plant some flowers or vegetables, or just cut the grass. The start-up costs for a gardening business are likely to be low as you may already have a lot of the equipment already sitting in the garden shed Once the business expands you can update any equipment as needed.
Entice new prospective clients by investing in a run of leaflets or business cards detailing your services and pop them through the letterboxes of your neighbourhood and beyond.
Dog Walking and Pet Sitting/Minding
If you love animals and the great outdoors, dog walking is a great way to earn extra money and as your client list grows it can turn into a full-time business. On average you can charge between £10 and £15 per hour for each dog, and even charge a small fee for just checking in on a cat or dog on a daily basis.
Offer pet-minding as well and you will open up a whole new revenue stream. Be aware though, you will need public liability insurance just in case something were to happen to one of the dogs or a member of the public.
Growing Your Own
If you have some extra garden space and green fingers, why not grow your own vegetables. Focus on a particular kind of vegetable and sell it on to local restaurants and at farmers" markets. It may not make you your fortune, but you're sure to earn a few extra pounds from an enjoyable hobby.
House Cleaning?
If you find cleaning therapeutic and don't mind getting your hands dirty, you can set yourself up as a house cleaner. All you need is a mode of transport and some cleaning supplies and you're ready to get started.
Post flyers locally and advertise your services on social media with some special offers to build up a client base. Expect to charge around £15 per hour for cleaning and consider offering extra services, such as washing and ironing, to earn additional income.
Laundry and Ironing Service
It is safe to say that laundry and ironing are not really anyone's favourite chores, so many people are more than willing to pay others to do it for them on a regular basis. You can either charge an hourly rate – getting around ?8 to £12 an hour – or charge between 50p to £1 per item washed and ironed.
Bed and Breakfast
Do you have a spare room or two in your home and live in an area that is popular with tourists or close to a busy student hub Then why not consider opening up your home as a bed and breakfast" Of course, you will need mortgage, planning, and safety approvals before going ahead, but it is certainly worth looking into if you are wanting to boost your income.
Childcare
If you love children – and not just your own – there is a great potential for earning an income looking after kids. You will need to have endless supplies of patience and energy and adhere to certain Ofsted criteria.
To look after another person's child for more than 2 hours in a location other than the child's home, you need to register with Ofsted. The process is relatively simple and involves criminal, medical, and domestic safety checks. Failing to meet the criteria set by Ofsted can result in a court appearance, so make sure you're well-informed in all of Ofsted's restrictions.
Babysitting doesn't have the same criteria, and if you have a few evenings a week to spare, you can make a few extra pounds looking after children in their own home. Plus, Nannies can take care of the children of up to two sets of parents, without needing to register with Ofsted.
Photographer
If you have a quality camera and a real passion for photography, you could turn your hobby into a nice little earner. Build a body of work to show prospective clients and get family and friends to pose for you o boost your portfolio.
There are a number of roots you could take as a photographer. You could offer family or pet photoshoots, photograph special events such as weddings and birthday parties, or sell your photographs online either on your own site, via consignment, or as stock imagery.
Upcycling
If you take pleasure in giving old goods a new lease of life, then there is money to be made from upcycling. Sites such as Freecycle and Gumtree are great for selling upcycled goods, whether it be clothes, furniture, or anything else. You would be surprised how a lick of paint can transform a tired piece of furniture into a really desirable item with increased value.
Proofreading
There are a number of opportunities online for proofreading work, from editing blog posts, checking online copy, or taking a look at press releases or marketing emails. Plus, busy students are often willing to pay for a second pair of eyes to scan over their important essays and dissertations.
Sign up to some freelancing sites, where you will find lots of people looking for someone to take a look at their writing.
Translator
If you speak a foreign language, your linguistic skills will be in demand as a translator. Be aware that whilst some translation jobs are more informal and can be found through online freelance job sites, many are much more serious. You may require a professional qualification from an accredited body and professional indemnity insurance before taking on translation jobs with big UK companies.
You?ll also need a diploma in public service interpreting law, be registered with an approved interpreting body, and a licence from the National Register of Public Interpreters, to take on public service translating work.
Don?t Forget To?
Inform your insurance and mortgage provider before you kick start your home business. You?ll need to update your insurance policy to include business cover and make sure your mortgage provider knows, but don't worry it won't affect your payments.
Tell the HMRC within three months of trading. Registration is a simple process, with a form to fill in, which will vary depending on if you are a sole trader, partnership, or limited company. You can keep your tax bill as low as possible by claiming both business and homeworking expenses.
Spread the word about your new business by telling friends and family and by setting up social media pages.