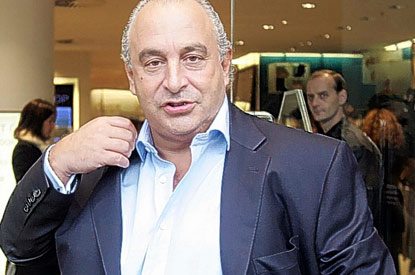 Speaking at the
press launch of London Fashion Week
, the Topshop boss said he's manufacturing more goods in the UK: "If we can help get more capacity here, I believe those retailers will tell you there is now the opportunity to be competitive and produce in the UK. "It's important at this time that everybody gets behind the youth of this country," Green continued. I want to see if we can help them get into business, manufacture goods and get into retailers. According to a new report from the BFC,the fashion industry is worth £21bn to the UK. That's roughly 1.7 per cent of GDP, and twice as much as publishing or car manufacturing. Fashion's share of manufacturing output has also grown since 2009.
Sir Philip
also announced on Friday that Topshop has renewed its sponsorship of NewGen, a scheme set up by the British Fashion Council (BFC) to showcase and promote new designers, and is
ramping up plans to establish a manufacturing academy
, which will train the next generation of tailors, machinists and pattern cutters, and will sit alongside the existing Fashion Retail Academy.
Share this story