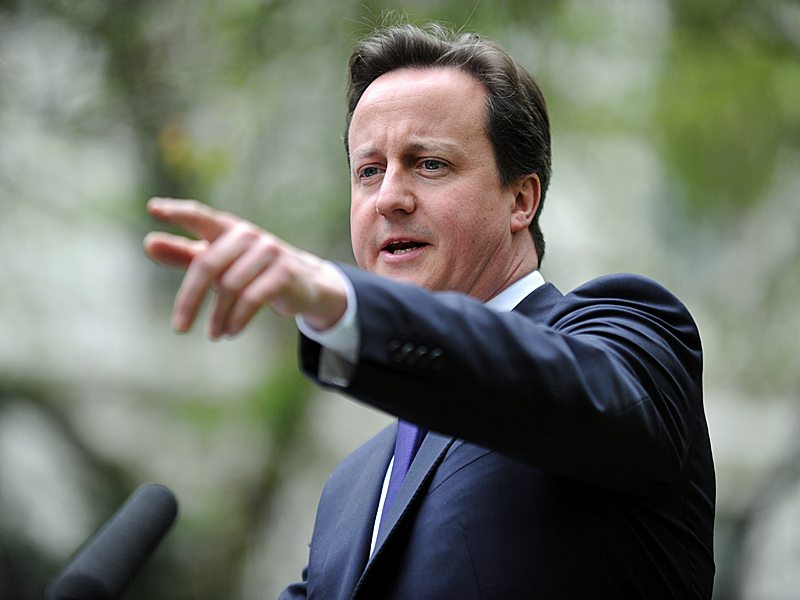 For a lot of people there's one simple barrier – they just don't have the money. They've got a great idea but they're out of work so they can't bring it to life. That is where our New Enterprise Allowance comes in. If you're unemployed and have a sound business plan we'll give you a package of support worth up to £2,000 to get you started. In the very first month of this scheme up in St Helens in Merseyside over two hundred people came forward. This is really going to take off – why? Because we know it worked when it happened before.
Go to major department stores in this country and you'll find Superdry clothes -a British brand that's gone global and is worth tens of millions of pounds. And you know how it started?
From a market stall in the eighties, by a guy who'd been unemployed for nine weeks, but who got one of Margaret Thatcher's Enterprise Allowances and the hand up that he needed.
But sometimes it's not the money to start up that holds enterprise back but the money to keep going – the cash flow. So many businesses are finding it hard to get credit from banks today. We'll we've got another £10 billion for small businesses from the banks…
…and my guarantee to you is this: I'm going to watch those banks like a hawk and make sure they deliver for Britain's small business men and women.
What else is it that's holding enterprise back? I think even baby Florence could tell me this one. She tells me quite a lot of things in her own way. Tax and regulation. So yes, we're cutting corporation tax from twenty-eight percent to twenty-four percent…
…but there is so much more to do.
Someone joked to me the other day that the biggest growth industry in Britain this past decade has been the people writing the rules. But the problem is, it isn't a joke. Every regulator, every official, every bureaucrat in government has got to understand that we cannot afford to keep loading costs onto business…
…because frankly they cannot take any more.
And if I have to pull these people into my office to argue this out myself and get them off the backs of business then believe me, I will do it. But you know what, some people think that this is all government needs to do – cut tax and regulation and just get out the way. I don't disagree. An enterprise government is an active government…
…using its power and clout to open up new opportunities for business.
Government is one of the biggest customers in the country. We've got billions of pounds of contracts to be won…
…but for too long they've gone to the same old big players.
So we're throwing open the bidding process to every single business in our country – a massive boost for small businesses, because we want them to win at least a quarter of these deals.
But it's not just small business we need to get behind. We're smashing down the barriers for our big-ticket industries too. Britain's got a real edge in medical research. In this country today we're developing the drugs and treatments that are going to banish some of the world's diseases and save countless lives. But we cannot be complacent about the advantage we have.
That's why we're bringing in a new ten per cent tax rate on patent income – to encourage companies not just to innovate here but to invest here, to expand here, to employ here…
…and I've personally been on the phone to the heads of some of the biggest pharmaceutical companies to get them to do just that.
And here's another thing I've personally been doing. And that is selling Britain to the world.I know some people are disdainful about that.
They see me loading up a plane with businesspeople and say – that's not statesmanship, that's salesmanship. I say this: attack all you want…
…but do you think the Germans and the French and the Americans are all sitting at home waiting for business to fall into their lap?
Of course not – they're out there selling their goods – and so should we in this country as well…
…and we shouldn't listen either to those who say we've not got much to sell.
I've been to one of the most impressive, massive, hi-tech, large-scale manufacturing plants on the planet…
…and it's right here in Wales, at Broughton.
There I saw hundred foot wings for the A380 airbus being made by some of the finest engineers…
…wings that are going to take flight in years to come.
Yes, of course we need to make more things in this country, but we already have many of the goods and services the world wants to buy.
So let me tell you: while there are contracts to be won, jobs to be created, markets to be defended – I will be there. If it's making sure Rolls Royce engines are in the world's planes, I'll be there. If it's making sure skyscrapers in the Gulf are designed by British architects, I'll be there. I'll be there not just because it's my job, not just because it's my duty, – because I but because I passionately believe – no, I know that this country can out-compete, out-perform, out-hustle the best in the world…
…and I'm going to make sure I use every last drop of my energy to make sure that happens for our country.
Image source
Share this story