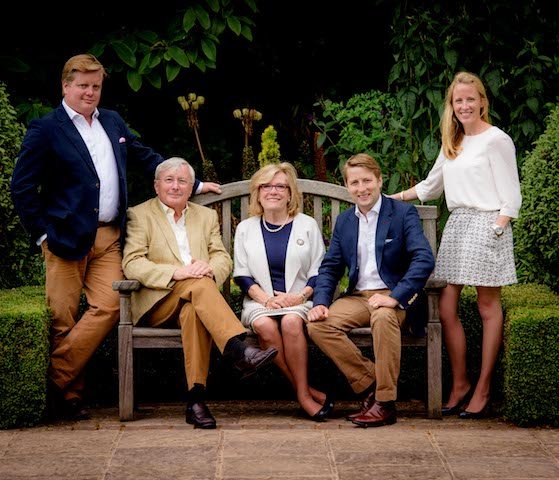 As one of the oldest operating businesses in the UK, our history includes managing the funerals for high profile historical figures from Queen Victoria to the Duke of Wellington. But today, myself and my two siblings, Emily and Jeremy, are in charge. With 200 employees and 38 funeral homes across the Home Counties and the South of England, we support thousands of bereaved families through their time of need. We?re still a family-owned SME, coping with the same issues of modernisation as any other while trying to uphold the values we?ve had for over 300 years. However despite our growth, we?re still customer facing, and caring for people is at the heart of what we do. Our long history and family-owned status have given us an unusual perspective on how to make lasting change in a traditional industry.
Our values
Our brand values are an extension of our family so it?s quite personal, as I think it is for every family-run SME.
?If the business does something wrong it reflects on our family, perhaps even our morality in a more profound way than a publicly owned company.?
On the flipside, we have an opportunity to use our family values to steer the organisation and invite all our staff to build on them. Family-led organisations are as vulnerable to the challenges of disruption as any business, and it is our responsibility to adapt and respond to changing societal demands.
How we keep our traditional business relevant
This is particularly true considering our longevity in what is quite a traditional sector. For example, we have started handling digital legacies and appealing to new customers that may be looking for a newer, more agile model. It?s a tricky balance, but when a longstanding business manages to celebrate its history without being encumbered by it, then modernisation becomes possible. Our own journey has included everything from widening our range of responsibilities to focus on caring for the living as well as the dead, including introducing the first electric hearse in our region and training our own celebrants.
Long-term investments?
Being family-owned has given us an opportunity to take a long-term perspective. We?re free from the commercial pressure from shareholders or quarterly cycles. That?s not to say family ownership is better, but it is different, and that long-term perspective is particularly helpful
for SMEs working in our industry.
"When comes to investment decisions, we?re not looking for a five-year turnaround."
For us, a planning cycle is anywhere between 10 and 15 years and we think about succession plans decades in advance. We can also afford to dedicate more time to engage and develop our teams and carry them with us. This often means building success internally and concentrating on development opportunities rather than hiring in talent just to meet the immediate demand. This long-term perspective also gives us the remit to spend more time and effort on improving relationships with people, customers and the community such as running regular companion groups.
The perks of being a private company
However, as a family-owned SME we?re not looking to?
maximise?
performance to create shareholder return. We can be more patient and follow a sustainable way to create business and opportunities. It?s the basic principles of patient capital. We have the chance to invest in improvements and initiatives that may not provide success immediately but will be good for our business and the communities we serve in the future.
Succession planning
On an ownership level, family-owned businesses have a chance to think about succession planning far in advance ? for the obvious reason that we know who?s in the family!
?My siblings and I are in our late thirties and early forties but are already looking at working with family shareholders and thinking how we can eventually transfer ownership to the next generation.?
Some of the most successful family businesses?
recognise?
that the family doesn?t always represent the best answer, and can see what skills there are within and where to lean on others. The most inspiring family businesses blend the best of the commercial market with the best of what their family has to offer. There is a new generation of Fields growing up ? seven, to be precise. Despite our succession plans, there is no pressure on them to join the family trade. My siblings and I all took different paths before joining the family business. It was great to have that freedom, and inevitably, the professions we were in and the experience we gained helped to?
mould?
the roles we have within CPJ Field now.
CPJ Field is a Funeral Directors service based in South-East England, it has been operating as a family-run business since 1690.
Share this story