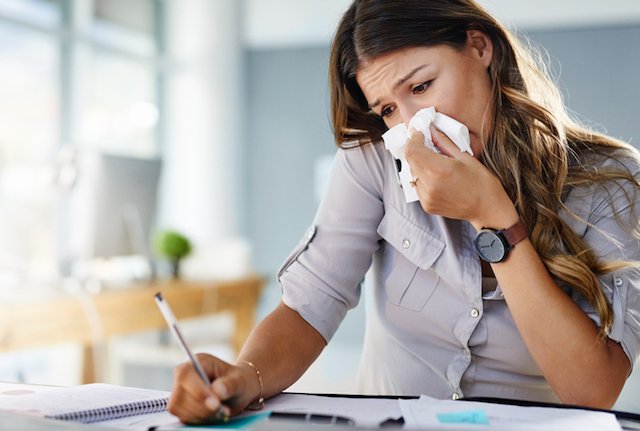 We ve been quite lucky in the last few weeks and enjoyed something of an Indian summer, particularly in London and the South East.
" But, as they say on Game of Thrones, ?winter is coming?.
?From a plumber's perspective that's not a bad thing as this is when the amount of boiler servicing severely ramps up.
Unfortunately, from the standpoint of a lot of employers across the country, it's also the time of year when workers are more likely to pull a 'sickie .
?As the temperature drops and the dark mornings and evenings draw in, a mix of the winter sniffles and dreaded ?man-flu" can cause an increase in sick days.
?Now don't get me wrong, most of these will be legitimate, and despite the inconvenience, they cause to operations, people get ill and the best place for them to be when they are not well is at home.
?After all, people forcing themselves into work when they are ill, what's apparently called ?presenteeism?, can be just as damaging to a business, as not only is that person less productive, they can potentially pass on their ailment to colleagues turning an isolated issue into a mass problem.
?"Genuine illness is just one of those things that all business owners accept and have to deal with."
" However, it's aggravated by those workers who, when they have very little wrong with them, decide a day in bed is more attractive than a day at work.
?"Now, pretty much everyone, at some point in their working lives, has thought about taking a day off rather than going into work."
But for some, and quite a few so it seems, think about it more often and perhaps there is an underlying issue as to why.
?According to a study by a firm called ADP UK, more than three-quarters of UK employees have not wanted to go into work at least once over the last year, which is above than the European average, which is around 70%.
?Apparently, based on this research, the UK is the 'sickie capital of Europe with more than a quarter of employees thinking it's okay to take a cheeky day off.
" That's higher than the European average of 21%.
?And, of those surveyed across France, Germany, Netherlands, and the UK, a huge 85% of British workers think that it's okay to call in sick two or more days a year!
?That's not going to help us if and when we re annexed from the continent and have to fend for ourselves outside of the EU!
?But I think there is more to it than just people wanting a day under the covers. It's an indication of dissatisfaction, which is suggested in this survey.
?When compared with their European cousins, UK workers are unhappier with their jobs, with 28% of respondents not wanting to go into work several times a month, or more, compared to just 15% in the Netherlands and 20% in Italy.
?"As a result, businesses don't just face the risk of losing employees to fake sick days but losing them altogether as their dissatisfaction grows and leads them to quit."
?Now, if there are people who just don't want to be in a job, then having an open discussion with this person, and evaluating their desire to be there, will, in the long-term, benefit both the worker and the business.
Whether the outcome of this discussion leads to the employee leaving and finding a preferred job, or best case scenario, feeling renewed positivity about the role, addressing the needs and feelings of unmotivated staff will improve the running of your business.
"However, there is the danger that talented people, who have the potential to be real assets to a business" growth, could be sucked into the black hole of dissatisfaction and join the 'sickie club."
?And this is where business owners need to bring their softer skills to the table.
" Creating a motivated and challenging environment where workers can stretch themselves, enjoy their work and feel like they are making a valuable contribution to their careers and the future of the business is a win-win for everyone.
?It's common sense, but far too often, when things are tough and external forces of economic pressure and political uncertainty, caused by those in the Westminster Bubble, means common sense is binned in favour of more aggressive practices to keep businesses afloat, which can be to the detriment of the workforce.
?"At Pimlico we ve brought things in like our 24-hour gym, on-site professional massage sessions and subsidised canteen to improve the workplace experience."
Yes, my team are expected to work exceptionally hard, and they do, but they know there is a two-way relationship where their efforts are appreciated.
?Making the workplace a welcoming and encouraging location is so important. Otherwise, the next time workers call in with a broken voice and a slight cough to say they?re not coming in, it might be more than just an excuse to catch up on a Netflix box set.
Share this story