"If we went back to James and John Chivas 200 years ago, social impact is probably what they would have done in today's world with today's media and global reach."
" These were the words spoken by Jean-Christophe Coutures, CEO of Chivas Regal, a family founded and now global whiskey brand that's supporting the rise of social enterprises around the world.
"They would have done what they did in their native Aberdeen, such as employ people and help others, but on a global scale. Today Chivas has the power to do that, namely, take great ?local" businesses and make them global," he continues.
Chivas Venture: Proof that mega brands are about more than global domination
Chivas Venture, the philanthropic arm of Chivas Regal, is a social enterprise competition.
Now in its fifth year, the venture has shone a light on countless social enterprises since it started, which in turn have impacted more than 2 million people across 50 countries and all 6 continents, making it a competition that has a truly global reach.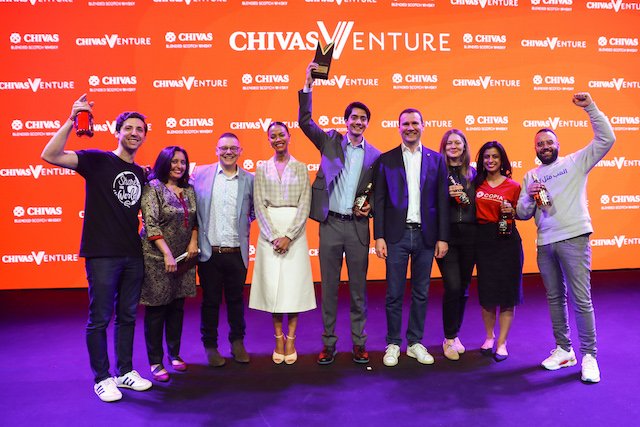 Each year, Chivas Venture offers $1 million's worth of 'no strings funding' to the top selected social entrepreneurs who are, in their words,?"blending profit with purpose to have a positive impact on the world."
This makes Chivas Venture a rare opportunity for entrepreneurs to get a cash injection and upscale their business without having to bow to the demands of any investors, or change their business model to suit their whims.
This year's celebrity judges included Star Trek and Avatar star, Zoe Saldana and UK comedian and star of the popular sitcom, The IT Crowd's Richard Ayoade.
2019's winner and top 20:
Whilst this year's winner has been announced as?Javier Larragoiti, Co-Founder and CEO of Xilinat,?let's look at the entire top 20 finalists from around the world who made the cut.
[article id="132262″ title="Meet the Chivas Venture finalists fighting homelessness"]
Agua Segura: Tackling global water scarcity with technology
Founder:?Nicolas Wertheimer
Agua Segura aims to make a social and environmental difference by combatting the global issue of water scarcity. The initiative is to utilize technology for water sanitation and implement a rain harvesting system to bring safe drinking water for rural communities.
A recent United Nations report indicated that 33% of people living within Latin America and 17% in Argentina, do not have safe access to drinking water within their own homes.
This social enterprise from Argentina is determined to empower communities by educating the population on safe hygienic practises and to give them access to new technologically advanced forms of water sanitisation.
Robinetto: Smart water counters for hydration
Founder:?Jeroen Vereecke
The Robinetto social enterprise focuses on reducing our ecological footprint by attempting to diminish the use of plastic packaging, energy usage and transportation for water.
The idea behind the business is simple, they wish to transport water through pipelines. The Robinetto pipelines would offer a wide range of freshwater drinks such as sparkling, flavoured and still water.
They would also track their level of progress through real-time data derived from smart devices installed within the water counters.
The main purpose to track is to understand how much waste is being avoided through the pipeline method as opposed to using packaging, transport and energy for water consumption.
Cataki: Doing right by recycling
Founder: Mundano
Cataki brings together waste generators and collectors on a shared platform to create a public recycling system. The organization is based in Brazil, a country where 86% of local individuals do not have a structured recycling system in place.
Cataki is attempting to connect autonomous waste collectors with the local consumer in order to ensure a method of responsible recycling. Cataki aims to harness the power of the social community to ensure sustainable practices for waste reduction.
LAM?ON: Biodegradable plastic for the print industry
Founder: Gergana Stancheva
LAM?ON is a social enterprise from Bulgaria which produces a biodegradable laminating film made from corn print magazines, posters and menus. This approach prevents the wastage of paper and plastic usage.
The recycling process of laminating films made from petroleum contains chemicals linked to sicknesses within the respiratory system, chronic pain and cancer.
In order to avoid these detrimental health issues and reduce the wastage in dangerously formulated plastics LAM?ON aims to be an environmentally sufficient replacement in printing.
Burn To Give: Burn calories to give for the malnourished
Founder:?Eduardo Della Maggiora
Burn to Give recognises that obesity and malnutrition is a global health concern thus the need to combat both of these epidemics is crucial.
Burn to Give is utilising social networks, technology and behavioural science methodologies to inspire people to live a more healthy lifestyle.
The unique idea behind this social initiative based in Chile is that every calorie burned by an active participant would mean the organisation will give a calorie to another malnourished child.
Behavioural psychology is used as a motivational factor through social networks such as online gamification for individuals to track their calories. Both hunger and malnutrition are targeted through the interactive method.
Giving Streets: A cashless society for donations
Founder:?Dimitris Vassiliadis
The rise of the digital currency is inhibiting the transfer of physical cash given for the homeless and donations for charities. The general public is starting to carry less cash and use credit cards or online banks for transactions.
Giving Streets from England attempts to integrate a digital exchange of money through QR codes and smartphones to help give cashless donations through their app which can then be redeemed through partnering retailers.
The GivingStreets app will be a digital humanitarian centred approach for micro-donations.
Ingredio: Ingredient labels decoding harmful chemicals
Founder:?Zoe Cournia
The Ingredio app educates consumers about harmful chemicals found in food and cosmetics products.
The app allows users to photograph labels of products to gain information on various health factors including toxic and cancerous chemicals.
With the help of these facts transferred from established databases such as the European Commission, World Health Organization and National Institutes of Health consumers will gain awareness leading to the demand for better formulated-products.
Founder:?Jonathan Haran
The Sustainable Group located in Israel is working towards building an infrastructure of development within the water, food and energy sectors for countries lacking these resources.
The idea is to construct a ?village in a box" scenario. This project plans to promote self-sustainability for countries lacking legitimate infrastructure by providing technology-enabled solutions for communal needs in order to develop the overall quality of life.
Vegea: Sustainable fashion design from wineries
Founder:?Valentina Longobardo
Vegea the finalists from Italy are aiming to replace the usage of oil with seeds, grape skin and stalks from wineries to create fabrics for the fashion world.
The excess waste from the wineries is called bio-textiles which can be used as an alternative for oil-based synthetics. Vegea attempts to target two global problems being the wastage from wine production and synthetic textile usage in the fashion industry.
Their idea provides a solution to both concerns by using wine production waste to create sustainable designs in the fashion industry.
Pocket Marche: An online marketplace for food production
Founder:?Yamaguchi Mikio
Pocket Marche has created an online marketplace for fishers and farmers to engage with consumers on their own accord to further advance their agricultural businesses.
This methodology will help combat food produce aesthetics as the National Geographic has stated that 30% of fruits and vegetables are thrown away simply due to the way they look.
In order to challenge the mainstream beliefs on food aesthetics, Pocket Marche attempts to give farmers the chance to create a more interactive transaction with the consumer to convey their knowledge on the produce.
THE GRAND WINNER: Xilinat, turning agricultural waste into sugar
Founder:?Javier Larragoiti
Xilinat aims to create a natural sweetener from agricultural waste. The sweetener will not have the same harmful side effects of real sugar such as teeth cavities, diabetes and high-calorie intake.
The healthy sweetener will help combat diabetes and obesity while recycling agricultural waste into a useful sugar alternative.
Originally based in Mexico, Xilinat is reducing the average 40% of carbon dioxide produced into the air through agricultural waste by creating a food substitute with the waste instead of burning tyres.
TYKN: Digital identities for basic human rights
Founder:?Tey el-Rjula
Tykn.Tech uses blockchain technology to create digital identities for those who are labelled as invisible in the Netherlands. This issue pertains to many refugees that are displaced into different camps thus they are not given an identity credential.
Digital identities would replace the old paper-based identity documents and help validate an individuals identity faster through digital id's.
Tykn is driven to create an identity system which targets the problem of "invisible" identities and turn them into "invincible identities", which means to provide concrete evidence of one's identity enabling them to gain full access to human rights.
Syntoil: Thermal decomposition for the tyres and rubber industry
Founder:?Martyna Sztaba
13 million tons of tyre and rubber waste are discarded yearly but the recycling process for tyres is to merely burn them, which is not exactly the most environmentally sufficient method.
Syntoil a social enterprise from Poland, has put forth a novel method called continuous pyrolysis that uses thermal decomposition to decrease the harmful chemicals emitted through the burning of tyres.
Syntoil pushes to utilize thermal decomposition to provide a solution for tyre waste and prevent the possible respiratory illnesses that may arise from the chemical compounds released through the burning tyres.
Speak: Helping the "other" feel at home
Founder:?Hugo Menino Aguiar
SPEAK aims to assist international migrants within a linguistic and cultural program for refugees to feel less socially excluded. International migrants have increased to over 258 million in 2017.
Thus the integration process for these refugees in new places tends to be difficult. SPEAK being originally from Portugal has created a supportive networking program for participants wishing to help and meet the "other" communities.
By learning new languages and cultures the excluded communities are better able to integrate into a new home.
Human Link: Linking Alzheimer's patients with accessible healthcare
Founder:?George Georgescu
The Human Link helps individuals with Alzheimers or dementia by assisting them through caregiving and home care institutions. There is a heavy emotional and physical toll on Alzheimer's patients and their families while dealing with this sickness.
Alzheimer's and dementia patients have a habit of wandering and can find themselves in dangerous situations thus their families must consistently watch over them.
The Human Link allows for a two-way communication device linking the patient and caregiver with access to necessary health care services.
Revive Eco: Coffee grounds for the environment
Founder:?Scott Kennedy
Revive Eco aims to diminish the 500,000 tonnes of waste left from coffee production in the UK. However, coffee grounds are very rich in reusable resources and can benefit the environment.
The coffee grounds being disposed of can alternatively be turned into a natural soil conditioner which can be put back into the earth as nutrients. The coffee grounds can also provide sustainably generated palm oil for the cosmetic, fashion and hospitality industry.
Save The Bees: Save the ecosystem by protecting the bees
Founder:?Michal Matus
Save the Bees, a social enterprise based in Slovakia directs beekeepers with technology for effective bee care and long term initiatives of prosperous ecological agriculture.
It is important to manage the bee care to support our ecological economy otherwise, popular foods such as coffee and avocados would not be easily accessible in the food production system.
The app created by Save the Bees utilizes artificial intelligence to manage an easy workflow for beekeepers with data insights into pest control, harmful chemicals, and rise of diseases.
Khula: Virtual small farm businesses
Founder:?Matthew Piper
KHULA presents an app to connect farmers with potential consumers in order to assist the unemployment rate of agricultural workers in Africa.
Africa has arable land but the small business of farming does not have much opportunity for growth. The KHULA app manages the logistics of farming businesses and implements sales strategies for business growth.
KHULA is a platform for creating economic value and combatting poverty levels within Africa as farmers can make the best use of business development by representing the benefits of their access to arable land to consumers.
Copia: Combat hunger with waste management
Founder:?Komal Ahmad
Copia from the USA aims to assist businesses with their waste management by distributing their excess waste to individuals in the community who are in need of food.
The remaining food thrown away by businesses and nonprofits should not be wasted or put into landfills.
The solution Copia puts forth is to allocate the food waste towards those who are facing hunger.
The Copia Connect app is a platform for communication between nonprofits looking for donations from businesses that have an excess amount of food leftover. The app uses an algorithm to match the donation according to requests made in real-time.
Vulcan Augmetics: Prosthetic for human-robotic arms
Founder:?Khanh Ha
Vulcan Augmetics based in Vietnam is creating a new form of prosthetic material for technological innovations such as robotic arms to help amputees around the world.
Prosthetic innovations are meant to be affordable and replaceable for amputees. The prosthetic will help amputees gain their independence back by allowing them to conduct physical tasks in the workforce.
Vulcan Augmetics states that humans and technology are becoming closer together thus having robotic arms will become normal in society.
Therefore they are attempting to create robotic accessories and body parts for the amputated a more accessible feature through their organisation.