It's safe to say that we have reached peak coronavirus mania, with shoppers flocking to supermarkets to stock up on an abundance on toilet paper and antibacterial products, leaving shelves empty.
Despite shops looking like a scene out of a post-apocalyptic blockbuster movie, it's important to understand consumer concerns; with the UK currently dealing with?273 reported cases of the Wuhan born virus, three of which lead to fatality, societal concerns and purchasing related mania shouldn't be a surprise.
The workforce is "feeling the fever"
It's not just households who are prepping for the wrath of the virus, many employers are also trying to stem the contamination by allowing their staff to work remotely.
In fact, it's rumoured that 20% of the workforce could be off work due to the outbreak, (even if they are not infected)in order to self-isolate and prevent contamination.
While the thought of staff working remotely might make some more traditional employers nervous, it's important to remember that places like public transport and office spaces generally, (especially those with poor ventilation), can be a petri dish for disease and contamination.
Which UK city is most prepared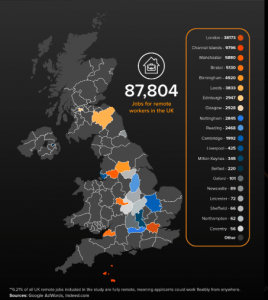 Recent research by Ring Central a provider of cloud-based communications and collaboration solutions for businesses has highlighted the surge in employers offering flexible working.
In the UK, there were 87,804 remote working jobs listed, compared to just 46,119 job opportunities in the US. The UK had 90% more jobs than its trans-Atlantic work rival in offering?remote working options. What's more, this trend has not just been growing since the outbreak of coronavirus. In fact,?1 in 10 employees?would go as far as to leave a job if they did not offer the opportunity for flexible working.
If you are sending your staff home due to coronavirus fears, here's how they can maintain their productivity, as told by?Petra Smith?Managing Director at?squirrels and bears.
Employees guide to working from home
Get ready for a day in the office in the morning?- start your day at the same time every day if you can, and don't start working until you look and feel ready for the day ahead. It will change the way you look at your working day and feeling good will have a great impact on your productivity levels.
Set your agenda for the day?- plan your tasks, calls, breaks the more detailed the plan, the better. Having a set plan helps to avoid distractions and it will help you achieve your objectives easier if they are broken down into little tasks.
Create a designated working space – your home office set up makes a difference too. Avoid sitting on the sofa in front of the TV. If you can, set yourself up at a desk that has everything you need mostly enough space and a comfortable chair. It will help to keep your mind focused.
Organise yourself in a way that works for you -?for some people, organisation means files, drawers, neat stacks or no stacks at all, and a complete lack of clutter. For others, organisation simply means knowing where to look and being able to find what they need right away. To make your life easier and save yourself a lot of time, have what you need in an easily accessible place.
Give yourself a break?- try to have at least a few breaks during the day and definitely make time for lunch, preferably not at your desk. If you can, try to mix your breaks with social interactions even if you don't feel like talking to anyone
Coronavirus reveals gap in remote working etiquette
For many employers, coronavirus has revealed a lack of communication in terms of ensuring that remote teams meet their goals.
"The rise and trend towards remote working has firmly been on agendas for some time now.
"However, what we ve seen in the past couple of weeks is a significant gap in how organisations are actually equipped to deal with this shift" saysLisa Pantelli, head of content and community at simply-communicate, she found remote working not to be an issue when?people and business are set-up well.
"The challenge comes when teams are struggling to remain connected to their colleagues and this can be through either poor line management or where the technology has not be tested sufficiently to enable people to work remotely, successfully. The current coronavirus outbreak has really highlighted these gaps and acts as the perfect opportunity for organisations to really road-test their approaches," she adds.
What are her top tips to an employer?
Make sure the technology works!"You may have the technology available, but does everyone know how to access it" Do they know how to use it" Never assume people are comfortable with trying new platforms if perhaps they have not used them before.
Set parameters:"Clearly mark in your diary when you are and aren?t available. This helps to prioritise your work and helps with team communication and management and let's not forget, overall well-being for those who feel that they need to be plugged in the whole time.
Make remote working a personalised experience:Again, this relates to technology but personalising platforms such as intranets where people can log in and see what their teams are doing, latest updates, take part in virtual meetings also help no end in building team culture and camaraderie. People need to feel involved