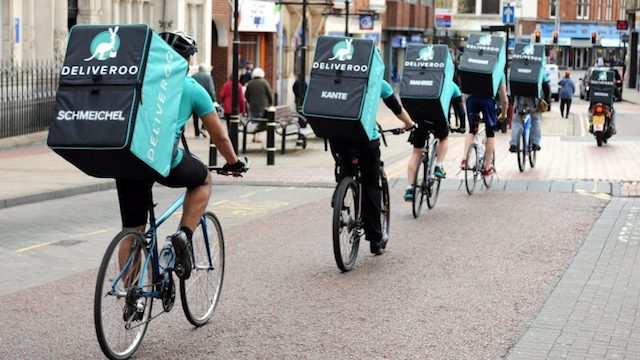 Global food courier Deliveroo has won a 
court action
that says its workers are not entitled to collective bargaining. Collective bargaining can be loosely defined as encompassing the negotiation of wages and other conditions of employment by an organised body of employees. The ruling made yesterday followed a previous judgement made by labour law body the Central Arbitration Committee (CAC) that was reached in November 2017. But how were they able to make this judgement about Deliveroo workers last year? In 2017, the committee concluded that because Deliveroo riders were allowed to have a large degree of agency and flexibility in their jobs, including being able to pass on a job, substitute or even abandon a job, they were therefore not obliged to provide a "personal service". Because of this, it led the committee to classify Deliveroo drivers as self-employed, meaning that they didn't hold the right to collective bargaining, which is something that those classified as fully employed by a company, are entitled to. The impetus for the court case this year came as a result of a number of Deliveroo's
gig economy
workers demanding increased employment rights, such as holiday pay, the minimum wage, and pensions contributions. Campaigners believe that by banning drivers from collective bargaining, Deliveroo was discrediting their employee's human rights, according to the laws set down by the
European convention on human rights
. This year, the Independent Workers Union of Great Britain was attempting to overturn the prior verdict that said that Deliveroo's riders were self-employed. However, yesterday, the high court rejected claims that this latest ruling has breached their human rights. Mr Justice Supperstone said Deliveroo riders were not "in an employment relationship" with the firm, so the right to collective bargaining did not apply to their employment situation. – Campaigners had raised an estimated
£30,000
to front the failed legal campaign. In short, the ruling confirmed the anxieties that so many employees working in the gig-economy face, namely that they are not protected by the same rights that fully employed candidates enjoy when working for a company. The Independent Workers Union of Great Britain (IWGB) said it would appeal against this very latest ruling, saying that a majority of Deliveroo riders wanted workers' rights as well as union recognition.
 "The judgment is a terrible one, not just in terms of what it means for low-paid Deliveroo riders, but also in terms of understanding the European Convention on Human Rights. – Jason Moyer-Lee, IWGB
"Deliveroo riders should be entitled to basic worker rights, as well as to the ability to be represented by trade unions to negotiate pay and terms and conditions," he continued. Unsurprisingly, Deliveroo representatives felt very different about the latest ruling…
 "This ruling has been a victory for riders who have consistently told us that the flexibility to choose when and where they work is the number one reason they ride with Deliveroo". – Dan Warne, UK MD, Deliveroo
No doubt, news about the outcome of the court action will deal another mighty blow to gig-economy campaigns across the UK. However, the ruling does raise the question if the government and associated bodies, should re-evaluate the laws surrounding the gig-economy and the rights of gig workers in the future.
Share this story