Over the past eight years, many things have altered the economic fabric of the UK. From the nation's decision to leave the European Union and its effect on British export businesses to the current coronavirus crisis, which has seen the closure of non-essential retailers and the self-isolation of many workers.
One aspect of the business economy that hasn't changed much during this time is female leadership in FTSE 100 firms. According to a 2020 report by financial firm IG, just five FTSE 100 companies are led by women.
The figures at a glance
The number of female CEOs in this sector hasn't experienced steady growth during this period. Instead, numbers have oscillated during the years 2012-2020. While representation hit a relative high during the years 2017-2019, where numbers hit six, (compared to 4 in 2012), by early 2020, the number of female CEOs in these firms dropped to only five.
But why is female representation in the FTSE 100 important?
Not only is better gender representation a moral imperative and if displayed at the top tiers of business, can influence others, but female equality in business provides offers better commercial gains too. In fact, a 2015 study found that if women were a fully integrated part of the economy, it could add up to 26% to annual global GDP by 2025.
Here are the facts in detail:
In 2020, 5% of FTSE 100 CEOs are women while 95% are male
In 2019, only 23% of FTSE 100 executive committees were women?
In 2019, the number of women in FTSE 100 executive and senior positions was just 28.6%?
The report's findings regarding the gender pay gap among FTSE 100 CEOs are similarly low, with the average male CEO in this space earning as much as ?883,154 more in total remuneration compared to female CEOs.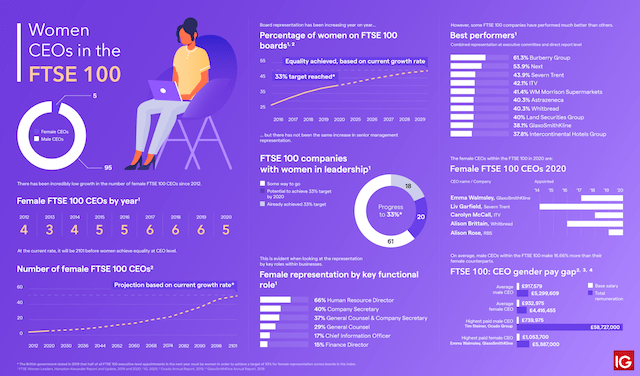 When it comes to the FTSE 100 firms' highest-paid male CEO Tim Steiner of the Ocado Group, he earned over 58.7m compared to GlaxoSmithKline's female CEO, Emma Walmsley who earned around 5.9m overall. However, this discrepancy can be put down to Steiner's position as co-founder and major shareholder in his company.
The top female CEOs in the UK are:
Emma Walmsley: GlaxoSmithKline
Liv Garfield: Severn Trent
Carolyn McCall: ITV
Alison Brittain: Whitbread
Alison Rose: Royal Bank of Scotland Group
However, it's not all bad news for female FTSE 100 CEOs, as the findings show that the average female CEO in the FTSE 100 space earns a higher base salary than their male counterparts, (932,975 compared to 917,579).
Earnings and representation
Despite better base salaries for women in this area, male CEOs are still paid more in bonuses, with total remuneration numbers being vastly higher for both average male CEOs and for the highest-paid male CEO in FTSE 100 firms.
Out of the FTSE 100 firms included in the report, 61 said they had "some way to go" to achieve equal gender representation in their leadership roles, while 20 said they had "potential to achieve a 33% target" this year.
So far, only 18 of the businesses included in the report "already achieved" the 33% target.
The report also appears to confirm that within FTSE 100 firms, women are most likely to be found in certain types of leadership roles as opposed to others.
For example, the Human Resource Director role stands at 66% in terms of female representation followed by Company Secretary at 40%. This is followed by lower representation levels for Chief Information Officer, (17%) and Finance Director, (15%).
Projections and equality
Women, however, do make a better show on the boards of FTSE 100 firms, where their representation has been increasing year on year, with a 33% equality target already reached in early 2020.
Based on this current growth rate, full equality at board level could be achieved by 2029.
However, when it comes to achieving greater female representation at CEO level, the projections are not as optimistic. According to the report's findings, at the current rate of growth, it will take over 80 years for women to account for 50% of FTSE 100 firm CEOs.
However, growing gender equality on the boards of FTSE firms is something to celebrate, and is indicative of the growing importance and influence of diversity and inclusion policies in the world of business, as in other walks of life.
Things to celebrate
Despite the work that still needs to be done, governmental pressure has helped realign the gender imbalances within the sector and has led to an increased number of appointments for women, allowing for the 33% level of representation that was reached across FTSE 100 boards in February 2020.
Since then, there have more improvements where, as of this month, there are no men-only FTSE 100 boards, compared to 21 all-male boards in existence under a decade ago.