Once a fast fashion favourite for many teens on the high-street, clothing giant Forever 21 has just announced it's filing for bankruptcy protection in its founding US state.
Not set to live 'forever'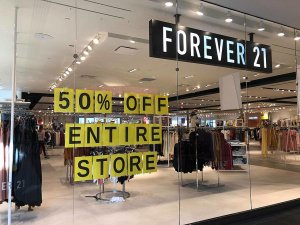 The news breaks just months after Forever 21 closed its largest European store in Dublin, Ireland at the beginning of this year.
Having only opened in 2010, its short nine-year stint in the UK and Ireland saw the brand make major losses (estimated to be a staggering £39.2m).
For those who have been following the brand's journey of late, its (lack of) longevity shouldn't be a surprise. In fact, it's been experiencing uncertainty since 2016, when it had to shut down its outlet in Westfield shopping centre, London.
Today, as part of its bankruptcy proceedings, the firm says it has obtained £224m in financing from existing lenders and ?75m in new capital.
But as young people pull further and further away from the high-street and to low-cost and fast-fashion e-commerce brands, it's hard to gauge if a bailout will be enough to save this cheap garmentconglomerate.
A PR nightmare…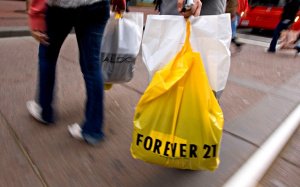 As the store sets to shut 350 of its outlets worldwide, many marketers suspect that its poor PR moment this July did not help protect its legacy, nor aid in its chances of business survival.
This damaging moment occurred when plus-size shoppers were deeply shocked when they received an Atkins diet bar in their online parcel.
A brand 'out of touch' with body positivity?
In response to the customer anger that ensued, the company claimed that it occasionally sends out test products for consumers to try, unintentionally failing to make the link as to how this may be offensive for some women who flock to the brand to find clothes that fit them correctly.
Associating "diet bars" with clothes shopping is a dated move to target today's younger and more 'body positive' demographic.
Neil Saunders, managing director of GlobalData Retail, said: "The entry of Forever 21 into Chapter 11 bankruptcy is a consequence of both changing trends and tastes within the apparel market and of missteps by the company."
Is it this part of general high-street decline
The slow death of high-street brands like Forever 21 shouldn't be seen as surprising, because just last year almost 3000 shops have shut on UK high-streets alone. The £505 million pound loss of clothing giant Topshop, was a solidifying factor for many that on-street shopping is a slowly becoming an outdated activity.
Who else is going under?
Real Business has compiled a shortlist of the current major retailers set to sink.
Coast & Karren Millen –" sister brands entered into administration earlier this year but were recently rescued by online shopping giant,?Boohoo
House of Fraser –" was bought out of insolvency by another dominantly digital brand,?Sports Direct
Miss Selfridge & Evans –?under the ownership of Phillip Green, stores saw a £17.5 million pound loss and is now making the shift swift to online shopping in attempts to survive
Is it all too late for the high-street?
It appears young adults looking to get their quick clothing fix won't turn to their local high street anymore.
These tech-reliant teens are largely influenced by Instagram-starlings who are heavily sponsored by online brands such as Pretty Little Thing. Ironically, it appears that if you are a high-street store that's sinking, your only means of survival is to collaborate with your competitors on the internet. This is increasingly clear in Topshop's move to?begin selling its stock on the online department store,?Very
It's hard to estimate the longevity of these high-street fashion stores. However, the over-saturation of the throwaway clothing marker is making it hard for even the most established brands to survive.