Crowds of protestors both for and against Brexit standing around Westminster is not an uncommon sight these days. In fact, it's exactly what you would expect the houses of parliament to be consumed with just a week away from Britain's impending departure from life in the EU as we know it.
However, nestled in the Churchill Room in the monumental House of Commons building – a more refreshing event occurred this morning, namely the first SJL (charity) foundation's "Dragons' Den" style pitching event for social impact entrepreneurs.
What is the SJL foundation?
Organised in June 2019, foundation founder Simon Lancaster hopes to raise £100,000 in year one, of which, 45% will go to the start-up business grant fund, 45% to Acorn's children's hospices, and 10% to fund his own employees' individual charitable pursuits.
Today's competition
Whittled down to just 8 business contestants from an original 50, each of these budding business owners had just 2 minutes to pitch why they think there idea is worth a £2,000 investment including why they deserved mentoring from some of Britains best financial heads.
There seemed to be a recurring theme among the contenders each of them possessed a strong ethical and personal reason for taking the leap into entrepreneurship.
1. Social uplift through sport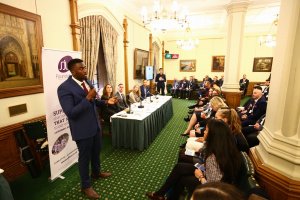 To tackle the rise of knife crime and children entering into gang violence, one entrepreneur has created an app that links up young children with sports groups in a close radius.
With 27,000 estimated gang members between the age of 12-17 operating in the UK today, Malvin Unos app is a timely and necessary tech intervention to combat systemic social violence. The cost of a subscription to this app would beApproximately £40 and he plans to implement a scheme whereby lower-income families can access the plan in a cheaper and more affordable manner.
Uno's app did raise some concerns with judges mostly in regards to where the revenue will come from. He made it clear that sports sponsorships on his website will help them bring in funding along with potential partnerships.
Related Article- Setting up a foundation
2. 'Sanitised' sustainability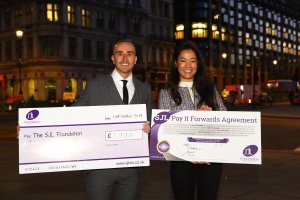 The notion that fast fashion could serve anyone any long term purpose seems like a ludicrous statement in this world of cheap e-commerce mega brands.
However, that's what Jennifer Jia, a Cambridge student, aims to do. She is turning throwaway garments from major clothing brands into accessible sanitary pads for women in third world countries and retail them at a more affordable price at 1p each.
EMPads want to produce these sanitary pads on a mass scale that will make them the cheapest on the market, remain hygienic, and crucially provide a mass-market solution to reach 43 million women from low-income countries.
Interestingly, this brand tackles two issues at the same time. First, the growing fashion waste issues (let's not forget that fashion waste ranks 4th in the EU as an environmental concern), and the economic and hygiene based inequality menstruating women in developing countries face.
What did the judges think?
One of the concerns raised about EMPads was ensuring that the business wasn't highjacked by major clothing brands she teams up with. Or over-pumped and subsequently deflated by a huge PR campaign where its central message and mission might be lost.
However, working closely with the sustainable development centre in Cambridge, Jia shows no sign of being weighed under or cast aside in her quest for environmental sustainability and female health equality. When pressed on what the £2000 would be used for by judge Lancaster, it was revealed that it was to keep the overheads low – with developing countries shipping the used goods to the impoverished countries anyway for waste.
A shift in what drives success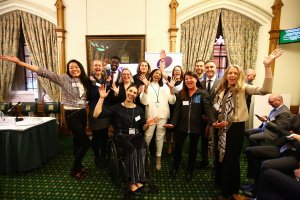 Amongst other participants today was a company that aims to provide and fit bras for vulnerable elderly women, a sustainable clothing store that makes stylish, yet practical clothing for disabled people, and an online store that creates toys made out of plastic waste.
The world of business is often one that celebrates ruthlessness, with many of today's notorious entrepreneurs, not exactly being known for having an ethical stance but instead just being praised for the streams of wealth they've accumulated. The good news from today was that all eight entrepreneurs were awarded £2000 to help grow their businesses.
There has never been a more crucial time for promotion of businessess who align themselves with an ethical way of thinking. For any SME starting out, moral principles will be just as much of your USP as anything else.