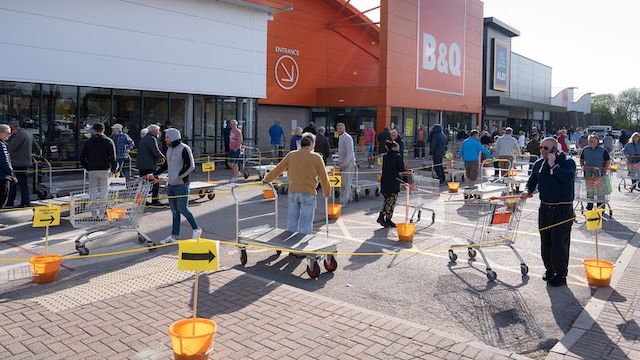 Is the UK finally open for business? Late last week, traffic rose to its highest levels since lockdown began, while 155 of B&Q's stores, (over half of its total UK branches) have reopened to the public. Burger chain, Five Guys is also pursuing a 'phased reopening.'
With the number of confirmed coronavirus cases at 153,000, the high diagnosis rates make the Government reluctant to give the public a concrete end date to lockdown, with home secretary, Priti Patel saying the figures show the UK has reached a "
terrible milestone
" in its battle against the virus.
Coronavirus and UK businesses
Despite these comments, former chancellor Philip Hammond says UK businesses cannot wait much longer as continued lockdown means economic recovery could take years;?one?
forecast
puts it at three years, while a Bank of England official says the economic impact of the virus could be the worst in centuries. With the UK's deficit expected to reach
?260bn
, Hammond says businesses desperately need answers on the lockdown end date so they can prepare for reopening in line with social distancing guidelines. Consumers only have to look at their deserted high streets to see the economic impact of the virus firsthand, with in-store only business Primark, (that usually makes ?650m per month) made 0% in sales last month due to lockdown.
Non-food retailers are hopeful they can emulate their supermarket counterparts in implementing social distancing measures in their stores after lockdown, which could include reduced numbers allowed in, and the provision of hand sanitiser, according to The British Retail Consortium.
Family owned firm?
Timpson
, a repairs chain, is one high street business that's set to reopen 40 of its 2,115 stores under strict social distancing guidelines; but what about smaller businesses without the infrastructure to do the same?
SMEs struggle to reopen
While big firms such as B&Q, Five Guys and Timpson are 'going back to business' in coronavirus Britain, will it be as easy for the nation's 5.9m SMEs? While government lending to smaller businesses experienced something of a log jam under the CBILS, lending finally
doubled
last week.?But smaller businesses also have insurance issues to contend with, where a number are having their
claims rejected by insurers
, which limits their chances of reopening at all. Will Craig, Managing Director of
LeaseFetcher
reflects on the impact of lockdown on the car leasing sector; ?
I shut down the office a week before the UK lockdown out of respect for staff's personal circumstances and in preparation for what I thought might come. It has been over a month now since lockdown was brought into effect and we have started to see a number of leasing brokers announce their plans to reopen their doors for business as usual.
There are some brokers that have no choice but to reopen for business?as a matter of survival, if nothing else.
"However, there are a number of other companies out there that have acknowledged that supply has generally fallen at a much faster rate than demand. An example of this refers to the significant increase in demand for short-term rental vehicles within the social care sector; which in turn, creates a new temporary market for brokers who can provide short-term leases to those specific groups that need the support.
"Typically, leasing brokers have capacity to work from home, so I would not expect there to be too much disruption?other than the general drop in demand that we have seen in recent weeks
."
Share this story