?Video ads that play at full blast or giant pop-ups where you can?t seem to find the exit icon are designed to be disruptive,"?Roy-Chowdry
explained in a blog post
. "They often stand in the way of people using their browsers for their intended purpose.? Such poor ad experiences, he added, led to a
30 per cent increase in the use of ad blocking
extensions last year. "
This reduces the ability for publishers to continue creating free content and threatens the sustainability of the web ecosystem."
Of course, Google's intention isn?t to block all adverts. Instead, the web browser will only block those that fail to meet standards set out by the Coalition for Better Ads. These standards were based on the opinions of over 25,000 consumers. Chris Bentzel, Chrome?s engineering manager, explained that
websites will now be evaluated
and given a passing or failing grade. You can find out which category you fall under through Google?s
Ad Experiences Report
. Those who commit a certain number of violations will be given 30 days to fix the issue before all ads are blocked. Once complaint, the site can be reviewed once more by means of Google?s Report.
---
The world?s biggest advertising companies are struggling. Falling share prices for giants like WPP, Publicis, Omnicom and Interpublic Group were the story towards the end of 2017.
---
While consumers rejoice, companies are of two minds about it. Elliott Clayton, senior vice president of Conversant, explained to Real Business that such a measure could spell good news for advertisers ? ?it will minimise the potential for less reputable businesses to make money from serving poor quality online adverts.? It could increase user-trust in online adverts and further foster consumer confidence. However, the internet is largely free because of advertising. Clayton reminds that ?users pay for their use of the internet by viewing ads. Ad blockers, however, endanger this unwritten agreement between user and publisher.? With Google?s default ad blocker already in full swing, what adverts are deemed intrusive? According to Bentzel, ads with flashing animations, videos with automatic sound or a countdown clock won?t gain you brownie points. The Coalition for Better Ads added large sticky ads to the list, as well as full-screen scroll over ads and mobile ads with 30 per cent density.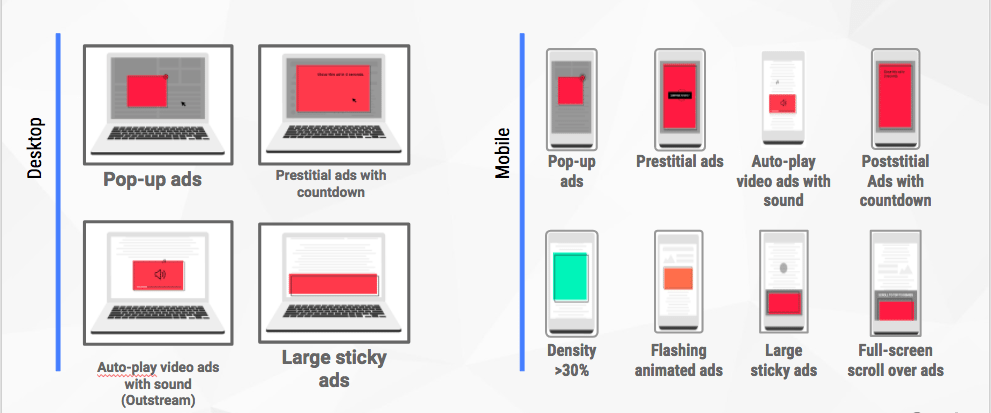 Instead, the research found that ?long, skinny ads on the right-hand side? were preferred, alongside large static images at the top of the page.
Share this story