The city of lights. The city of love. Paris is many things to many people, but for Didier Rappaport, it's also a tech capital. At the helm of happn, one of the fastest growing dating apps in the world, Rappaport explains that growth hasn't come easily, but the French tech startup is on the rise, especially in massive emerging markets like India.
"We're huge in India. It's amazing," he tells Real Business. "In India, arranged marriages are still very popular, but so are dating apps, and when we take real life interactions online and back to real life, it gives a lot of people even more opportunities to meet, talk, and who knows?"
Who knows, indeed. Happn's entire premise is on geolocation, letting users find people they may have seen on their daily jogging route, in the line getting coffee, or across the platform waiting for a train accessible if they're on the app too.
The app takes the meet-cute moments online, letting an entire generation of lovelorn singles connect with people the way they know best – online.
Success stories abound. And Rappaport has been invited to his fair share of happn weddings. "We've seen happn babies, too," he adds.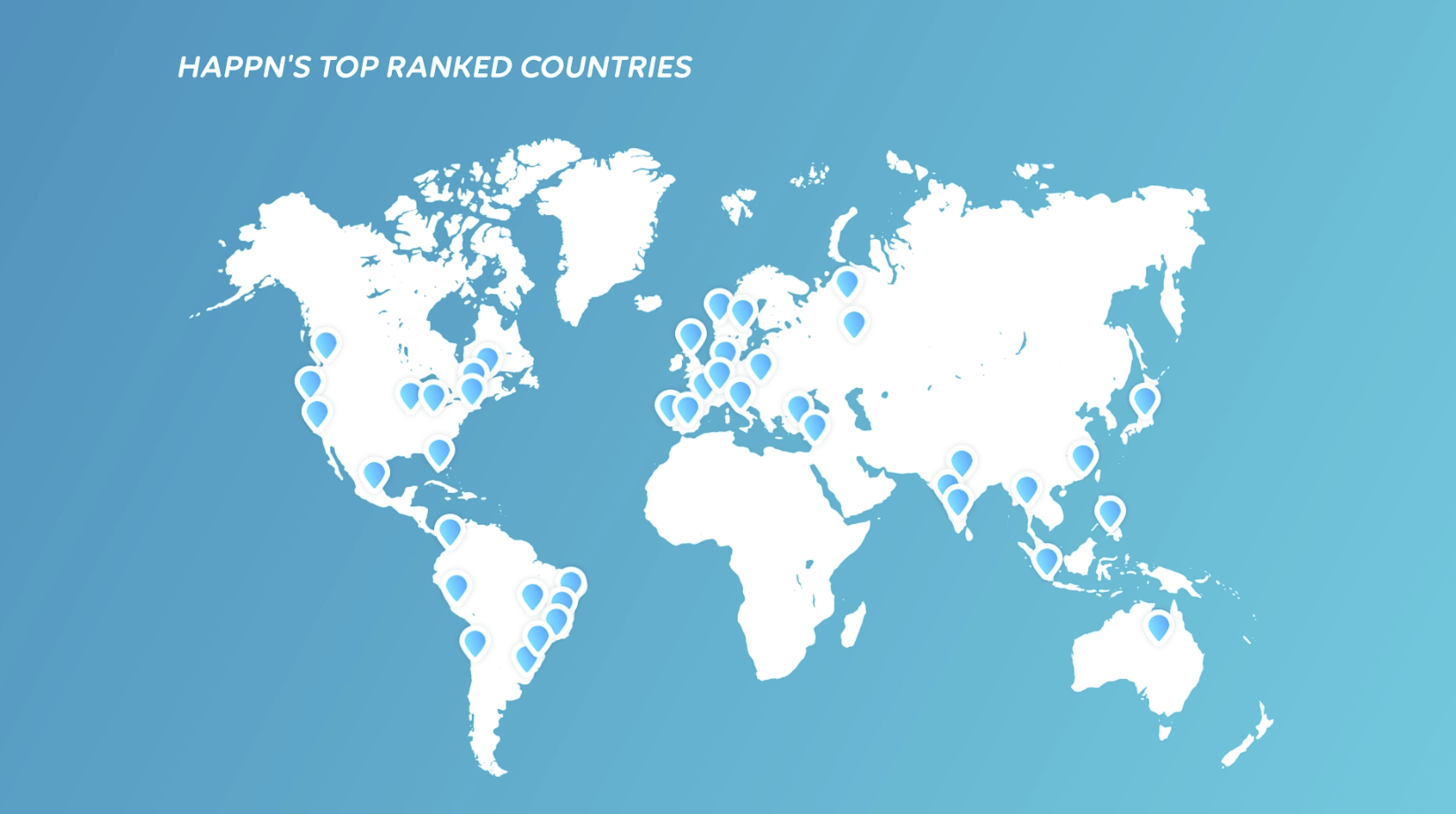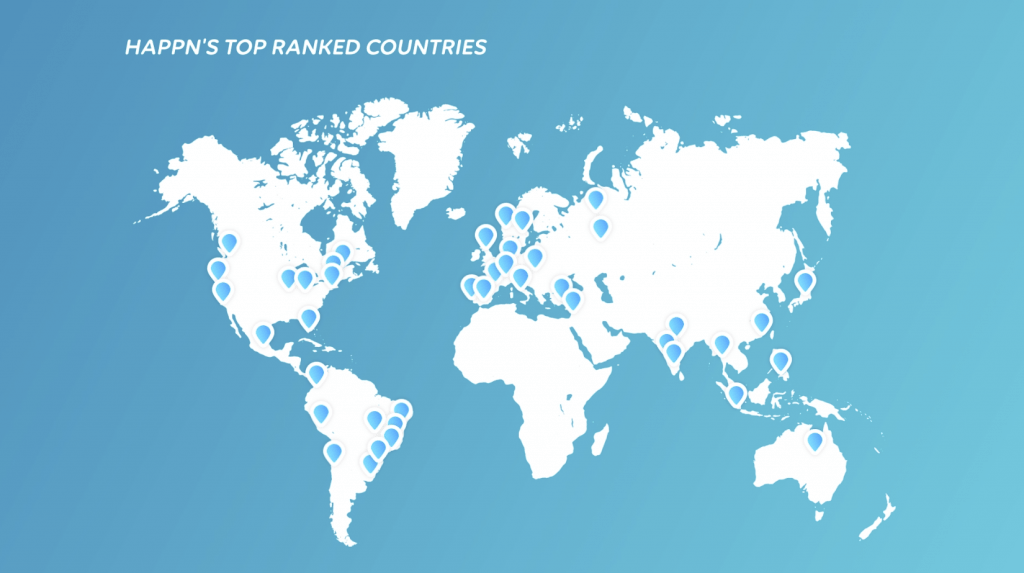 As romantic as the premise is, the world of dating apps is notoriously competitive. Tinder recently announced that it has over 50 million users, 10 million of which use the app every day. Today, happn announced that it broke that 50 million milestone, crediting its huge brand appeal to digitally weary millennials looking for Mr or Ms Right in the real world, but not necessarily knowing how.
"Do you like the green salad Me too. Do you think that's enough for us to fall in love ?We don't believe love can happen like that at all."
Technology brings dating back to the real world
Finding love is time consuming and it's very virtual, Rappaport says. "Who are the people behind the pictures Our job is to help connect you with other people. The world has changed a lot in the last 50 years. People used to meet, talk, fall in love, get engaged, get married, have sex, and then have kids. Now, people may have sex first and maybe fall in love later. It's a very different dynamic. And different people are looking for different things."
"We want to give people the option to explore these relationships in the way that makes sense to them. We connect you and you decide what you want to do."
With 50 million users worldwide, and only £30m in funding, happn is now profitable, which Rappaport believes is a huge feat for a company of its size in the dating tech sector.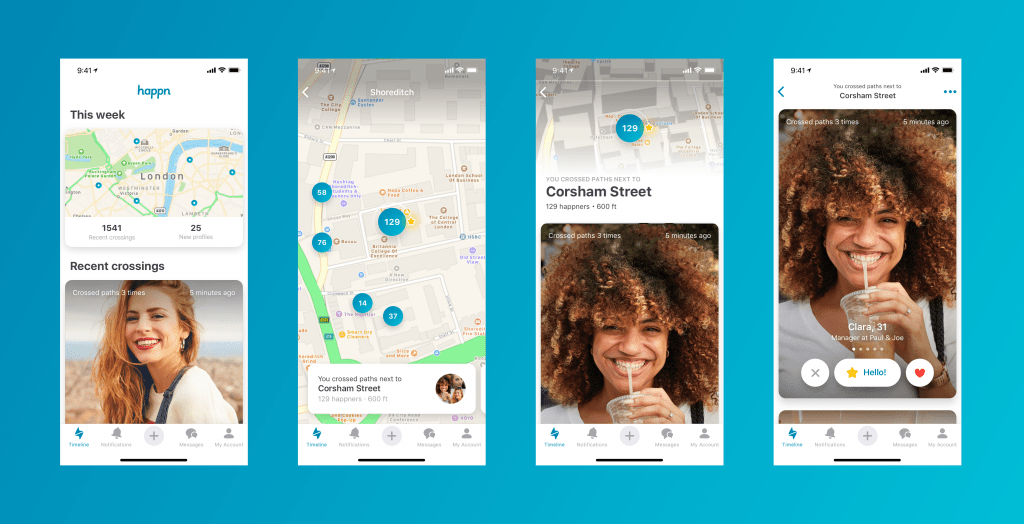 Rappaport credits the company's careful use of user data and commitment to innovation in artificial intelligence to 'make it happn'. "We're not about?living a virtual life. The app is about users in their real lives, in real places, meeting real people they've seen in those places," he says.
"Dating shouldn?t be a full-time job. It should be simple and fun. Geolocation is where everything is starting, but after those connections are made, the rest happens in the real world."
Geolocation has a strong meaning, he explains. If you like a bar, it's because you like the atmosphere, and most likely the people who go there. It's a new way to envisage how we ll connect with people around us."
Data analytics and AI drive real-world romance
Happn isn't just a dating app. It is a data company using the latest technologies to help people connect to each other, sayschief data officer Guillaume Perrin-Houdon.
"We ve achieved the first steps, but it's very long journey for the next few years," he adds. For Perrin-Houdon, the data analytics and artificial intelligence will play a pivotal role in the way happn will grow. However, the challenge is to leverage data and AI to augment human interactions, not bringing back opportunities to connect in real life.
"(With AI) every social interaction can be connected, tracked, predicted and optimised…but is this what we really want" No!"
Digital technology and hyper-connectivity has transformed people's lives, he adds. Wecan now connect with any product in the world, which was not the case 20 years ago. It has transformed people's interactions and way we make choices, but for Perrin-Houdon, there are some things AI shouldn't take over.
Life's random little coincidences
With a subtle nod to that season 4 episode of Black Mirror, Hang the DJ, he explains that romance needs to maintain its magic. "It's a complex domain. Technology is a lever for us to create value, but it's our role not to make it too efficient because we need to keep the magic."?
So how does happn use the predictability and data-driven decision-making prowess of technology keep the mystery of romance
Perrin-Houdon says it starts with disrupting the way we make decisions today. Like our choices on Netflix or our newsfeed on Facebook, AI-fuelled social platforms give us more of what we already know we want. This is the biggest risk in AI-powered dating, he explains.
"When an algorithm pushes recommendations to users, we re careful to take that as a recommendation. But we put in some random hazards in the proposals we make.
"Recommendations aren?t only algorithmic or machine learning based, but also include random choices to preserve the little coincidences in life."
We interfere with the algorithm so we re not constantly repeating past behaviours to?mimic being in real life."
Happn also believes in second chances, unlike Tinder where swiping left means TTYN.
"Maybe you didn?t like someone at the first meeting, but after a while, it's a different story. The algorithm notes you didn?t like your first interaction, but may propose that person again later," says product director, Julie Prieur. "Just because it's not love at first sight, doesn't mean it won't be love at the end!"
Cutting down 'overchoice'
For fatigued serial swipers may feel the pressure of overchoice, a marketing term for whenthe benefits of diversity and individualisation are canceled by the complexity of the decision-making process. Happn credits its rapid growth to understanding this element of its users cognitive psychology.
Perrin-Houdon explains "AI can highlight books in a library for you to narrow down your choices. If you ask any marketer, too many choices can lead to difficulties in decision-making. It's a tyranny of choice."

Finding that balance isn't easy, which is where data analytics comes in. "In the past only people produced data. Today objects produce data. AI collects billions of data values, but we don't need to understand the data to get the right result. We need to analyse the correlation between serials of data than the data itself."?
The company is experimenting with new features to address user needs while erring on the side of caution when it comes to trust and privacy.
Keeping data safe
Data breaches are nearly a daily occurrence today. The most high-profile instance in the dating tech world is the Ashley Madison leak a few years ago, which Rappaport believes stands out as a lesson on what not to do.
"Ashley Madison lied about number of women on their platform. They said it was a few billion, but it was only a few hundred. Their users were basically paying to talk to robots," Rappaport says.
"We have never created one fake profile. When the Ashley Madison story (came out), we brought in a lawyer to (audit our data). We absolutely have to be transparent about what we do with the data we collect, the benefit of the data, and make sure we are processing it in the right way," he adds.
"RGPD (GDPR) is a good opportunity for us because every player in the market has to play that same way. We've always been compliant because it's the way we work, not just in answer to regulation."
For Perrin-Houdon, this keeps his team busy, but still open to the future possibilities of AI, perhaps examining how sensors and human body signal recognition could factor into the dating game.
"But that's all in the future, and not something we're focused on right now. Data is an essential pillar for us. We need to be very careful about what we do with the data and why we use it. At the end of the day, what we're doing is making people happy."
Changing the way the world sees AI
"If you ask me if I'd rather take a plan piloted by a human or a machine, my answer would be definitely a machine. Human error is the most common reason for technological failures," says Rappaport.
"But if there's a crash, people will say 'oh, it's AI. We can't trust the technology.' If there's a crash with a human pilot, we're quicker to make excuses. We need to move our way of thinking to consider AI as an option.
"We need to learn to be indulgent with AI as we are with people."
Living its brand values
Rappaport firmly believes that if you have a product that is qualitative, marketing will get the brand out there to the right audiences. But it completely rests on the identity of the product. "We have to respect ourselves. We can do a lot of things with marketing, but if we're acquiring new users we lose immediately, the company is useless!"
"You can't just market a product to get people to come. We want them to come and stay in the application. There's only one way to do that; provide them with the right service."
To that end, Rappaport guarantees you?ll never see a happn ad with showy dramatics or over-the-top scenarios. "We ll show that we re connecting people. Love is around the corner. Which corner, I don't know. We are able to give users a sense of meaning, explain how many times they've crossed paths with someone they may have a future with. It's a way to show them that the story already existed. It starts in real life and goes back in real life."
Gunning for growth
Happn is now a top app in cities with massive populations, like New Delhi and Sao Paolo. For Rapport this is just the beginning.
"50 million users is just a first step. It's nothing if you want to be a huge app, which means having hundreds of millions of users. We re not there, but we want to get there."
"Startups must be profitable otherwise they?ll disappear. You need to have a return. We're getting ready for (our next funding round)…series D. It's what we call a growth series. That's when there's no more risk. We re profitable, so we can envisage series D," he adds.
Rappaport believes its a matter of course for the French startup to change the way the world falls in love. From the Paris headquarters, a whole floor of developers work around the clock to keep the app ticking along, while its diverse marketing team sources happn happy endings to keep the magic alive. With another round of funding on the horizon and a strong focus on innovation, the startup is living its motto by making it happn.