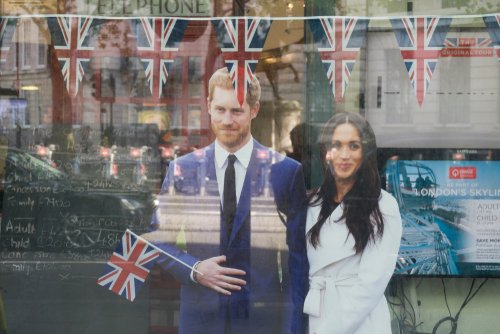 The newly 'financially independent' royals, Harry and Meghan may have their work cut out for them. PopUp Business School founder Alan Donegan shares his 10 tongue-in-cheek business ideas that could help the royals find a way into entrepreneurship.
The announcement by the Duke and Duchess of Sussex that they are planning on becoming 'financially independent' is welcome news, says Donegan, who is also a prominent member of the FIRE (financial independence, retire early) movement. "It's good that Meghan and Harry are joining the real world and planning to look after themselves financially – this could be inspirational to others looking to achieve the same goal," he adds. Donegan achieved his own financial independence by the age of 41 through business and wise investing. His most significant venture, the PopUp Business School, has provided free advice and inspiration to over six and a half thousand people since launching in 2012. "The PopUp Business School has helped people from seriously disadvantaged backgrounds become start-up entrepreneurs. Our doors are open all ? including the Royal family." At an early age Donegan fought off bankruptcy and warns others about the danger of excessive debt and overspending.
"Financial independence is something everyone in the nation should be striving towards. The three pillars are the FIRE movement are reducing expenditure, raising income and investing in the difference."
"Harry and Megan need to stop using private jets and learn to live a more frugal lifestyle. Even though I am a millionaire, I drive a Skoda. Those of us in the financial independence movement learn to exploit and invest in assets. Clearly, the Duke and Duchess have many assets, including their celebrity, which could create some very strong income streams."
"If they manage their assets correctly, they could make a princely sum. Can you imagine what someone might pay for a night at Frogmore Cottage on Airbnb?"
Donegan says Harry and Meghan should embrace an entrepreneurial approach to boosting their income. "You don't need money to start a business, it's all about making your first sale and building from there. Harry and Meghan shouldn't waste time writing business plans and taking traditional business advice. I guarantee we can launch their first enterprise within two weeks." "We'd be delighted to welcome Harry and Meghan onto one of our free, two-week courses. After all, at PopUp Business School, we pride ourselves in helping people from all walks of life," he adds. "The advice I'd give to Harry and Meghan is the same advice I'd give to anyone starting up a business. What resources and expertise do you have already? What can you get cheaply or for free to help you get started? And how can you get off the ground without getting yourself into debt? These are questions Harry and Meghan need to be asking themselves now if they're serious about becoming financially independent." Here are 10 out-of-box ideas for Harry and Meghan to increase their income, according to PopUp Business School's Alan Donegan.
1) Mint some fast cash
Many people on the road to financial independence sell family or household items that are surplus to their needs. A quick rifle through the drawers could reveal the kinds of knick-knacks that make some easy money
2) Heirbnb
One excellent way of raising funds to get towards financial independence is to make money from your own home, also own as 'house hacking'. Frogmore Cottage would be a hit on Airbnb.
3) Royal Retail
The Sussex's might take inspiration from Prince Charles' Duchy Organic line with their own retail business. A pop-up cafe called 'Royal Tea', or a chocolate brand: 'The Royal Mint'.
4) One's podcast
With millions tuning into Netflix's The Crown, shows about royalty are big business. I'd expect user numbers for a Meghan and Harry podcast would be through the roof and super cheap and easy to set up
5) Crown Jewels
Though Harry might choose to steer clear of the fancy dress route, there are many retail options. One idea is a jewellery franchise: 'The Crown Jewels',
6) Harry.com
I believe The royal couple already have?
sussexroyals.com
?and online businesses are a superb way to become financially independent, being cheap to set up and maintain when compared with the costs involved with a high street presence. Some good online platforms would be an excellent launch pad for their entrepreneurial ventures
7) Meg's marriages
The royal couple have both specialist expertise and unrivaled contacts in the area of royal weddings. How many brides would love some advice from Meghan on how to have the perfect special day?
8) The Royal Barter
One of the best ways to start a business on a budget, ebay would enable to royal couple to make a profit right from the start, without getting into debt. Meghan's dresses and memorabilia could all help the couple make good money via the e-commerce website.
9) Royal theme park
This would obviously need investment but there are so many options for a royal theme park: Windsorworld, Windsor Wonderland even Megoland Windsor. Rides could include corgi racing, teacups, a haunted Buckingham Palace, a shooting gallery with pheasants (or peasants), 'it's a royal world after all'. Naturally, all gift shops would have to include solar powered waving queens.
10) Majestic marijauna
With much of their time spent in the US, Harry and Meghan will be able to take advantage of opportunities to cash in on the popularity of the British royal family in the US. With cannabis now legalised in many states, their own brand would be able to stand out with some canny marketing. A premium cannabis brand could be named 'The Royal Highness'.
Share this story