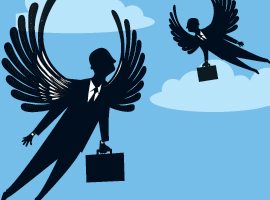 Over the past five years, building two startups, I've spent many an evening with fellow founders discussing investors and seen countless startups fail, not because they didn't have a great team, idea or enough financing – but because they brought on the wrong investors. 
Bringing on an angel investor is a lot like marriage, just without the benefit of make-up sex. Once the honeymoon period is over, a bad angel can become more like a demon; interfering operationally and being time consuming and power hungry. A great angel, however, can help catapult your business onto the next level, mentor you through the tricky times and knows when to take a back seat when you've outgrown their expertise. There are a number of things you can do to help mitigate the risk of selling your soul to the devil.
Background check the angel
Spending time and energy thoroughly background checking a potential angel with other founders, past employees and other investors is well worth the investment. There are three sets of people you need to chat to before signing on the dotted line:
Other founders in an angel's investment portfolio. Not only the ones they offer up as referees but more importantly the ones they don't mention or have failed. It will give you a really good insight into how the investor performed, dealt with conflict and tackled the hard times. 
Past employees: Most angels have worked as an executive at some point in their career, even if it was when they where running their own startup. Chat to past senior employees to get a feel for their management style, core skills and weaknesses.
Other investors: Investors and angels are surprisingly vocal about the ethics and credibility of other angels and investors. So simply asking "What do you think of [said angel]?" can become one of the most important questions you'll ever ask.
Importantly – and if you want a really honest view – speak face to face. Many people are reluctant to put really honest feedback in writing (or even over a phonecall). There are few substitutes to a relaxed drink together so you can gauge body language etc, and they can be relaxed enough to give you the full picture.
Arrange an extensive interview process that works both ways
It's such a compliment when an angel gets excited about your business and wants to invest. As the relationship is often founded on a start-up pitch, a common mistake is not to thoroughly interview that angel in return.  Key questions to ask include:
How involved do they expect to be and how much time do they ideally want to spend on the business? Silent, active, or somewhere in the middle?
What value can they add to your business beyond cash? 
How many other businesses have they invested in and what type of businesses? 
Examples of challenges they faced with other businesses they've invested in and how they overcome those challenges.
Why they choose to invest in one business over another?
Don't fall into the trap of thinking that you need them (and their money) more than they want the potentially huge return that you could give them on their money. They don't invest for the love!
Ask for a couple of introductions before closing the deal
The introductions angels can offer should add significant value to a startup. An angel's little black book can in fact become more valuable that the cash they invest.  However, all too often angels overhype the people they know and the doors they can open. It is simple enough to test. Just ask for a couple of introductions before signing the deal to double check they can deliver.
Go with your gut!
Most importantly, if it doesn't feel right, it probably isn't. So spend as much quality time with potential investors as possible and listen to your gut like you would meeting any new contact. Instinct is a wonderful thing and more startups should trust it.
Pip Jamieson is the founder of creative professional networking platform The Dots.
Share this story