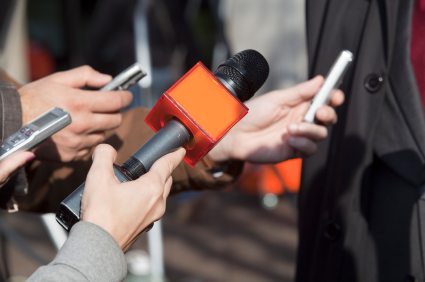 Here are some valuable tips on how to get your news to make the news.
1. Socialise
Social media, such as Facebook and Twitter, can be a very cheap and cost effective way to get your message out there. Remember the golden rule: it has to be shareable. So, ask yourself if you would share your news, as a customer. Adapt them if you need to. Make them short, punchy, fun, quirky. Attention spans on social media are notoriously short and you need something that makes you stand out from an every growing crowd.
2. Join the debate
Try to become a thought leader in a particular area. Don?t be afraid to say something interesting (even controversial; within the bounds of good taste, of course) to stimulate a debate. Think about taking the time to write regular columns and interesting pieces for relevant publications.? If you can become an expert in your field, journalists will begin to contact you for quotes or your opinion on the latest developments. You can also reach out yourself, by monitoring relevant news stories and contacting journalists, bloggers, social media channels or forums with your opinion. In any case, you can always add to existing debates on relevant forums and jump in to help answer queries or problems. One step further is starting a campaign about something you and others feel passionate about and want to change. The right campaign can generate great coverage, followers and supporters. But remember you need to choose a clear, new, just and winnable cause and outcome to really make an impact.?
3. Get outside help
Like any consultant, PR agencies can be expensive (expect day rates of ?500 upwards) and good ones can be hard to find. Hiring a consultant is not a panacea – you still have to have a strong angle and something newsworthy and interesting to say. The advantage of a consultant is that they will have ready made contacts in the press. If you do decide to hire a PR consultant, here are some key things to consider:
Make sure they have a strong database of contacts that are relevant to you and your business;?
Look at their own website and exposure – if they can?t get their own PR right, how are they going to help you?;
Analyse their client testimonials. Have they worked with similar businesses and industries? What coverage have they really got (check cuttings and back this up with online research)? Ring up their clients and find out what they really think;
Find out if you will get senior support or the office junior;
Get a fully costed quote and pin them down on what sort of coverage they expect to get for your budget; and
PR agencies or consultants will always say that they cannot guarantee press – which is true. But will they commit to a performance basis of some kind if they really believe in your business and angles?
To help, Huddlebuy has regular cut-price exclusive deals on PR.?The other alternative is to hire a PR person in house. This can prove to be far more cost-effective on the long-run – especially if you hire somebody who loves what you are doing and can see your potential. But you need to make sure you have enough regular work, stories and angles to make this worthwhile.
4. Become a stunt man or woman
If you are feeling brave you can always try a PR stunt to raise awareness. A quirky angle or photo opportunity, a daring product placement, a high profile protest can work wonders. The bigger and more daring the PR stunt, the bigger the potential coverage. But high profile can be high risk (as will all stunts), so think carefully about what lasting impression this will leave of you and your business. Overall, PR is not as difficult as many businesses assume and can be a great and targeted alternative to expensive advertising and marketing. Follow some of the tips we have outlined and I look forward to reading more about your business in the press.
Andy Yates, entrepreneur and director of?Huddlebuy.co.uk, the daily deals site for entrepreneurs gives Real Business readers regular money-saving tips to help business owners save thousands of pounds.
Share this story