A strong leadership team has the power to act as a multiplier for a business, with its combined efforts having a far greater impact than the sum of the individuals within it.
It is the job of the leadership team to shape and communicate the long-term vision and direction of the company, establish and nurture a vital company culture, foster a working environment that inspires employees to reach their full potential, and establish challenging goals that will ultimately set the business apart from its competitors.
Conversely, weak leadership teams can cost companies dearly by negatively impacting staff morale and retention, client satisfaction and productivity. A poor leadership team can be identified as one that is unclear in the expectations it has of its staff, fails to communicate and overcompensates with micromanagement. According to the Blanchard Company, most organisations are operating with a 5-10 per cent productivity drag that better leadership practices could eliminate.
Just as a leadership team has a responsibility to inspire and empower employees, it is the job of a managing director to formulate and facilitate an effective and efficient leadership team. When working with my senior managers I believe the following approaches help to achieve that.
Create a "listening" dialogue
Listening is often underestimated as a leadership tool, but the question "What do you think?" is powerful in its simplicity and openness.
For the question to be truly effective, it must be posed in an environment that is safe one in which new ideas can be proposed and explored without judgment. Listening is a skill that requires sufficient time and space. Giles, our CEO, and I have one to one meetings each month with all our managers to discuss both the business, and their personal wellbeing. During our regular senior management team meetings I try to ensure that phones are off, lap tops are closed and everyone has the chance to put forward their thoughts and most importantly, be heard.
Communicate a compelling company culture
A company's culture should be like a stick of rock perceptible in all parts of the business and yet it is engendered from the top. As a family owned business, our culture is particularly important to us. Despite high levels of growth and business transformation in recent years, we have worked hard to maintain a clear company ethos.
We recently held a vision strategy day with our directors and general managers. This resulted in a visual "vision plan" for the company, including the culture we want to perpetuate. As part of our leadership academy, we will be asking our senior team to run a similar vision development day with the rest of the staff so that all our employees can feel a part of, and therefore confident in, communicating our culture in a compelling way.
Put your trust in trust
Hire the best and trust them to lead. While respect should be automatic, trust is something that must be earned, and it is done so not by the words you speak, but by the actions you take. It is also a two-way street. If you don't trust your leadership team, they won't trust you. Without trust there can be no leadership. Trust leads to loyalty, and loyalty leads to optimum outcomes for results for you and your company.
Invest in your leadership team and reap the rewards
Even the world's most elite athletes need continuous training to stay at the top of their games. It is important to continuously invest in your senior management team, which means putting in place a carefully designed leadership development program.
At Office Space in Town, we run a Leadership Academy for all general managers, which incorporates leadership training days, specific project development and execution, one-to-one mentoring, regular offsite meetings and away days, and team building exercises such as Tough Mudder challenges.
We also recognise that senior management require an impartial adviser who can provide quality advice on all aspects of the business. To help our leadership team fulfil their duties to the highest standard, we bring in outside help from companies such as Alembic Strategy, which provides a dynamic and bespoke service that can really maximise management's capabilities and business understanding. Finally, if you invest well in your team, they stay loyal, and loyalty should be rewarded. After ten years of employment with Office Space in Town, we offer a three-month sabbatical.
An effective leadership team must be flexible and dynamic, responsive yet robust. It cannot be inert. I agree with Donald McGannon's observation that: "Leadership is an action, not a position." It is a verb not a noun.
The Office Space in Town vision brought to life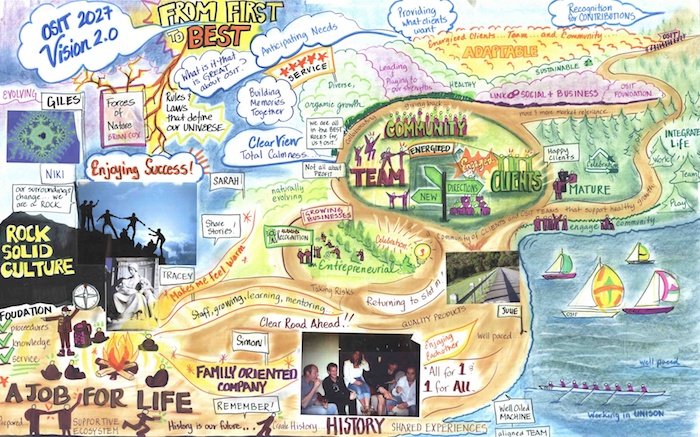 This month's Founders Diaries article was written by Niki Fuchs, sister and business partner of regular contributor Giles Fuchs.
This article is part of a wider campaign called Founders Diaries, a section of Real Business that brings together 20 inspiring business builders to share their stories. Bringing together companies from a wide variety of sectors and geographies, each columnist produces a diary entry each month.
Visit the Founders Diaries section to find out more.