Using an industrial control system can be a daunting new prospect for many. However, what many fail to realise is how they can simplify daily operations in your home and business.?
What can an industrial control system do?

Access and control a CCTV camera with a mobile device
Send the total running time of an air compressor to an analytics system in the cloud
Receive an alert to your smartphone if a door is opened after hours
Log refrigeration unit temperature data in a database
The above can all be achieved with this simple piece of technology. Let's explore how an industrial control system can work for you.
Logging temperature data
Using temperature data logging as an example. To get the job done, either you or someone you hire for the job needs to have the specialist skills and knowledge needed to determine and obtain all the equipment and components of an I/O (input-output) or PLC system that will work with a temperature sensor.
Next, you need to install a suitable enclosure for the PLC and I/O, before putting them together and providing them with a power supply.
Temperature sensor installation follows within the refrigeration unit, which needs to be connected to an appropriate input channel on a temperature input module, housed on the PLC rack.
The PLC then needs to be programmed using the proprietary software of the vendor, in order to configure the input channel in accordance with the signal type and to acquire and log the I/O data.
After which, you will most likely need a computer with a software suite that can read the memory of the PLC for the data logged, before translating it into a format that can be understood by the database.
Last but not least, the software will be needed to access the database and post or insert the logged data that has been translated.
A simpler alternative
The primary goal shared by IIoT (Industrial Internet of things) specialists is the development of tools and systems to simplify the process of acquiring real-world signal data, communicating it and ensuring it can be accessed from anywhere it is needed.
Whether monitoring assets remotely, acquiring data for analysis, controlling equipment directly or providing operators with visualisations, it needs to be as simple, straightforward and cost-effective as possible.
This is where automation manufacturers and specialists are coming to the rescue, with the new generation I/O – known as edge I/O – which can streamline and simplify IIoT projects.
Striving for simplification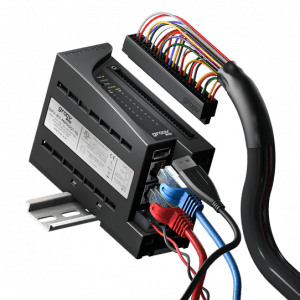 Here are just a few of the benefits I/O products can offer for the simplification of IIoT projects
Easier to spec and buy: Single parts contain everything needed, including embedded software, power supply, networking and I/O.
Sturdy and compact: These small industrial units are robust and durable enough to be placed just about anywhere.
Web-based configuration: Edge I/O may include various kinds of multifunction or multi-signal (DI/DO/AI/AO) channels, all of which are configurable via web-based software.
Embedded software and protocol support : A secure, authenticated, web-based interface simplifies commissioning and troubleshooting with edge I/O.
Built-in security: Helps you to keep on top of your cybersecurity priorities, with multiple in-built features such as VPN support and user authentication.
Edge I/O in Practice
The groov RIO family from Opto 22 (now available from System Devices UK*) provides a good example of new edge I/O products in action – a compact remote unit with a communications processor and 10 built-in I/O channels, eight software-configurable multifunction, multi-signal I/O channels and two Form C relays.
This new family of devices has been designed to eliminate the need for identifying and procuring specific I/O modules for an application – you instead simply order one part number. Mounting the device and connecting it to a standard ethernet network is also simplified. The groov RIO can be placed close to the equipment or the sensors with the signals you want, with an operational temperature range of -20″ C to 70″ C. It is also fully Hazardous Locations approved and ATEX compliant.
The groov RIO can be powered by way of 10-32 VDC power, or by using Power over Ethernet (PoE) with a PoE switch. It automatically receives an IP address from your corporate LAN's DHCP server, and once in place can be configured by opening a web browser and creating a secure user account.
*System Devices UK is a leading provider of industrial automation solutions with over 30 years" industry experience. They are specialists in the application of OPTO 22 products, using the full range of OPTO 22 equipment for control, data acquisition, and communications*