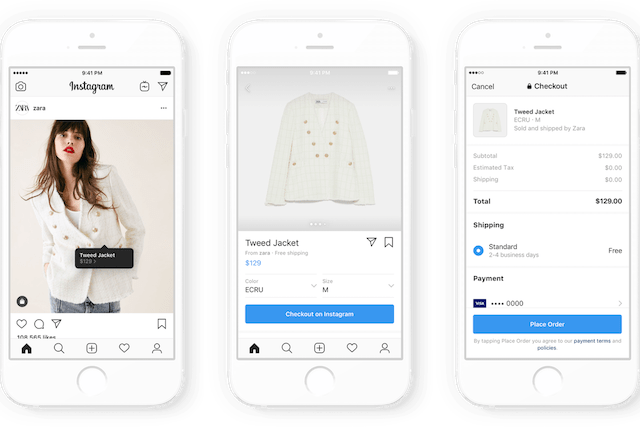 What effect will the new Instagram Checkout feature have on small and medium-sized enterprises (SMEs), who aren't yet able to use the new feature? Or, even when they can, as we assume they will be able to in the future, how will this update affect the relationship between customer and brand? And what about 'putting all your eggs in one (checkout) basket'?
Instagram Checkout: Let's break it down
Instagram's new feature, dubbed Instagram Checkout, will allow users to purchase products from a brand's shopping post, marked with a large blue "Checkout on Instagram" button, without leaving the app. On selecting this button, users will be asked to enter their email address, delivery information, and payment details, and will then be able to place an order.
What the app does
The app will also store the customer's payment details, allowing them to make purchases more quickly in future. This is a natural development of Instagram's Shoppable Posts, which the platform launched globally in early 2018. However, where previously users would be taken away from the app in a somewhat un-streamlined process, this will no longer be the case.
Brands that use the tool will experience higher purchase rates
As the process becomes efficient, brands using the tool are destined to see higher purchase conversion rates. But at what cost? Alongside Instagram's announcement, the social media giant provided a list of the brands that will now be able to engage the new feature. The list starts with Adidas and ends with Zara, with each brand listed reportedly being valued at a billion dollars or more.
Simplifying the customer journey
The more simple the purchase journey, the more likely a consumer is to buy a product or service. With consumers spending more and more time on social media, paired with the ease of the in-app checkout feature, we are extremely likely to see consumers spending more of their budget with companies whose products can be purchased via Instagram. However, Instagram stated that the feature will be available to more brands over the coming weeks and, as the social media site seems to be aiming to add 'established e-commerce business' to its roster of talents, we imagine that the feature will be extended to SMEs in the future.
SMEs using the tool can better connect with customers and cut costs elsewhere
This may, in fact, encourage higher rates of purchasing among SMEs. Smaller companies that are currently having to choose between pursuing a shiny social media strategy or a sparkling website may find that Instagram Checkout removes the need for a website altogether. Instead, we may see brands relying more heavily on the content they put out to define their image and engage with consumers.
In exchange for higher purchase conversion rates, Instagram will be charging retailers a, yet to be disclosed, selling fee. On the surface, this means that any revenue generated through the app will be less than selling directly to consumers, in spite of higher conversion rates.
While we are in too early a stage to measure the merit of this, what we can see is that the cost will actually be greater than the selling fee, as Instagram becomes the middle man in the brand-customer relationship.
The logistics explained: Benefits and drawbacks of the tool
When a product is bought via Instagram, the customer becomes the customer of Instagram, not of the brand, meaning that Instagram obtain all the necessary information for the purchase, including email addresses. Email addresses play a key role in a brand's marketing process and there is no guarantee that they will be able to obtain these from Instagram. Thus, while Instagram Checkout may lead to higher conversion rates, the feature may be detrimental to the future relationship between the brand and the consumer, with brands being forced to rely on the consumer following them on Instagram or coming back to their profile in future.
The tool is still very new: Proceed with optimism and caution
While Instagram Checkout is still in its infancy it is hard to comment on the effect that it will have on businesses. We do not yet know the fees that the social platform will be charging and are yet to be able to compare them to the increase in conversion rates that brands will certainly see. Moreover, it is extremely likely that as Instagram expands its offering, it will also provide brands with new features to help them sell more effectively via the app. Watch this space.
Share this story