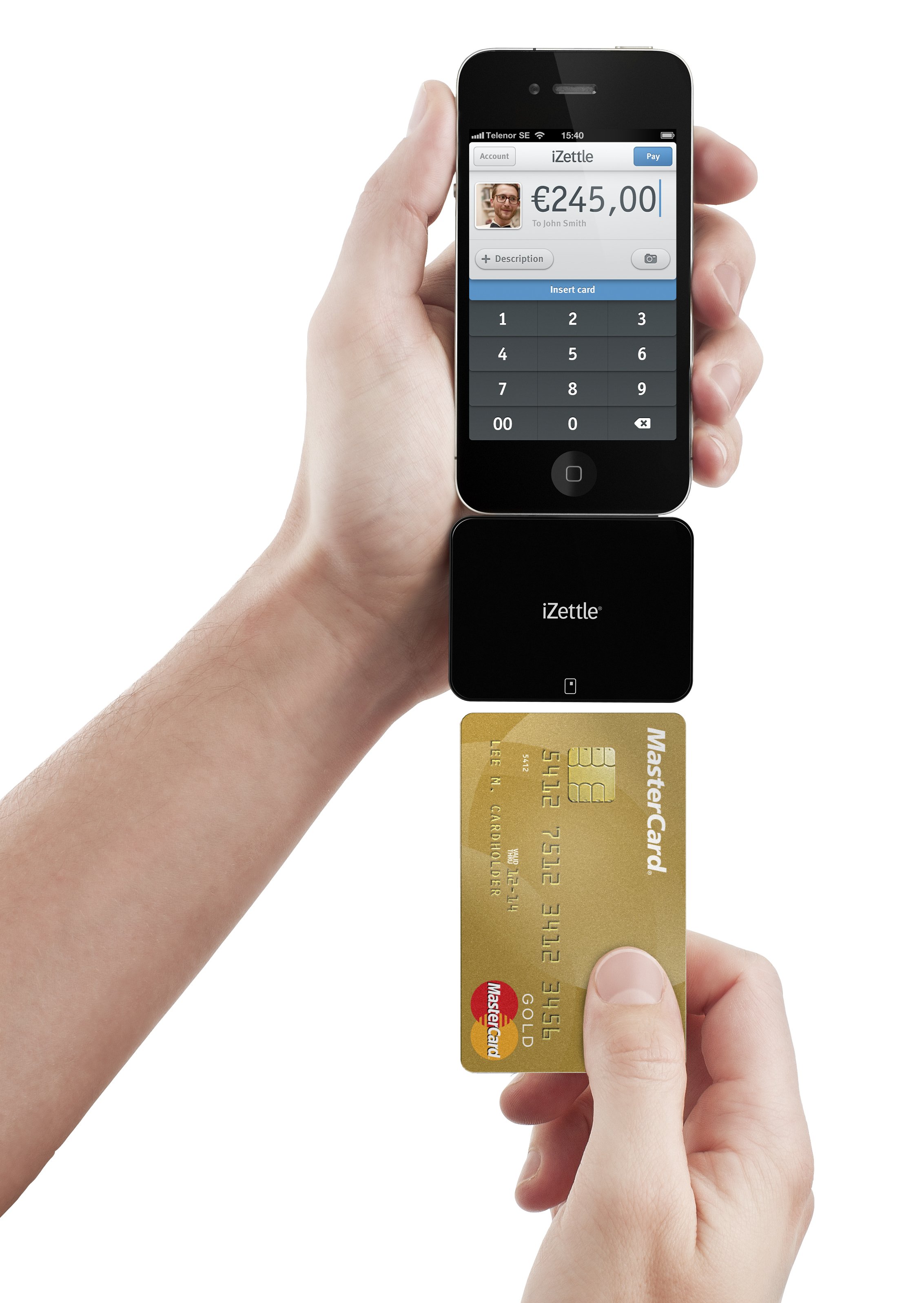 Cashless mini chip-card reader iZettle had its official launch in the UK this week, partnering with EE's 297 stores.
The new iZettle device and free app could help small businesses' cash flow: currently Britain's plumbers, electricians and builders are owed up to ?283m by late or non-paying customers. iZettle could help tackle this, offering tradesmen ? and everyone else ? the option to charge customers by card, which would be the preferred option to pay for eight in ten consumers.
What is iZettle?
The iZettle card terminal costs ?20 in EE stores, but comes with a ?20 voucher that can be used towards iZettle transaction fees. The mobile payments and card readers can be used with both Apple and Android products, including the Apple iPad and Samsung Galaxy range. iZettle merchants can accept Visa, MasterCard, American Express and Diners Club payments and there are no lengthy sign-up processes, no set-up fees, no monthly fees and no minimum spend. iZettle does take a 2.75 per cent cut of each payment, however. ?The beauty of iZettle is that it?s simple to use, totally secure and takes seconds for a transaction,? says Jacob de Geer, CEO and co-founder of iZettle, which is already used by more than 75,000 small businesses and individuals in six countries. ?Whether you are a cabbie, florist, tradesperson or a courier, iZettle gives you the flexibility to operate in both cash and cards," explains de Geer. "We're very excited about the full commercial launch of iZettle in the UK and the positive results of our beta test with 4,000 users over the past six months.?
How can iZettle help?
Accepting card payments can boost revenue and cash flow, but the costs of accepting costs have historically deterred 45 per cent of small firms from doing so. Research by iZettle shows that 71 per cent claim they would accept credit or debit cards if there was a low cost, low hassle way of doing so, which is what iZettle hopes to offer. Small businesses currently spend an average of 36 days per year chasing overdue customer bills. Based on minimum wage rates, this equates to ?125m worth of time spent by businesses per year. Gerry McQuade, chief marketing officer at EE states: ?iZettle is a revolution for small businesses and consumers across the nation. The aim of our new superfast EE brand is to make businesses? digital lives easier and ultimately more profitable through technology.? Although iZettle can be used by everyone, the product seems mainly designed for small businesses such as plumbers, taxi drivers, housekeepers or corner-shop owners, who would benefit the most from taking card payments. And with two-thirds of small firms owning a smartphone, iZettle could be the answer.
Image via iZettle.com
Share this story