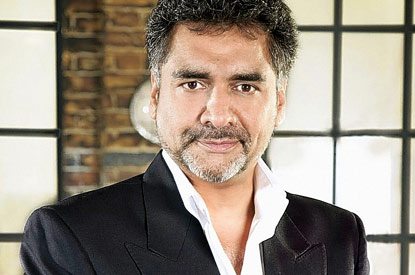 James Caan
, the Pakistan-born self-made multi-millionaire, is bowing out of
Dragons' Den
. The news follows James Caan's well-publicised spat with fellow star Duncan Bannatyne and the "
babygate
" drama. James Caan says he's ruled himself out of the next series of
Dragons' Den
due to an increasingly busy work schedule and the commitments to his philanthropic activity in Pakistan. In a statement sent to
Real Business
, James Caan wrote: "My work and philanthropic interests mean I can't devote the time required to the Den any longer.
Dragons' Den
has been an integral and exciting part of my professional life and I thank the show profusely for letting me be a part of it for so long. "I've enjoyed my time in the
Dragons' Den
immensely, and it's been great working with the other Dragons and the team on the show. But unfortunately, I'm out!"
James Caan's favourite Dragons' Den moments
What were James Caan's favourite moments on the BBC's
Dragons' Den
" He told us:
Best pitch: Peter Moule who presented the Chocbox electrical gadget.
Worst pitch: A couple who pitched the idea of a bed sheet with a line down the middle, to help couples enjoy a better night's sleep.
Favourite investment: FitFurLife owner Sammy French who presented the Dog Treadmill.
During his four years with
Dragons' Den
, James Caan invested more than £1m in budding entrepreneurs.
James Caan's future
We reckon James Caan will be taking on a more political role. Last month, business secretary Vince Cable announced that James Caan would be one of the 26 entrepreneurs to sit on the new
Entrepreneurs" Forum
" providing informal and personal advice on new business and enterprise policies. ?While I think Britain is a creative and innovative society, to be able to compete with global markets, I think we could definitely do more,"" said James Caan at the time of Cable's announcement. "In particular, I know that the recent spending review has put more pressure on the education sector, but I would like to see more done to improve and increase the education of science and technology throughout the education system. There is a vacancy for enterprise tsar since
Lord Young quit
. Anyone reckon James Caan could fill the role
Share this story