Employment opportunities have been steadily falling since coronavirus took hold in the UK.
Job postings on Glassdoor, one of the world's largest job and recruiting sites, reveals the biggest decline was at the end of March 2020, when the COVID-19 outbreak began in the UK.
Job openings posted before the 23rd March (the official lock-down date for the UK)?retracted 14% compared to the same time a week before and 19% compared to the month before that.
Since the country has entered a lockdown period, there has been much speculation about future employment prospects for the nation's workforce.
Already, thousands of workers have been either made redundant or have been furloughed as firms struggle to contain the economic fallout as a result of the virus.
While a number of businesses have pressed pause on their hiring efforts, there are others that are ramping up their hiring drives, including supermarkets, for which job openings are up 25% month-on-month.
This, of course, is a result of the massive upsurge in supermarket sales as consumers flock to bulk buy food products during the lockdown period.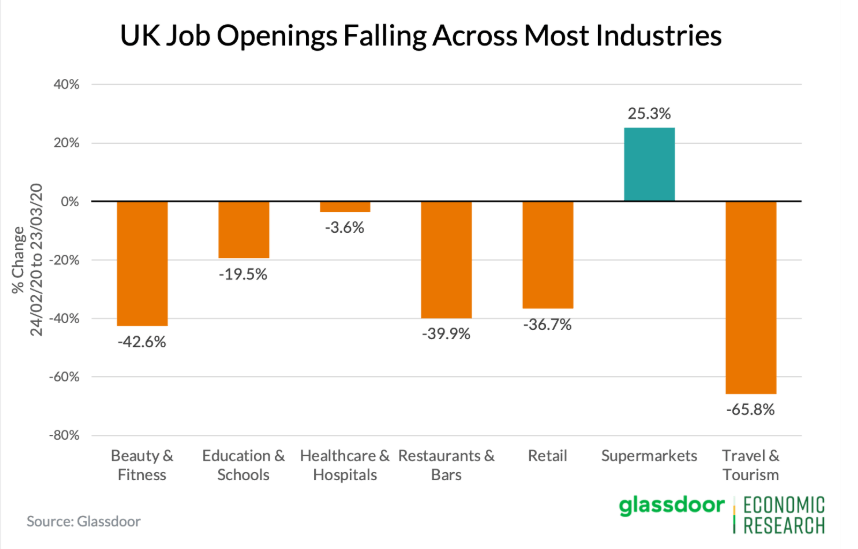 Supermarket giants such as?MorrisonsAnd TescoAre just some of the brands expanding their recruitment drives.
On the other hand, the worst-hit industries for job openings are businesses in the hospitality industry, including restaurants and bars?which are down 40% month-on-month, as well as the travel & tourism industry, where businesses have experienced a 66% slide in job openings.
"Companies are taking up government support in the form of furlough, which gives employees both job security and income during the developing global pandemic. For job seekers, or those out of work, however, the outlook is very different with the decline in the UK jobs market speeding up," comments?Jo Cresswell, Career Trends Expert at Glassdoor
"That said, companies are still hiring. Job seekers may need to be adaptable during the current climate, perhaps considering roles or industries that are outside of their niche in order to find opportunities to progress their career,"" she adds.