Karen J Gerrard's hand care empire has made her brand, SEAMS, a favourite among sewers and craftspeople throughout the UK – now recognised in the country's most reputable newspapers and lifestyle magazines as a top pick hand care cream. Here, she talks about the road to SEAMS, life as an entrepreneur and why she is motivated being a woman in business.
For some, going on a millinery course leads to excelling in hat-making, perhaps even becoming a hat designer, but for Karen it led to something even more magnificent. Back in 2012, Karen attended a millinery course at The London College of Fashion encountering endless cuts and burns from the intense craftsmanship the skill brings. Her hands really took a beating.
Catalysing from her love for skin care, she was surprised that there wasn't anything non-greasy on offer which cared for the hands after enduring such suffering. Noticing that she wasn't alone, she searched high and low, visiting skin specialists and asking for their advice, no one had the answer.
"Our skin is the first thing people see when they look at us, it covers our whole body, so why not look after it?"
There was a gap in the market for a non-greasy hand care cream, but still required the elements to help heal and hydrate the skin. So, in 2012 Karen worked with a pharmacist to formulate a 75ml bottle, filled to the brim with 9 natural ingredients matched with the soft amber cocoon scent. But the greatest formula was Karen's passion for skincare and her can-do attitude.
From concept to shelf, the process took around 1 year to complete, "I knew what ingredients I wanted to go in it, and I knew it had to be the absolute best ingredients, and that was how SEAMS had started".
The Essence of Being an Entrepreneur
Starting out on the Lancome counter after leaving school, and moving on to the fashion industry, Karen spent near to 40 years in these intense and ferocious industries only taking time out to focus on her family and philanthropic endeavours. She always had the entrepreneurial drive to succeed, so it is has come as no surprise that SEAMS has gone from strength to strength.
"The idea and the heritage of the brand came from something I was doing, so I am part of the story. The brand is first and I come second."
In a highly saturated market, SEAMS pride themselves on the practical element of their product. "We call ourselves the practical made beautiful, because they're products of necessity that we have made into luxury. They're beautiful to use.", Karen told us, "our product does what exactly what it says it does."
"You have to look at the whole picture before you make any decisions."
It was important throughout the process of SEAMS for Karen's passion and vision to be translated throughout the branding and finished product. Karen revealed, "If you're going into your own business then you've got to know what you want. And you have to follow your gut". However, there was no denying the importance of having a mentor throughout her entrepreneurial journey, "it's good just to have a professional view. You're so emotionally involved with the product sometimes you don't see the bigger picture – so it always helps to have a mentor by your side. Although you might not always agree with what they have to say, it might make you look at it in a different light, and you'll get something positive from it."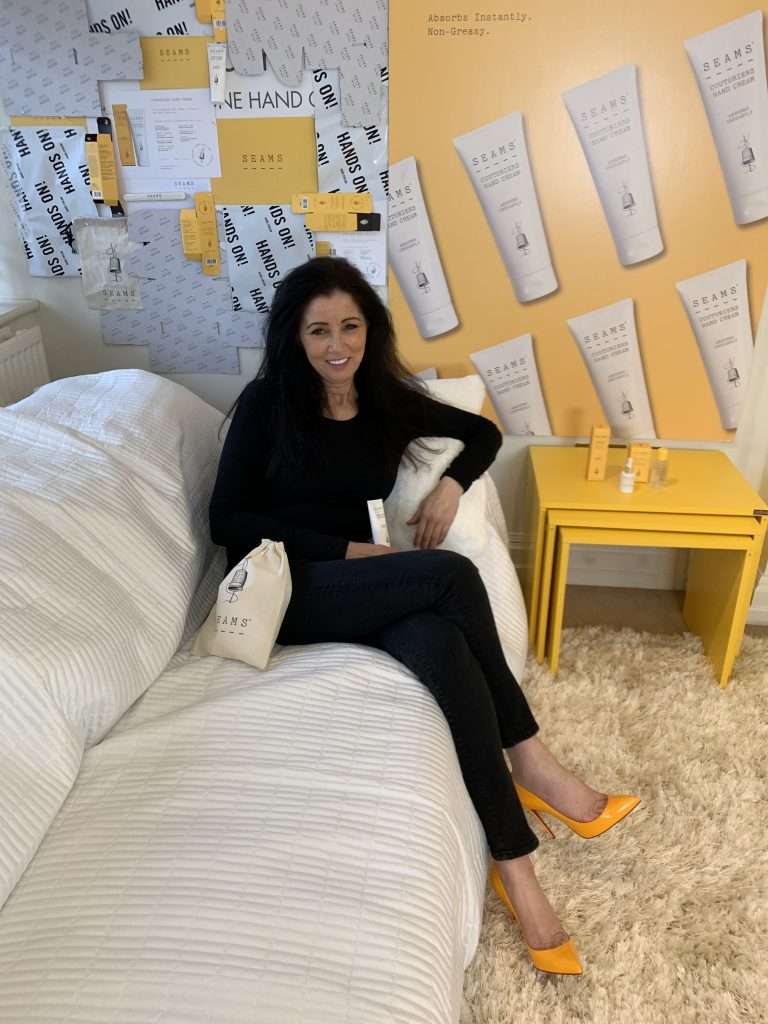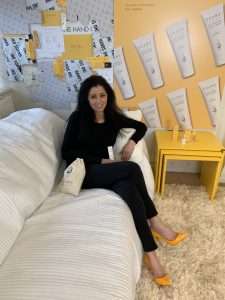 Edging her way through the Pandemic
On first glance, SEAMS provide exceptional luxury for craftspeople, but their product portfolio is so much more. Even before the COVID-19 pandemic, Karen and her team were perfecting the 'Hand Love' hand care kit featuring a rehydrating hand sanitiser which avoided the usual clinical smell and instead turned to the familiar SEAMS scent that customers keep going back for. "We brought out a hand sanitiser when the pandemic started although it was something we were working on anyway, the pandemic just pushed us to do it much faster".
The pandemic doesn't seem to have affected Karen and the SEAMS team, and it's only made them more motivated and more aware about looking out for one another. "We are always texting each other, ensuring that we are lifting each other up. As a leader it is important that I don't put too much pressure on my team and there is the support network so nobody gets too burnt out".
"Thinking time when you're not doing something can be just as productive, and it's important for my team to know that too."
A One-Woman-Wonder Glow
Juggling work and home life for over 40 years, Karen still prioritises the time she spends with her family, but highlights that it's about being organised if you want to be successful in business. "Being a working-mum is difficult and if anyone tells you otherwise, it's misleading " Karen went on to explain that, "owning your own business takes up so much time, you really are working around the clock". With her can-do attitude, Karen adapted.
"The only advice I would give to my younger-self is to stand up to what is right, be passionate and go for it, you will never know until you try."
Although society has changed and women are more career focused it is still as important to Karen for women to enter business and she encourages any young women to do so if they have the passion. "As a whole, women bring a different prospective to the boardroom. Kamala Harris has been a huge inspiration to me. I love the passion she brings. It is really encouraging".
What's next for SEAMS?
Now the brand has taken the UK market by storm featuring in the likes of 'Sewing Quarter' and 'Creative Craft', it's only natural for SEAMS to go across the Atlantic, which was always on Karen's business plan.
"When you start you have to see where you want to be and then path your journey of how to get there becomes clearer"
Visit the SEAMS website.