With a smaller workforce and the constant pressure of chasing invoices, an SME's cash flow can be stretched at the best of times. While this can foster a spirit of entrepreneurialism and work ethic, it doesn't help when it's set against the backdrop of the coronavirus pandemic.
The UK's 5.9m SMEs are feeling the economic impact of the current situation. While Government schemes like the CBILS and deferring tax may help keep SMEs liquid, just one or two late payments can cause a cash flow log jam where the results can be fatal.
So what can you do if you're facing a cash flow strain during this time of crisis" We surveyed our readers from January to March 2020 on the topic of cash flow management, well before coronavirus even registered as a business threat. Here's what we uncovered.
The late payments problem
A majority of SMEs we spoke to in our survey said they have at least ten outstanding invoices to chase every month.
The average cost of an outstanding invoice is between £1,000-£5,000, which is essentially money lost for these small businesses.
While the results show the average value of an SME's unpaid invoice to be relatively low, (only 5.7% of SMEs questioned said the average cost of one of their invoices were £10,000+), it could explain why SMEs are a victim of late payments.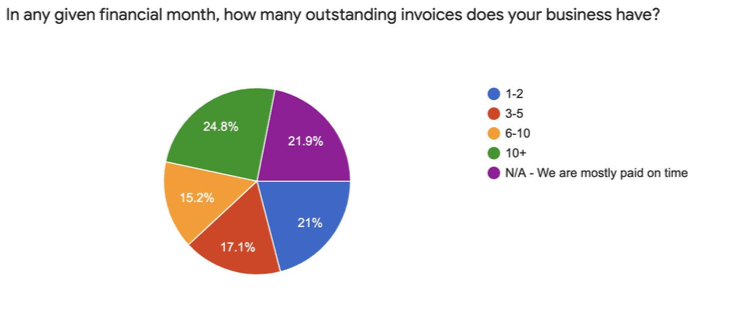 When larger businesses pay their suppliers, they may feel that smaller invoices are not as urgent to pay, and we know from the results of our survey that SMEs tend to deal with multiple unpaid invoices of smaller value.
However, these small unpaid invoices mount up and can easily threaten the viability of smaller businesses where every payment counts.
In fact, one of the SMEs we spoke to said their experience of late payments was down to larger clients failing to pay them:
"I have found the problem to be with high net worth clients not paying on time with invoices. They just don't seem to relate to how it can affect a small business and the impact that can have on our day to day business."
The survey reveals that late payments continue to be a problem for SMEs, with a majority of those we questioned spending one to three hours a week chasing them.
Lack of time efficiency
Over half of the SMEs questioned in our survey (56.2%) said they didn't automate their invoicing and payments processes.
This means SMEs are using manual approaches to chase payments. However, our results show they are too busy running their businesses to chase them properly in the first place, which is reflected in the few hours they dedicate to it each week.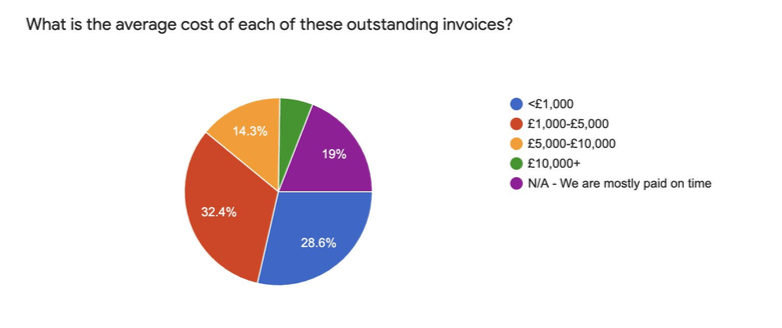 In terms of the methods used to chase payments, 73.3% of SMEs said they send reminder emails to customers, while 71.4% said they "follow up over the phone."
Customer attitudes towards payment
One way that SMEs can maintain steady cash flow is if their customers stick to their agreed-upon payment terms, however, our survey shows they don't.
In fact, 41.9% of SMEs said their customers stick to their payment terms "most of the time," this was followed by 25.7% that said customers "almost always" abide by their payment terms, while 18.1% said customers pay them on time "some of the time."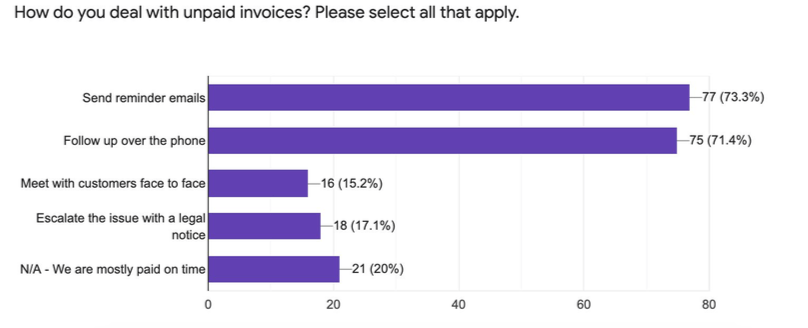 This is what one business said about customers that breach payment terms:
"Half our customers pay on time, the remainder stretch terms beyond the limit which puts a strain on our business relationship as well as the obvious effects on cash flow. This problem has got noticeably worse over the last 18 months."
What the survey results show is that customers can have a laissez-faire attitude towards payment terms with their suppliers; the findings show that some consider payment terms to be flexible, an attitude that we know can be terminal to smaller businesses.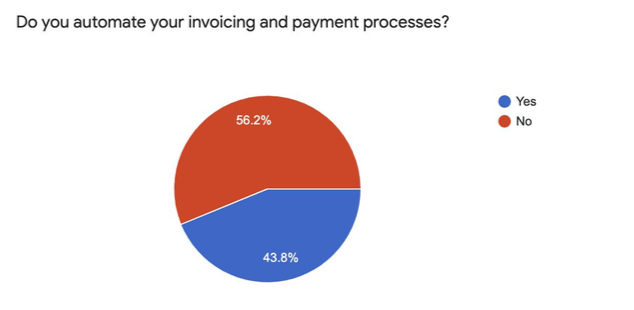 With 79% of SMEs relying on self-funding to facilitate growth and expansion, it's essential they maintain steady cash flow by being paid regularly and on time. If payments continue to be delayed, and the payment terms considered flexible by customers, these factors will continue to negatively impact SMEs.
When asked what the solution should be to ensure customers pay SMEs on time, one business said a combination of technology and better communication was key:
"Technology coupled with a personal touch are the best ways to manage late payments to a minimum."
Automation vs manual approaches
On the topic of technology, 27.6% of SMEs questioned said "automating invoice and payments processes" would help tackle the late payments issue best.
However, a majority of the SMEs included in the survey don't take advantage of automation technologies to chase payments.
When we asked them why they don't use automation software one business said they "didn't think of it," while another said it was "on the to-do list". Other SMEs questioned said they didn't know what software to use, while one said implementing software seemed "complicated" and another thought their business was "too small" to warrant the software.
While smaller businesses can hone their "personal touch" in order to build good relationships with their paying customers, ensuring late payments are chased automatically isn't something they're capable of doing manually.
That's why invoice and payment automation can help SMEs chase their late payers, ensuring steady cash flow and enabling business growth by letting teams get on with running the business instead of chasing payments.

In the context of the coronavirus pandemic, Real Business is presenting an exclusive small business webinar on Managing Cash Flow During Times of Crisis. If your business is facing a cash crunch, please register for this free live event below. Hear from small business experts and entrepreneurs on how to stay cash flow positive.