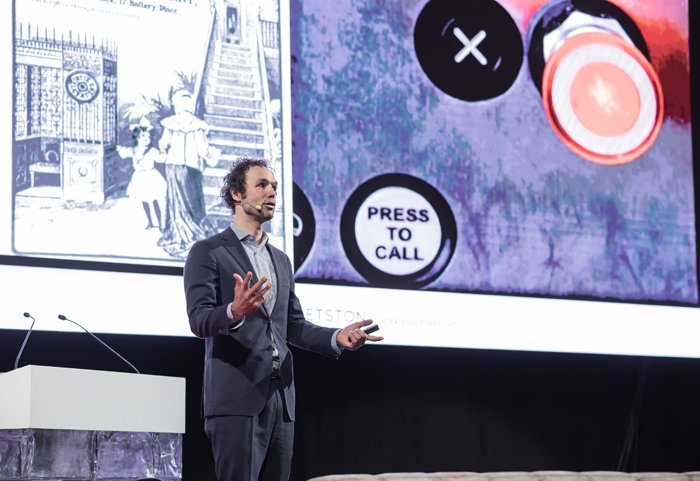 Would you get in an autonomous plane This is the question Thimon De Jong asked his audience, kick-starting his talk at the recent IslExpo in the Isle of Man. De Jong is the founder of Whetson, a strategic foresight think tank, which specialises in the future of human behaviour, societal change and business strategy, and he was curious to see how trusting the audience would be of this sort of technology. Unsurprisingly, a significant number of people were not keen on taking an un-piloted flight. De Jong believes this is because we just don't really like technology we don't trust it, and there's nobody to blame when things go south. Yet we can all see technology like this coming a mile off we know it probably won't be long before autonomous vehicles are the norm. What does history teach us about new-fangled tech that we can rationally see coming, but emotionally have a hard time accepting?
The story of the elevator
According to De Jong, automatic elevators initially suffered from the same PR problem as autonomous cars. People were used to seeing an elevator operator when they went to take a lift, and it seemed dangerous to go in alone. Some key features were added a big red stop button, an alarm, a helpline to the outside world, even elevator music to help make customers less anxious. But the real pice de r'sistance Marketing the new automatic elevators with grandparents and toddlers. If something is safe for grandparents and toddlers, it's safe for anyone, right?
Adapt and change
Transitions might happen slowly, but think about what technology you trust today that you might have been sceptical about 10, 20, even 5 years ago. People today regularly use parking assistance technology in their cars, make banking transactions on their phones, offer up their personal data to third parties for easy access to apps. According to the
HSBC Trust in Technology report
, consumers are confident in innovation, broadly speaking around 67% believe technological advances make the world a better place. The report argues that ?trust can be won as each technology becomes part of normal life and develops a track record. Businesses can help this process by raising awareness and educating consumers. Overall, you certainly don't have to take up new technologies if you have an aversion to them, and it's only sensible to do your research but it's senseless to stick your head in the sand. It's possible that a technology that fills you with dread today could be powering your business in the future. One day, maybe autonomous vehicles will be the new status quo, and we ll be wondering what we were all so scared of.
Share this story