McGregor once explained that?his confidence was the product of his performance and work ethic.
He added: "No one works harder than I do and they don?t want it like I want it. My confidence comes from looking around at the division. I don?t see anything that troubles me. They don?t move like I move and they don?t think like I think."
His belief is founded from experience. After all, if you do something repetitively, delivering each time, you'll become more comfortable doing it. By default, you won't look as nervous ? even if you feel that way on the inside.
There's more to being confident than putting your team or stakeholders at ease. According to Bloody Elbow: "There is a relationship between performance and someone's perceived capability to accomplish a specific feat.
"The goal, however, is to develop whatever skills are necessary through quality training, not actually focusing on an overall sense of confidence. This means focusing on the process and applying each source of efficacy, not focusing on the outcome. The outcome will take care of itself."
Another lesson to take away from the likes of McGregor and Georges St?Pierre is that they don't present their doubt to the outside world. When you have the skills to back yourself up, you can likewise chant for all to hear "I will win" and "I will be the champion".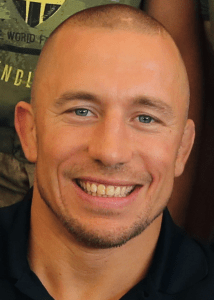 Bloody Elbow's Tim Bissell made a point in 2016 that MMA fighters gave off a feeling of being bulletproof. He cited sports?psychology consultant David Mullins as saying doubts and fears don't mean you can't succeed.
Just take a look at?St?Pierre. During a recent?podcast with Joe Rogan, he revealed feeling "scared as hell" until he entered the octagon. On the outside, he looks like he means business.
"Even though I'm scared and I'm afraid to fail, when I walk to the Octagon I make it look like I'm going to kick ass for sure," he said. Making a conscious change in your behaviour will impact the way you feel inside.
"As I'm acting, my mind starts changing and listens to my body," St?Pierre explained. "This is a theory called James-Lange theory. That's my trick. So the closer I get to the octagon the more confident I get."
Paraphrasing from Muhammad Ali, essentially, if your mind can conceive it, you have the skills to back it up and your heart believes it, then you can achieve it.
Share this story