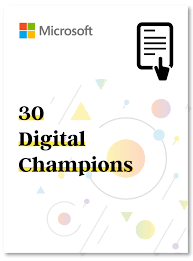 30 Digital Champions reveal the challenges and opportunities that lie at the heart of running digital businesses today. 
We have partnered with Microsoft to identify business leaders of start-ups and well established SMEs who are using digital technology to grow and get ahead in their lane in whichever industry they're in.
But giving the spotlight to resourceful SMEs and their leaders isn't enough, the Digital Champions Initiative is also about finding out what these businesses plan to do in the future to accelerate their growth, and rate of innovation even more.
Download the Real Business and Microsoft guide to Embracing digital techniques to grow for more insight from:
Roundtable discussions on game-changing technology for business

Profile snapshots of selected digital-first companies

A cross-industry review of digital tools for businesses today
The value of  social media to drive better customer experiences
Data analytics to get real-time insights and make informed decisions quickly
Collaboration tools like Skype for Business to enhance flexible working benefits