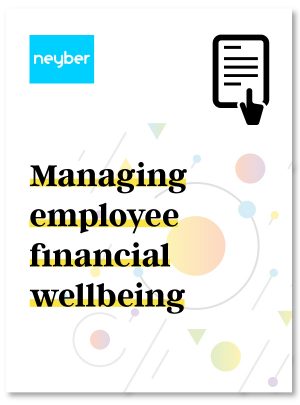 Wellbeing culture is increasingly important in people's work and personal lives, but the lesser-known stress of managing personal finances is a real obstacle for employees today. 
Financial wellbeing programmes can decrease the rates of staff based absenteeism whilst fostering greater employee engagement which in turn boosts staff productivity and business success.
If employees are struggling to manage their own finances, businesses can offer tools to help their workforce build their financial knowledge, meaning they can take better advantage of the financial packages businesses may offer them.
Download Neyber's Why FDs need to champion employee wellbeing report for insight and practical tips on:
What is a financial wellbeing programme
How can it reduce absenteeism, and increase employee engagement
Why introducing a financial wellbeing programme  can enhance your company's productivity and financial performance
How to integrate financial wellbeing as part of your overall wellbeing strategy