Angel investors deserve the name. They manifest, often at unexpected times, and give a heavenly cash injection to promising startups. But as we know, the life-saving arrivals of ethereal spirits and feathered winged spectresAre not a common occurrence for miracle wishing founders.
That's why it's important to know how to attract them to your SME, understand what makes them tick, and what makes them want to invest.
The advantages of gaining an angel investor are clear. A studyconducted by ?Oxford Economics?," found that businesses backed by angels between 2010-2015 experienced a turnover of over ?9 billion and contributed £4.5 billion to?GDP.
Thankfully for us, The Knowledge Academy, a global provider of training courses, has outlined several key areas where angel investors are most likely to deposit their funds. Before we reveal this information, let's remind ourselves what angel investors are.
Angel Investment: The 411
Angel investment is a notable form of financial provision for many reasons. They are actively sought by SMEs because they are likely to invest in early-stage businesses. But this shouldn't shut other types of businesses out as they are also known to invest in businesses that are seeking funding for expansion too.
Usually, they will expect equity shares in exchange for their initial investment. Angel investors also serve as fountains of wisdom for startups, who can provide them with invaluable industry advice and a 'little black book' of trans-industry business contacts and connections.
What does an angel investor look like
According to the research, they are usually male with an average age of 52 years old. They tend to have at least eight years of investment experience and make an initial investment sum of about £25,000.
"Angels place the quality of the human resource in a company as the highest-ranking factor in their decision to invest in a business." Joseph Scott, The Knowledge Academy
What do they like to see in the business that interests them?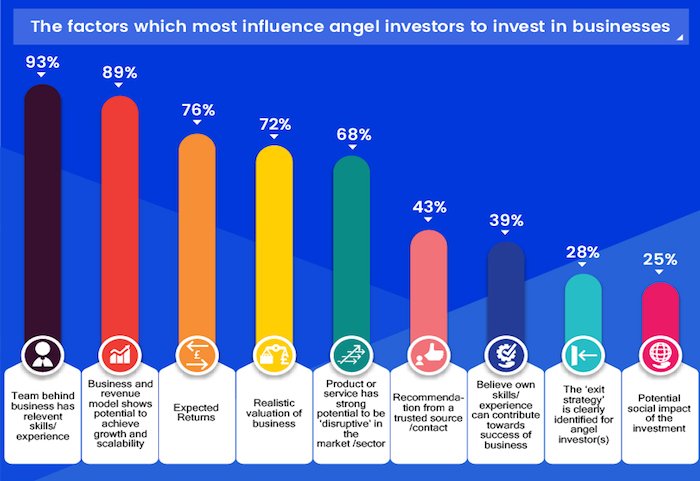 The research confirms that it is the quality of the team running the business that most appeals to angel investors once their appetite is whetted. Some 93% of angels stated that relevant skills and experience are crucial when making their decision.
Following that, 89% reported that a strong business and revenue model showing evidence of stable growth projections is also a key element in their decision-making?process.
Whilst across the board, angels want to see good projections, they also value realistic business owners, with 72% stating they would prefer more down-to-earth valuations rather than a 'Dragon's Den' style chest-puffing exercise.
What might surprise you about angel investors
They are not that charitable
According to the research, they don't care much for businesses that advocate for societal impact. Only 25% said theycared about the social impact the investment could give to a business.
If angel investors, on the whole, don't really value the societal impact their funding causes, it's likely that they won't be targeting startups where social impact is top of the founding agenda. This means that social impact businesses should probably look elsewhere for their source of funding.
They are not fussed about an exit strategy
Only 28% of angel investors said they would want to see evidence of a clear exit strategy in a business plan before they invested.
A concrete exit strategy means investors can conceptualise how much time they want to give to supporting and funding a project, without these clear definitions, startups can rely on their angel investor for a longer period of time, ensuring financial and advisory support for the foreseeable future.