Among the most distinct contemporary tailors in London, McCann Bespoke combine ?modern-day aesthetics with the classic virtues of British tailoring" to bring high-end, tailored craftsmanship to suit the tastes, preferences and demands of their customers. Founder Neil McCann shares how he's bringing bespoke tailoring into the 21st century.
Sporting legends Ian Botham, Geoffrey Boycott and Harry Redknapp are all long-time ambassadors of McCann Bespoke. And Joe Root, England's cricket captain, entrusted McCann Bespoke with his wedding suit.
In the business for 22 years, Neil McCann inherited his sartorial style from his father. A successful property developer with strongly ingrained RAF training, his father's dress sense left a lasting impression.
"When we went for Sunday lunch he would always be wearing a shirt, tie and blazer, and his manners were equally impeccable.
Thanks to his father McCann started to take a keen interest in appearance and clothes from a young age. Following his studies, he lasted a year working for a bank before leaving it behind for the clothing industry.
Pursuing passion
McCann saw a gap in the market for high-quality yet affordable bespoke clothing. He retrained as a tailor and set up McCann Bespoke Tailors.
"I was simply following my passion and my ferocious ambition to be master of my own destiny!?
Selling suits, shirts and shoes door to door, and working from his garage, McCann struggled to get people to buy into him. Once he d overcome this problem and was building his customer base, he then had the difficult task of convincing new team members of the McCann ethos of "how to look after each other in a self-effacing eco-system?.
Despite the obvious problems of doing business from his garage, and his competition mocking his endeavours, McCann Bespoke was growing and clients were returning with reassuring regularity.
"It required a large amount of hard work, courage and overcoming setbacks and adversity with a persevering attitude.
Two years in, he upgraded his garage and opened the first McCann Bespoke showroom in affluent Richmond. From here he continued to widen the network of offices buying into his personal tailoring service.
Fast fashion vs. customer satisfaction
Fast-forward eighteen years and McCann Bespoke continues to offer "high end bespoke crafted garments, one at a time with no stock?. Every item is tailored to customer requirements and prices remain highly competitive.
McCann Bespoke have responded to the modern world of fast fashion and the growing trend for relaxed office dress codes by launching a more affordable made-to-measure range.
?People tend to go cheap with their suits to save money," McCann says, "however, they?re often poorly made, and won't last that long. The lifespan of an off the peg suit is probably two to three times shorter than that of a bespoke suit. So, on balance, it probably works out cheaper in the long run to have a bespoke suit.
Made-to-measure garments from McCann Bespoke are still made exactly to customer measurements, but rather than costly, time-consuming hand-tailored suits, these suits are machine made.
"Made-to-measure suits start at about £500. You?d have to be mad to choose off the peg now because, for similar money, you can have items made specifically to your measurements, and they?re better made.
As well as expanding to offer machine-made suits to customer specific measurements, they?ve also expanded their smart casual range to include jackets, jeans, chinos and even casual shoes. All of which can be made-to-measure or bespoke, and it's proving a massive hit with customers.
"I measure success through the satisfaction of our customers. Although, I don't like the word satisfaction, because there is nothing satisfactory about our service, as our clients will tell you.
McCann's absolute aim is to ?provide the best possible service for his clients, while at the same time fostering a happy work environment for his employees. Marry these two factors and, McCann believes, the revenues will look after themselves?.
An elite team delivering world class service
The McCann Bespoke client list boasts many international sportsmen. Happy clients include the likes of Ben Stokes, Joe Root, Jamie Roberts and Jamie George, and that's only a small sample of ambassadors who rely on McCann Bespoke for their high-end bespoke tailoring.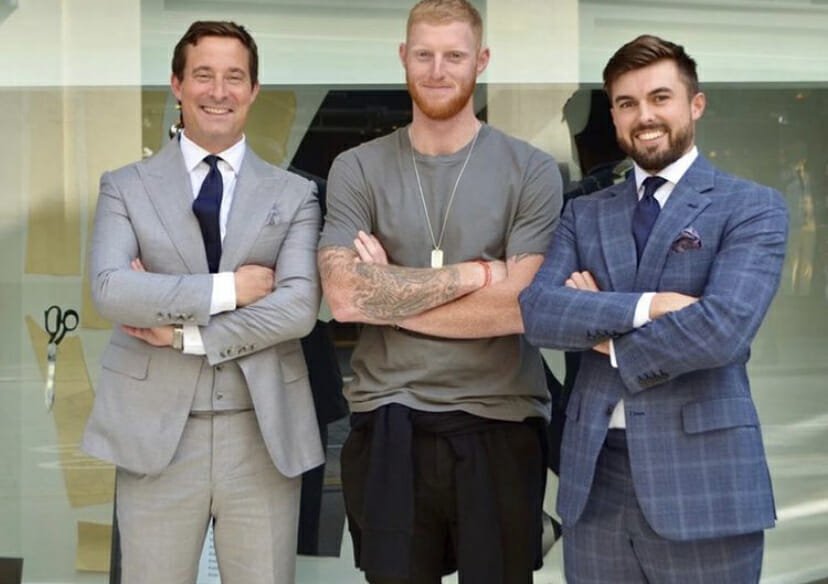 ?We are very fortunate to have a large list of clients who are professional sportsmen. Time and time again they tell us that the key to a successful team is enjoyment of what they do, and enjoyment of spending time with each other. I genuinely do believe that is the case. We all enjoy what we do and we are good mates that can work cohesively as a team.
Visit one of McCann Bespoke's showrooms and you?ll get an immersive experience. Enjoy a beautiful setting, an opulent bar and ?rub shoulders with elite business people and celebrities?.
Neil has ensured every step of the customer service journey is flawless by creating a fully cooperative business structure. Each member of the McCann Bespoke team is an owner/manager. This formalised and inclusive set-up means everyone goes above and beyond to deliver world class service with ?real care and attention" at the heart of everything they do.
Measuring technology
The impeccable levels of service mean mistakes don't happen at McCann Bespoke, and they have infused the exclusive customer experience with cutting-edge technology.
Taking a belts and braces approach, the McCann team uses technology to render looks onto screen, allowing customers a view of the garments before they are tailored. In addition to the image preview, they also use apps to ensure accurate measurements, effectively eliminating human error.
In the midst of the Covid-19 pandemic, McCann is investigating E-sizing technology which would allow a client to be measured up using a few photographs.
"This will revolutionise the way we operate. The measuring process will take only a few seconds, and people will be able to order bespoke clothing from the comfort of their own home.
By integrating tech into the customer journey McCann Bespoke will give customers the ability to measure themselves and order items from the comfort of their own homes. While we love providing the full experience to clients in our beautiful store with a glass of champagne, the reality is that time is people's most valuable asset.
Beating the competition
The coronavirus pandemic has wiped out a lot of the competition. Moss Bros has scaled down significantly, TM Lewin is now only online, and many others have disappeared entirely. There's a huge market share up for grabs.
McCann is primed to snare a bigger share of the market with the new made-to-measure line which ?provides a bespoke Savile Row customer experience, at off the peg prices?.
Covid-related restrictions have also impacted sales. There has been a substantial drop in orders for wedding suits, and the cancellation of big annual events, such as Royal Ascot, Wimbledon and black-tie dinners has led to a fall in sales for dress suits and tuxedos. Despite this, McCann Bespoke are 'still in a pretty good position?.
?We ve forged very strong relationships with our clients, so much so that some will even come from the other side of the country to see us in a global pandemic! One of the biggest tailoring spaces in London, we easily have enough space to house a large number of clients while keeping everyone at a safe distance while enjoying a gin and tonic!?
A smart game plan
As a 'small business with no funding," McCann is pleased to have fared better than many in the wake of the global pandemic and is looking ahead to build a bigger future.
Keen to imbed an ?owner mentality" on his employees, he's planning to grant shares to team members with the intention of instilling them a strong growth mindset.
The ultimate aim is to ?become a household name of tailoring?. Along with the e-sizing technology, McCann also hopes to open more stores, in London and elsewhere in the country?.
"In 5 years, I see a team of owners, all with responsibilities to match their skill sets, managing a company that has a national reputation not only for providing top quality garments and world class customer service, but also for being pioneers in integrating technology to the world of tailoring.
McCann's vision and readiness to infuse technology into the traditional tailoring industry sets him apart from the competition. To achieve this whilst retaining the essential personal touch is as impressive as his client list.
Find out more at mccannbespoke.co.uk