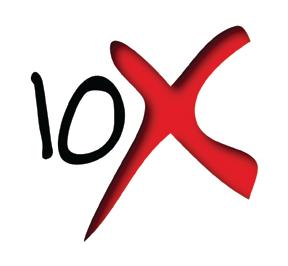 3. Delegate tasks to multiply your income
One of the best ways to simplify your life is to restrict the number of things you do. If you want your company to grow ten times over the next ten years, you have to focus on doing your top three results-producing activities each day to prepare yourself for being the best, and delegate the rest. As you grow your business your three activities will be of a different nature and quality, but you should always focus on three. If you delegate everything else, a strategy that contributes to you doing your best work, you can take more time off and multiply your results in the most important areas you've identified in your life and business. Building the skill of delegation enables you to have a clear mind and be present in all your activities. It also helps you grow, because it forces you to continually review and evaluate what qualifies as your top three activities.
4. Build relationships with key clients to multiply your opportunities
One of the strongest assets of any business is its clients. It is very easy to identify your most valuable clients as they will typically share your own personal desire for growth through transformation. If you can help them implement growth strategies, you will undoubtedly create new and bigger work opportunities. If you move your focus from clients that are only intent on satisfying their own requirements, to those that want mutual growth, you will establish strong long-term business partners. If you nurture the top 20 per cent of your most valuable clients, you can dramatically increase your profile. As their co-operation increases, they are most likely to make referrals to other potentially valuable clients, which can help move your business forward. In turn they refer you to new customers of similarly high worth, creating that rapid growth you desire. As your business grows you're no longer required to work with everyone who walks through the door. Some relationships cost too much either emotionally or financially. This is where the Pareto Principle comes into play: 20 per cent of clients generate 80 per cent of your income, while 80 per cent generate only 20 per cent of your income. Ironically, those 80 per cent who provide so little also dominate 80 per cent of your time. Many companies focus on new business development and forget how valuable their clients are. I had a client approach me in a Strategic Coach" workshop to ask about a new marketing campaign. I asked him if he had taken the top 20 per cent of his clients for lunch. When I learned that he had not, I asked him to consider postponing his new campaign and take them out. At the next workshop he attended, I asked if he was able to meet all of his top clients. While he was not able to meet every one, he said that not only was he able to grow his business with his top clients, they acted as multipliers in the growth of his organisation by referring other ?right fit" clients like themselves.
5. Focus on strengths and delegate weaknesses to multiply your business
You should never view your organisation as the place where you have to go to work?. Instead you should organise your time around focusing on your strengths, which will benefit the business in the long term. If you adopt this Unique Ability strategy, you will ultimately have the freedom to work through key business objectives at your own pace and be able to focus on the key tasks that you enjoy doing and give you your best results, while also having space in your personal life to dedicate to your favourite non-business related activities. From a young age, we re taught to improve our weaknesses, but what ends up happening is that all you are left with are a lot of strong weaknesses. Different people have different strengths and weaknesses. To maximise the growth of a business, it's essential to build a team that is able to focus on what they do best. A simple way to figure this out is by listing the tasks that everyone is currently doing and write down whether they are uniquely gifted, excellent, competent or incompetent at the task. When you surround yourself with the people and technologies that excel at all things you don't, you can establish a much more productive system. If you find that you or your team members are spending a high percentage of time on non-Unique Ability activities, you could be compromising the growth of your business. When people perform tasks that they are uniquely good at, you are able to complete the task in less time and very effectively. Doing these tasks gives you and those around you energy, which is motivating for everyone. Focusing on your strengths and delegating weaknesses is an ongoing process, because as you do it, you keep seeing new areas where you want to focus and more new things you want to let go of. The key to achieving this is training your team to focus on the activities that have the greatest multiplying effect on your results.
Real Business readers can get
instant access
to the Strategic Coach complimentary guide ?
How To Get To The Top And Stay There
?, which provides a more in-depth overview of how to multiply the growth of your business and life.
Share this story