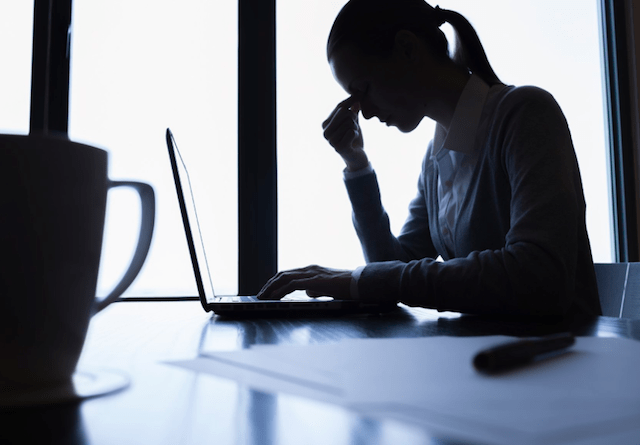 With small business owners busy carrying the weight of stakeholder expectation and employee happiness on their shoulders, it's easy to mistake the signs of staff stress for evidence of commitment and drive. However, there
are
tell-tale signs that members of your workforce are battling stress, (including work-related anxiety and depression), and not an overarching commitment to work.
The signs of workplace stress
If members of staff are doing things like suddenly working extended hours, skipping lunch breaks, acting distracted or irritable, or failing to book time off, it's likely they're experiencing
workplace stress
, and not simply 'vying to impress.'
Major causes
Whether someone is failing to cope with their workload or is feeling unsupported by management, (two major causes of workplace stress), or it's more due to personal issues, a stressed employee eventually becomes a less productive, and even an absent one. Workplace stress can lead to an employee being forced to take extensive time off work due to burnout, or even having to leave a business altogether. However, workplace stress is not only extremely damaging to the mental and physical health of the individual experiencing it, but it's also bad for the company pocket:
The effect on the company purse
In the years 2017-2018 alone, some 15.4 million working days were lost to work-related stress where over half of all "working days lost to ill health were due to stress and anxiety," according to the
British Safety Council
. The latest
government statistics
, (taken up to March 2019) prove that the problem hasn't gone away:
602,000 UK employees experienced workplace stress between 2018-2019
44% of these cases were the result of workload related issues
Out of every 100,000 employees, 1,800 people experienced work stress
These facts beg the question, how dire will the statistics be next year?
What can business owners do better?
While the world of work with always be stressful and challenging at times, there are ways that business owners can help staff manage these challenges better. With smaller businesses (and their smaller teams) being more affected by absent and stressed staff, it's even more important that they introduce better measures to combat the problem – and fast. Here's some advice from business owners at the coalface…
1. "Make working life more flexible for staff." –  Jason Downes, MD, PowWowNow
"Employers can help combat workplace stress by encouraging healthy work-life habits; not only to promote emotional wellbeing across their company but also to stimulate productivity. Offering flexible working practices across the board; from allowing parents to balance their busy personal and professional lives, to eliminating the pressures of a daily commute and allowing particularly stressed employees to work from the comfort of their own homes – the positive impacts for staff are endless."
2. "Make sure you and your team get to switch off." – Holly Pither, founder and MD of Tribe PR 
"I use running as a means to de-stress during the workday. It's perhaps one of the only ways I can really relax. I am a mum to a very active toddler, run my own PR agency and run a mummy blog. Working in PR means I am 'always on'; the news agenda stops for no one! Going out for a lunchtime run is an essential way for me to put down my phone, shut my laptop and switch off. I actively encourage my colleagues to get out and get some air too, even if that just means going out for a walk. "
Advice from staff:  "Workplace exercise and bonding does work" – Jaime Johnson, The Survey Initiative
"Our employer helped us to set-up a lunchtime stroll club to improve wellbeing in the workplace; not only are we getting fitter, but we also get the chance to know our workmates so much better, and explore our local area, it's proved very successful."
3. "Remind employees to rest-up and refuel" – Lee Ali, MD, Expo Stars
I personally dedicate time daily to practising mindfulness and meditation to achieve this, and it's something we encourage all of our core team to learn and develop. It's essential to look after the health and
wellbeing of our employees
. On-site, we encourage the team to eat well and drink lots of water, schedule in regular breaks and make sure they are taking time out to rest."
Share this story