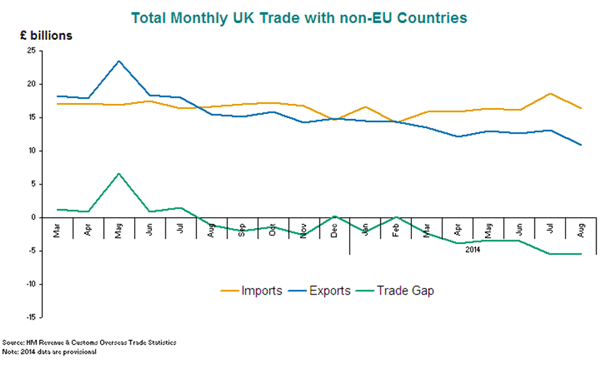 A number of important sectors recorded decreases in non-EU exports in the year to August, including pharmaceutical, which decreased 12 per cent years on year, mineral fuels at 12 per cent, aerospace at 17 per cent and works of arts at 20 per cent. Each of these sectors was worth over ?2bn during this period and ranks in top ten of the 99 goods classifications monitored by HMRC.
Exports to EU
members fell 13 per cent to ?10.7bn compared to the previous month in August and eight per cent compared to the same month last year. This is the lowest EU export value since August 2010. UK exports have been hit by the eurozone?s slowdown and wider economic issues. The trend is reflected in manufacturing sentiment. BDO's
manufacturing index
, which records growth expectations over the next three months, registered a considerably larger decrease than wider businesses growth expectations, falling from 113.2 in August to 111.6 in September (a reading over 100 indicates growth). Peter Hemington, BDO partner, said: "With global conditions becoming increasingly challenging, it was only a matter of time before the stellar increases in economic growth recorded earlier this year came to an end.? The Overseas Trade Statistics are a detailed dataset covering the UK's trade in goods at a country and product level, compiled by HMRC. These statistics are component elements of both the UK Balance of Payments data published by the Office for National Statistics, and the European Statistical Office publication of EU external trade.
Share this story