White, male, bespectacled. These are the images, and the tropes that we often associate with the tech industry, and what their employment body, by-and-large, looks like. Yet, whilst the tech industry is still largely
male-dominated
, women are making some notable in-roads in terms of influence and advancement in the sector. According to software company
Ivanti
and their recent report, women in tech are feeling more empowered than ever before. So is it time to banish the stereotype of the sidelined and subjugated female tech employee Let's take a look at the findings in more detail to find out…
" 54% of women believe there are now more women working in tech than five years ago

" 63% of women cite ?being taken seriously" as the number one challenge in the tech industry

" 67% of women believe ?making a positive impact" is the best thing about being a woman in tech
The 'sad side' of women in tech
However, despite these new positive sentiments, women in tech are still part of a minority population, and as we are all too aware, minorities often suffer discrimination in the world of work, and beyond. In late 2018, major tech brands were still facing calls to improve the way they treat female employees. A notable example is
Google
, where some 20,000 female employees across Europe and Asia lobbied the company on the way it was handling cases of sexual misconduct,
gender inequality
and systemic racism. " According to the protestors, the main sentiment was that they were ?done with not being taken seriously. The findings within Ivanti's?report echo this popular sentiment among women in tech, with some 63% saying that "being taken seriously" is the primary challenge they face. This is swiftly followed by women feeling like they have "no female role model" in their immediate environment (43%) as well as the "gender pay gap" issue (40%).
The emerging positives of being female in the industry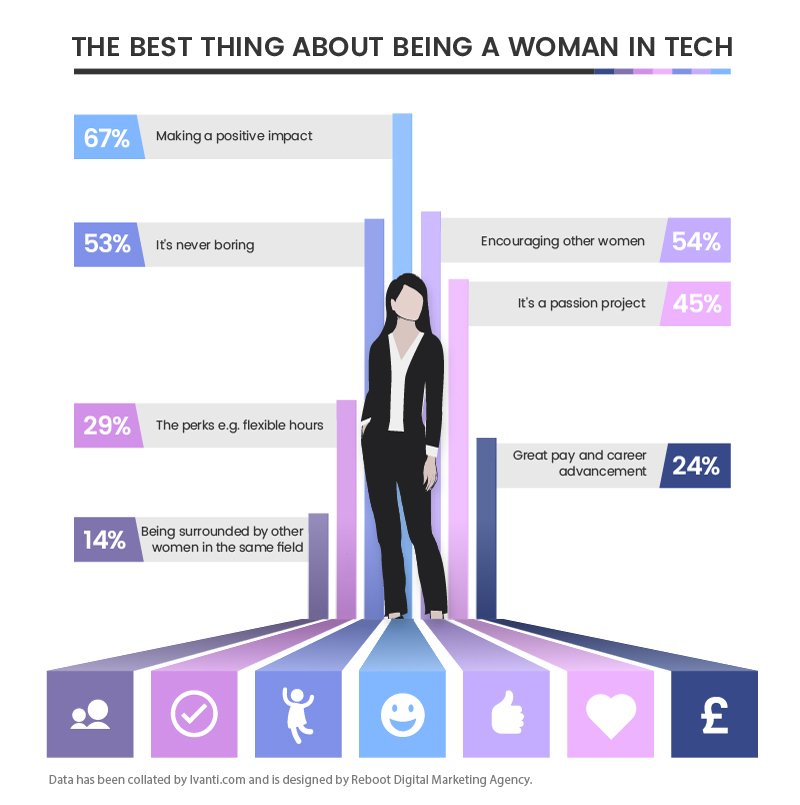 Additional findings provided by digital marketing agency
Reboot
have shown that many women working in tech enjoy it because they feel like they are making a difference in a traditionally male-dominated industry. Not only are they diversifying the sector by entering it, but this also makes such women industry pioneers for taking the plunge into tech in the first place.
?Women are creative and natural born leaders who are good at problem solving and handling new challenges. These are reasons that make working in tech exciting for me. I enjoy the idea of discovering unfamiliar problems every day and creating innovative ways to solve the issues. Each day is different, and you never stop learning. Sindhu Rajoo, Reboot
The perks go beyond the job in hand
According to the findings, over 67% of women believe that "making a positive impact" is the best thing about being a woman in tech. An additional 54% said that "encouraging other women" was another important factor. Other positive sentiments about being a woman in tech included the fact that "it's never boring" (53%) and that "it's a passion project" (45%). Again, this shows that many women working in tech see what they're doing as an impactful endeavour as well as a financial and professional career choice. Some 29% also said that the perks provided by employment in the tech industry including flexible hours and hot-desking were a popular reason to work in the sector. Furthermore, a significant 24% said that competitive salaries and opportunities for career advancement were also big drivers for women wanting to enter and remain within the industry. So, women in tech, what's the greatest reason why being female in the industry is so great" Answer you're at the helm of some great, exciting and impactful change, so get ready to make your mark in 2019.
Share this story