Cyber attacks are rife at the moment. Many businesses are establishing security policies to anticipate damaging hacks and breaches and rightly so. Beaming recently produced a report which found that UK companies are attacked online every 2.5 minutes.
But while businesses are preparing for a cyber security attack, it's also important to be on guard with physical security. At Shredall SDS group we have a range of measures to protect our facilities and client data and this got us thinking, what would happen in the event of a zombie attack?
Without effective deterrents in place, SMEs are vulnerable to even the smallest break-in or theft, let alone a fully-fledged assault by the walking dead. As with anything in life, it's important to learn from the best, which led us to research some of the world's most secure buildings (just out of sheer curiosity at first).
We quickly realised there were some valuable lessons to take from the exercise; these locations have such tight security measures in place that it would be difficult for anyone to break in. Here are the six sites in the world that would give you the best chances of surviving an attack by the undead or thief.
1. The Pentagon, US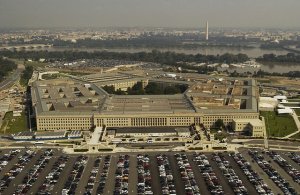 The Pentagon, the home of the US's Department of Defence, is one of the most secretive locations on the planet. Often featured in popular culture, from Independence Day to Iron Man, the site is easily recognisable to many.
What happens behind closed doors, however, is a closely guarded secret. Some of the world's most sensitive information is stored inside, making it imperative that appropriate steps are taken to secure the building from any form of attack.
Indeed, high-ranking generals released a statement in 2011 that they had even drawn up plans for dealing with a zombie outbreak. Known as CONPLAN 8888-11, the strategy provides a contingency plan in the event of an attack by the flesh-eating undead, which includes its goal of maintaining a defensive perimeter to protect human life.
Armed guards are present around every corner and security cameras are installed throughout the complex, ensuring anyone trying to get in is kept under watch. Access is only granted to those who have completed a series of stringent background tests. Those who do make it inside are therefore safe in the knowledge that their colleagues are on their side. The site even has a specific remote delivery facility that allows it to receive and send packages securely.
All of these measures can be applied to any business, big or small. For instance, ensuring that the office space is monitored regularly, both by security personnel and CCTV, will help deter crimes being committed.
Making sure only those who work or have been specifically invited to the office can access the building is key to physical security. Finally, storing and disposing of sensitive documents securely is very important even if zombies can't read.
2. Vatican Secret Archives
Home to some of the world's most sacred religious documents, the Vatican Secret Archives are stored in an air-conditioned, climate-controlled bunker in Rome, Italy.
While the site is currently undergoing a project to digitise all of the documents onto an online database, keeping the originals safe will continue to be a priority.
The Italian military, Italian police and the Pontifical Swiss guards all protect the area. Heavily armed and highly-trained, these security officials are able to hold off the most deadly attacks even if the assailants are already dead.
Alarms are also present throughout the facility, meaning that security is present as soon as a break in is detected.
Business leaders should follow the Vatican's example, hiring security or renting shared office space with security on site to protect them from physical breaches. Furthermore, investing in high-quality alarms is always a good business decision.
3. Bold Lane Car Park, Derby, UK
Despite seeming like an unconventional inclusion to the list, Bold Lane Car Park has received international attention for its impressive security features.
After major upgrades in 1998, the car park has not recorded a single criminal act within its walls, making it an extremely attractive place to set up base during a hypothetical zombie outbreak.
The site has several features that make it secure. For example, motion detectors are present throughout the complex, ensuring that only vehicles are constantly monitored. Any suspicious activity is therefore flagged to the relevant authorities. There are also 190 CCTV cameras, solid entry doors and a state-of-the-art barcoded ticket that is linked to a specific parking bay.
While zombies probably couldn?t drive, they could certainly attempt to climb through windows and under fences just like your everyday criminal. There are many lessons to draw from the Bold Lane Car Park.
Passcodes are a must for any business, as standard locks are simply too easy to break into nowadays. Security cameras and entry doors are also a priority and will go a long way to securing your business from potential damaging thefts and damages.
4. Bahnhof Underground Data Centre, Stockholm, Sweden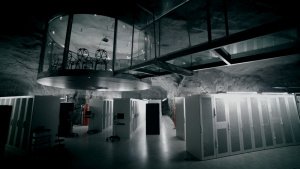 This underground facility is a world leader in physical security. Known as the Bahnhof Underground Data Centre, it is situated 100 ft underground inside a Swedish bunker, which was built to prepare for Cold War nuclear annihilation.
While this fortunately never occurred, it's physical defences would be just as effective in a zombie apocalypse.
For example, the building can only be accessed in one way a tunnel which leads to a 16-inch thick armoured door which is effectively impenetrable. Not only would zombies hordes be kept at bay, anyone trying to steal valuable equipment or information would also be out of luck.
Secondly, the data centre would allow anyone inside to communicate with the outside world at ease. The site is kept cool by a cooling system powered by the chilly mountain air and local water systems, meaning the servers could be maintained and utilised for years.
Both of these measures are applicable to a range of industries. Investing in suitable defences is best practice, whether it's fencing, gates or locks. Likewise, having a plan B if systems go down is always a good idea. Looking into servers and backup generators will help your business keep its most valuable information safe in the event of foul-play.
Nik Williams is MD of information management company Shredall SDS Group.