In fact, before starting Pip & Nut, Murray was working in the Science Museum, but her passion for running awoke her inner entrepreneur.
The healthy food brand was launched in January 2015 and started off with a line of natural nut butters, which has evolved to produce almond milks too. The idea is that eating healthily doesn't need to mean boring a common misconception among consumers.
On the back of winning the Consumer Business of the Year crown at the Amazon Growing Business Awards 2017, Murray spoke with Real Business about plans for the company and her journey so far.
?We only use the best quality, natural ingredients so you?ll never find any stabilisers, additives or refined sugars in our products. Pip & Nut is now stocked in over 5,000 stores around the UK and Ireland, as well as in supermarkets in The Netherlands and Norway," Murray detailed.
Innovation has been a key driver in taking the business forward over the past three years, which has allowed Pip & Nut stand against established market leaders, while capitalising on opportunities in the sector.
Discussing her rivals, Murray said: "The food and drink industry has changed a lot in recent years and there are so many new and exciting brands out there now. In the nut butter category Meridian and Whole Earth have both been around a lot longer than us and so pose the biggest challenge.
?Within almond milks, Alpro is by far and away the market leader but there are lots of other strong brands who have recently entered the category. Across our product portfolio, we try to differentiate Pip & Nut by focusing on new and interesting flavours and through our playful, brand-led design.
Why peanut butter though" Why was she so compelled to create a business in such a congested space, especially without knowledge of working in the sector" Perhaps explaining how Pip & Nut won Consumer of the Year, Murray's enthusiasm was driven by being a consumer.
"The idea for Pip & Nut actually came from my love of running. Prior to launching the business I had no experience in FMCG or running a business; in fact I was working as a theatre producer at The Science Museum!
?However, I used to run a lot and would always treat myself to peanut butter when I got back. I really loved the product but noticed that most brands were packed full of unnecessary ingredients like palm oil and cane sugar, or alternatively they were at the extreme end of the healthy spectrum and didn?t feel very accessible.
"I felt there was a gap in the market for a new natural nut butter brand that could challenge the category by being a bit more playful, and appealing to a younger demographic than the incumbent, traditional brands.
?So the idea for the business was born, and I started by making nut butters in my kitchen and selling them every weekend at Maltby Street Market in Bermondsey. Fast-forward a few years and Pip & Nut now has a range of eight nut butters and three almond milks.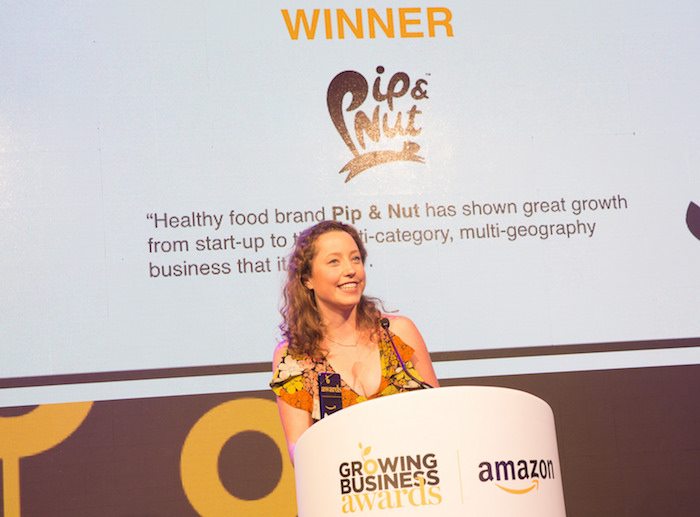 As it stands Pip & Nut can be found on the shelves of supermarkets including Sainsbury's Tesco, Asda and Morrisons, as well as Whole Foods and Selfridges to cater to the high-end shopper. Given this, the company considers accessibility an important part of its model.
Consumers are generally aged between 25 and 35, which makes them younger than customers of competitors, Murray explained. She noted that types of consumers vary though, with large tubs popular among families.
With consumers in mind, Murray recalled her victory at the Amazon Growing Business Awards. Winning the Consumer Business of Year award was totally unexpected as we were up against such strong competition," she said. It was amazing to win and it made me take stock and realise how far Pip & Nut has come as a brand in the last three years.
?Often we are moving so quickly that there is not much time to look back and reflect; awards are a great opportunity to do that.
"I think our strong growth trajectory and recent international expansion. We have built a really strong foundation in the three years that Pip & Nut has been running and it is now time to build on that.
Before that though, Murray acknowledged the challenges she ll face to get Pip & Nut to the next stage. Once key factor is the fact that food trends are forever shifting, which means no room for complacency.
?However, the main challenge is being able to satisfy consumers" demand for both quality and value," she said, declaring the customer is always right.
As a small business it is vital to manage cash-flow carefully, which means growing at steady rate. Manufacturing and supply chain is also another challenge in the FMCG industry.
?We have recently found a new UK based manufacturing partner, which puts us in a strong position from which to strengthen our supply chain over the coming years.
Looking at the year ahead, the UK and Europe should expect to see, and taste, more of Pip & Nut.
?Our focus will be on strengthening our existing listing in the UK and Europe, as well as some exciting new product development that will be launched later this year," said Murray.
With that international ambition, it's no surprise that Murray has another goal in mind.
She concluded: ?We d love to come back and win another GBA. We hope a successful export strategy in 2018 will stand us in good stead to enter the Export Champion of the Year category.
---
Cosmetics have been around a long time, so standing out is tricky even for large firms. However, this micro business has found its way onto everyone's lips.