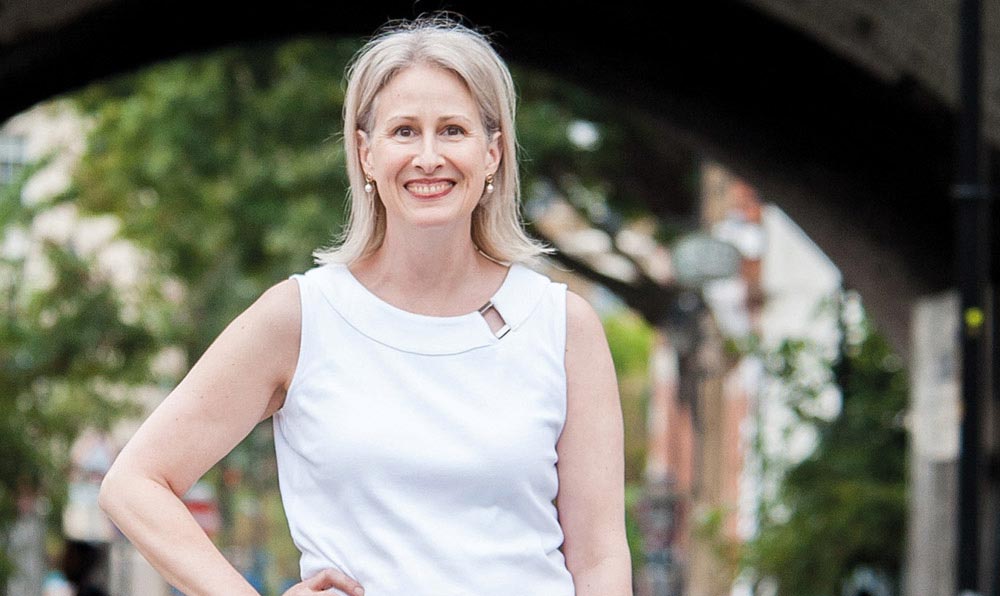 Having immigrated from the US to the UK to date a man she met on a London night bus, Renee Elliott recalls her first day working at a publishing house, "I remember sitting at my desk and thinking I have my whole life and career ahead of me," she says. Her evident optimism and hope met its match when a co-worker glumly expressed his desire for it to be "Friday already".
Elliott takes to the floor to present her business story
However, her first experience with English cynicism had a positive outcome, "It was from that point onwards that I realised I
had
to pursue something I loved," gleams Elliott. As she takes in a crowded room of hopeful entrepreneurs at the Allbright space, (a networking club for businesswomen in West London), her life sounds like nothing short of Hollywood rom-com. Think small-town girl from middle America pulls herself up by the boot strings to attend University, falls in love ? and moves to London, what's not to love?? But her story was about to get even more interesting. The turning point in question? When she founded a multi-million organic food store ? the truly modern sustainable fairy tale that is, Planet Organic.
Talent is great, but determination is essential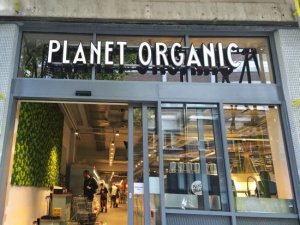 Modestly Elliott claims she is not the"brightest tool in the box", but when she completed a minor degree in health during her university studies, she quickly made the link between what you eat and how this can affect your health in later years.
"The purpose of small businesses are to add value to peoples lives"
This combined with the realisation of how "un-pure" the meat industry was in America, made her see the crucial gap in the market for un-tampered produce that consumers could access.
Her brand values…
"Work hard, do good" is a mantra Elliott hopes to implement into the minds of anyone eager to get a step up on the entrepreneurial ladder. Her passion for introducing disrupting products to the market that were not chemically altered forced her to lead with these values, she claims. And it seems she has followed these values, as Planet Organic has the highest food standards in the business, banning most ingredients that other competitors use.
What's her modus operandi?
A winning combination of respect, trust and communication for not only the planet but her workers and where she sources her materials from has, no doubt made Planet Organic one of the most successful brands in the 'health foods' scene. But Elliott also says that "treating yourself well", as a leader can also maximise the chances of a brand's success too, "treat yourself with respect and if a part of you says no, then run".
An honest reflection of leadership
These are strong words that you wouldn't necessarily expect from a major business owner. In fact, they are unflinchingly honest. Often we are met with phrases such as "grin and bear it" encouraging people to hunker down and suffer during challenging times. However, Elliott claims that it was the moments when she didn't trust her gut that resulted in her biggest regrets.
"Trust your gut", she says
These principles stemmed from when Elliot faced a legal dispute with her former business partner just three years into the launch of Planet Organic in 1999."Remember I was from humble beginnings, I believe that he tried to take advantage of my ignorance of the world of enterprise and wanted to own the legal rights to everything." The case was eventually settled with Elliott merely escaping bankruptcy. She uses this experience to convey to hopeful business owners "that anything worth having, is worth hard work". Expressing the importance of perseverance during the inevitable rocky stages that all entrepreneurs face, she says that personal strength can get you through the toughest times,? "you don't know what you're made of until you face a real challenge," she says.
For business leaders,? just how important is self-care??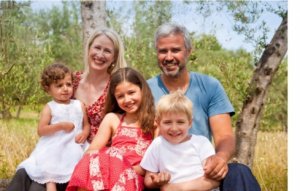 Continually expressing the importance of following your intuition, Elliott took a hiatus from Planet Organic in 2009 to raise her children, as you can imagine this was a much more difficult and time-consuming role than what she had previously experienced. Now, she's back in the business seat and taking her knowledge from both motherhood and business to form
Beluga Bean
a mentoring network for entrepreneurs. There's something infectious about Elliott's unshakeable positivity, her ability to recognise the importance of trusting your intuition is timely and important. The message is clear work hard, persevere and in her own words "go to bed".
Share this story