Remember when we said that UK"house prices were growing at a slow and stagnant rate in late 2018″ Well, it's not looking that much better this year.
According to statistics compiled by the Nationwide building society, in December 2018, UK property prices grew at an annual pace of 0.5% the slowest annual rate since February 2013.
And it appears that the Brexit behemoth is to blame for the soft property market continuing into 2019, with continuing uncertainty about the UK's economic and diplomatic future outside of the EU continuing to "undermine market confidence", according to the BBC.
So out of the entirety of Great Britain, what regions are doing the best, and the worst, when it comes to property prices right now?
Regional differences: The provinces are beating London
Late 2018 saw London and its surrounding areas experience a small fall in house prices (0.8% and 1.4% last year) whilst Northern Ireland saw a significant rate of growth at 5.8%.
Other regional areas such as Wales also experienced significant growth at 4%, whilst Scotland's property prices rose by 0.9%.
England came out the sore loser, experiencing a rate of growth of only 0.7%. However, the only stand out winner in this region was the East-Midlands, experiencing an impressive growth rate of 4%.
Speaking on the fragmented state of the property market in the UK, Nicholas Finn, executive director of Garrington Property Finders comments:
"With prices in both inner and outer London falling, the capital bears a share of responsibility for dragging down the national pace of growth," he says.
It seems that saturated property market hubs, such as London are suffering most during this period of economic uncertainty where they are more sensitive to price variations. However traditionally lower valuer regions such as Wales, have more scope to scale and grow during this time.
Overall, late December (2018) was a poor month for property prices, where the annual growth rate of 0.5% represented a shocking 73% decrease in growth from the annual pace of 1.9% recorded by Nationwide in November 2018.
Emotions are dictating the property market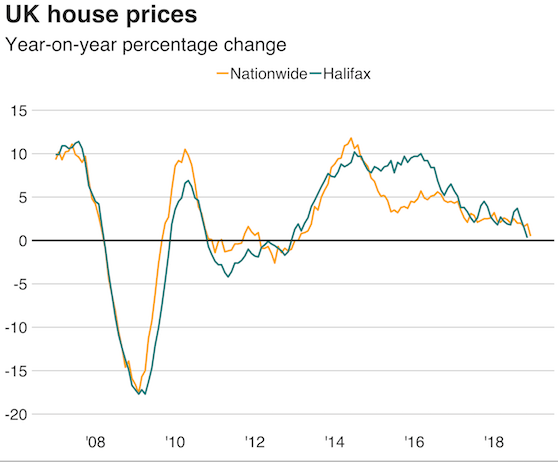 According to Nationwide's chief economist, Robert Gardner, the outcome of the property prices riddle will be dependent "on how we get through the Brexit uncertainty".
Gardner goes on to say that consumer emotions, including fears over a lack of strategy over Brexit, are dictating the property market. Only when a deal is struck will consumer uncertainties be put to bed, and the market permitted to grow.
"It is a little bit surprising that house price growth has slowed as much as it has in the last month or so. It seems to be the uncertain economic outlook that is really weighing on buyer sentiment. I think once that lifts then things should start to pick up to normal levels of about 2%." Robert Gardner, Nationwide
A short-term dip or a property price 'Armageddon'?"
Whilst Brexit?uncertainty is a legitimate fear factor that is undermining consumer confidenceAnd stalling the property market, Chief UK economist at Pantheon Macroeconomics, Samuel Tombs, says this should only be a short-term dip:
"While the supply of homes for sale also has dwindled, the balance of demand and supply has shifted in buyers' favour. That said, we continue to doubt that a sustained period of falling house prices is likely," he says.
Tombs continues by saying that, assuming MPs back some form of Brexit deal, a recovery in consumers' confidence, and price rises (perhaps up to a comfortable 2%) would be likely to happen.
The vendor vs the buyer economy
Nicholas Finn, from Garrington Property Finders, outlines the somewhat disjointed buyer/seller landscape in the UK property market:
"At one extreme we are seeing a surge in the numbers of opportunistic, frequently cash, buyers emerging to snap up homes at large discounts."
"Meanwhile thousands of would-be sellers are instead hunkering down and waiting until things improve before putting their home on the market," he continues.
A property market that, in its current form, is not mutually advantageous for both buyers and sellers, does not make for a stimulating or scalable property market.
" With buyers wanting to purchase cheaply and immediately, whilst reluctant vendors are bunkering down, and instead, would rather weather the Brexit storm to achieve a better sale.
The only way we can get the property market back up to benefit everyone is to lobby UK MPs to strike a Brexit deal ?" and to strike it now.